Madison Cawthorn: Society 'De-masculates' Men, Parents Should Raise Sons to Be 'Monsters'
In a recent speech, North Carolina Republican Representative Madison Cawthorn speech said that society is trying to "de-masculate" young men. He also urged any mother raising a son to "raise them to be a monster."
"Our culture today is trying to completely de-masculate all of the young men in our culture," Cawthorn said, citing historically low testosterone levels in young men.
After stating that there are "a lot of reasons" for declining testosterone levels, Cawthorn said: "They're trying to de-masculate the young men in our country because they don't want people who are going to stand up."
"All you moms here—the ones who I said are the most vicious in our movement—if you are raising a young man, please raise them to be a monster," he added.
Cawthorn is correct that testosterone levels in young men have been decreasing.
Testosterone levels have dropped about 20 percent in men ages 15 to 39 over the last 20 years, according to Urology Times. Researchers have said that obesity and hormone-altering "endocrine disruptors," such as environmental toxins, are the most likely the cause.
In a statement to Newsweek, Luke Ball, a spokesperson for Cawthorn, said, "In the context of his speech Congressman Cawthorn was urging parents to raise their sons as strong, godly, men who are warriors for truth and morality. Monsters and lions, not wimps and sheep."
Cawthorn, a staunch ally of former President Donald Trump, gave a speech at the January 6 "Stop the Steal" rally in Washington D.C., which preceded the Capitol riot. At the event, he claimed that illegal voter fraud caused Trump to lose the 2020 election.
In late August, Cawthorn said that "bloodshed" is inevitable if "our elections continue to be rigged." Social media commenters criticized his comments and suggested that he be expelled from Congress.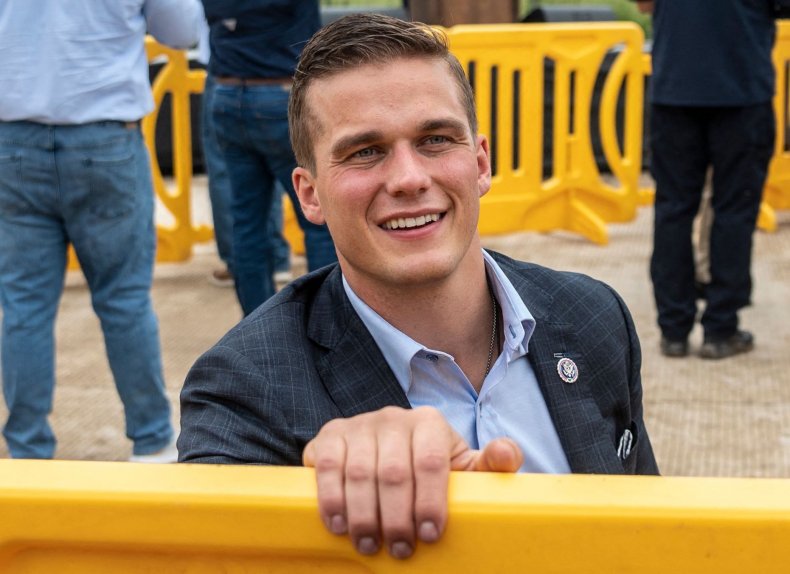 Ball said his comments weren't advocating violence. Cawthorn was expressing concern that others might "erroneously choose" violence if "election security" demands went unaddressed, according to Ball.
In Cawthorn's other recent public comments, he said that if Republicans retake full control of Congress, he'll pursue legal charges against Dr. Anthony Fauci, director of the National Institute of Allergy and Infectious Diseases.
Cawthorn had previously told Newsmax, without evidence, that he believes Fauci is "culpable and actually bears some responsibility for what happened in the Wuhan lab."
Cawthorn also said that Republicans would "seize every Chinese asset in America" as repayment for what "they owe us" after allegedly starting the ongoing COVID-19 pandemic.