Madison Cawthorn Urges Fellow Conservatives to Leave College: 'I Am Proudly a Dropout'
Representative Madison Cawthorn told a crowd of conservative constituents on Tuesday that they should drop out of college, calling higher education a "scam".
Cawthorn, 26, the youngest current U.S. representative, made the comments while speaking during a panel at AmericaFest, an ongoing convention held in Phoenix, Arizona by conservative nonprofit Turning Point USA. The audience at the panel was made up of a large percentage of college students.
In justifying his remarks, the North Carolina Republican pointed to his own homeschooling education.
"I think you should home school. I was homeschooled all the way through. I am proudly a college dropout," Cawthorn stated.
He encouraged students to drop out of college unless they were pursuing a career in one of a few specific professions.
"If you are not becoming an engineer or a doctor or a lawyer, I highly encourage you to drop out. It's a scam," the congressman said.
The native of Asheville, North Carolina also implored those listening to "try and have a great job, you should be as successful as you possibly can."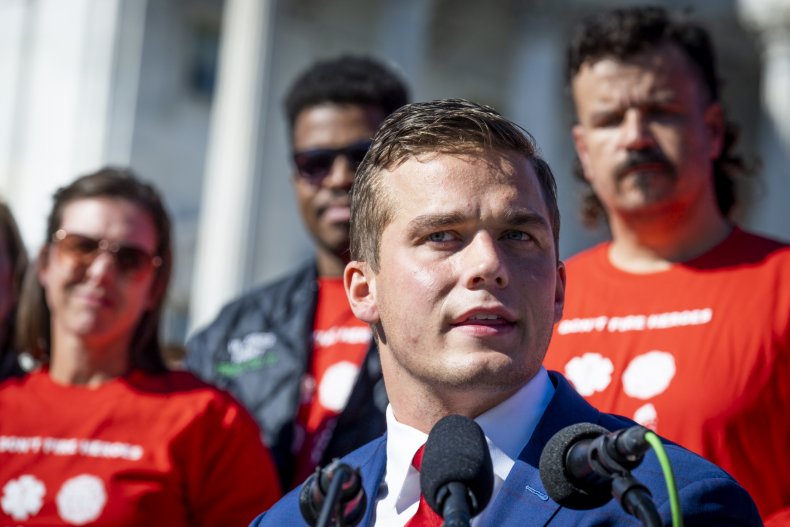 Cawthorn spent a single semester at Patrick Henry College in 2017 before dropping out with mostly D grades, according to a deposition obtained by The Washington Post. He was also reportedly rejected from the U.S. Naval Academy.
Despite Cawthorn's remarks, most research supports the fact that college-educated individuals are able to secure higher-paying and more secure jobs than people who only have high school diplomas.
A 2020 study from Northeastern University stated that "advancing in your education does typically lead to higher annual and lifetime earnings, at all levels of education."
U.S. Bureau of Labor Statistics cited by Northeastern's study showed that, on average, those with bachelor's degrees earned a yearly salary of $64,896. Obtaining a master's degree and doctorate made the salaries increase even further, to $77,844 and $97,916, respectively.
In comparison, those who only have a high school diploma reportedly made a yearly salary of just $38,792. Those without a high school education made only $30,784.
However, due to the rising costs of higher education and the associated student loans, an increasing number of young people are choosing not to attend college.
Despite this, many politicians still laud a college education as necessary in the 21st century, leading to tuition-free college plans proposed by people like Vermont Senator Bernie Sanders. Former President Barack Obama stated in 2010 that, "we've got to make sure that every young person in America is prepared for college and then can afford to go to college."
Due to the increasing need for higher education, the number of Americans with a college degree has continued to climb exponentially in the last 30 years.
In 1990, just 24.4 percent of men and 18.4 percent of women had a college degree, according to data from Statista. By 2020, those numbers had shot up to 36.7 percent of men and 38.3 percent of women.
Newsweek has reached out to Representative Cawthorn's office for comment.