Madison Cawthorn's Lingerie Photos Are the 'End of Men,' Congressman Quips
Representative Eric Swalwell, a California Democrat, sarcastically joked about photos of Representative Madison Cawthorn, a North Carolina Republican, wearing lingerie in a Friday tweet.
Politico first reported the images on Friday, showing Cawthorn appearing to have a good time while sipping a drink and surrounded by young women as he wears sexy lingerie. The news site reported that it received the images from "a person formerly close to Cawthorn and his campaign," with a second such person confirming "the origin of the photos."
After the photos were reported and began circulating on social media, Cawthorn responded dismissively.
"I guess the left thinks goofy vacation photos during a game on a cruise (taken waaay before I ran for Congress) is going to somehow hurt me? They're running out of things to throw at me...," the GOP congressman tweeted. "Share your most embarrassing vacay pics in the replies."
But some saw an irony in Cawthorn's photos compared to his public statements about sexuality and gender.
"The End of Men," Swalwell tweeted, sharing a link to the Politico article. The Democratic congressman tagged Fox News host Tucker Carlson, as he was making an apparent reference to the cable news personality's documentary The End of Men, which will be available on Fox Nation this summer. Carlson has previously complained about a loss of manliness among men and suggested that men are being feminized by society.
"I don't care that Madison Cawthorn likes to wear lingerie in his free time. It doesn't bother me, and it doesn't affect me. If he wants to be playful with gender expression, it's his life," Charlotte Clymer, an activist, who is transgender, tweeted. "I do care that Madison Cawthorn attacks trans people and shames us for living our lives."
In a follow-up post, Clymer shared a quote from recent remarks Cawthorn delivered from the House floor.
"Your left-wing movement is forcing children to endure radical expressions of sexuality. And yet, you can't even define what a woman is. You can amend a bill, but you'll never amend biology," the GOP congressman said on April 4.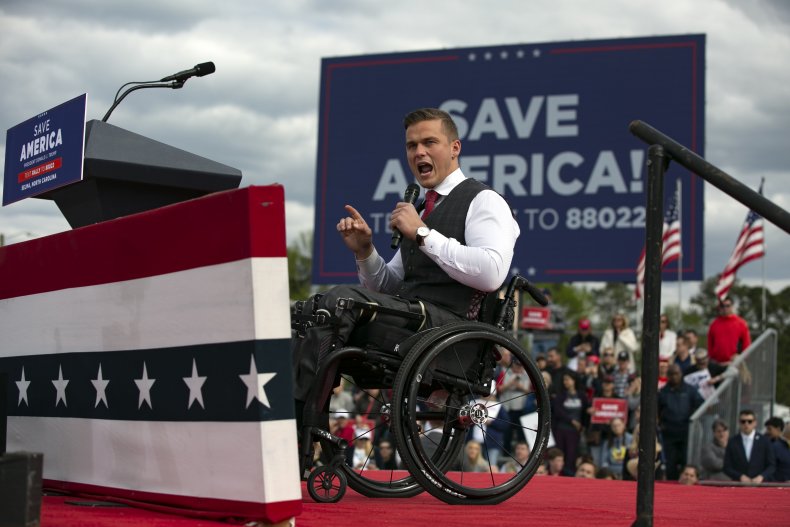 Attorney Matthew Cortland shared a similar perspective to that of Clymer.
"We're going to need to be exceptionally clear: the story is the hypocrisy," he tweeted. "There's nothing wrong with wearing lingerie, there's something very wrong with promoting the persecution of trans and gender non-conforming Americans."
Kylie Cheung, a staff writer at Jezebel, wrote that "there's nothing wrong with cis men wearing attire traditionally gendered for women—this may actually be the only cool or vaguely acceptable thing Cawthorn has ever done, in my opinion." Cheung continued, noting that "the jarring, problematic aspect of this is the hypocrisy: Cawthorn has repeatedly made anti-trans, anti-LGBTQ statements..."
Newsweek reached out to Cawthorn's spokesperson for comment.