Madonna Breaks Silence on Brother Anthony Ciccone's Death
Madonna has spoken out after her older brother, Anthony Ciccone, died at the age of 66.
The 64-year-old posted to her Instagram stories paying tribute to her older brother who died on Friday, February 24.
"Thank you for blowing my mind as a young girl... you planted many seeds," Madonna wrote alongside a vintage photo of them at a diner and a long lists of artists he told her about, including Miles Davis and Jack Kerouac.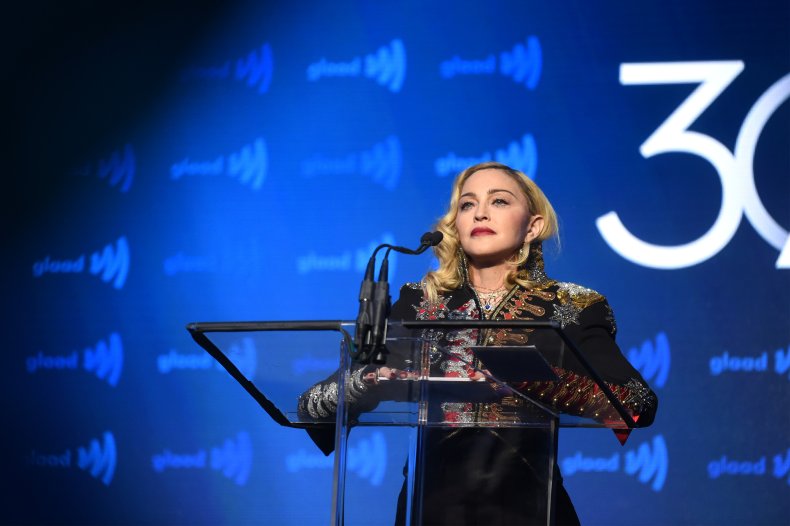 A couple of hours later, Madonna posted a video montage from rehearsals for her upcoming world tour and admitted getting ready for the shows was a welcome distraction.
"Thank God I have my creative life to inspire me and keep me going......." Madonna captioned the Instagram video.
Ciccone's death was announced by his brother-in-law, Joe Henry, on Instagram, and Madonna liked the post shortly after it went live. Henry is married to Madonna's sister, Melanie.
"My brother-in-law, Anthony Gerard Ciccone, exited this earthly plane last evening. I've known him since I was 15, in the spring of our lives in Michigan so many years now gone," Henry wrote alongside a black and white photo of Ciccone.
He added: "Farewell, then, brother Anthony. I want to think the god your blessed mother (and mine) believed in ... waiting to receive you. At least for today, no one shall dissuade me from this vision."
Ciccone was one of Madonna's seven siblings and his cause of death has not yet been revealed.
Madonna and her siblings were raised in the Detroit suburbs of Pontiac, including Anthony, Martin, Christopher, Paula and Melanie. She was the third oldest child of her parents Tony and Madonna Louise, the latter of which died when the singer was only five years old.
Madonna's late brother had a much different life than that of his famous sister, including battling homelessness and suffering with alcoholism. He opened up on the antagonistic relationship had with her.
"We hated each other—sibling rivalry, I imagine," he told the Daily Mail in 2011. "She was a b****, just like she is now. She remains true to form. You have to give her credit for consistency."
Ciccone also opened up on his life on the streets of Traverse City in Northern Michigan after many attempts at family and working life failed, including being fired by his own father from the family's winery, Ciccone Vineyard, after he began drinking heavily again.
He revealed feeling bitter about his family who "turned their back" on him in the mid-2000s.
"You think I haven't answered this kind of question a bazillion times—why my sister is a multi-bazillionarie, and I'm homeless on the street?" he told The Michigan Messenger in 2011.
"Never say never. This could happen to anybody. My family turned their back on me, basically, when I was having a hard time."
He also told the Daily Mail in the same year: "My sister's a multi-millionaire—she earned it, I have to give her credit for that—but you'd think there'd be some more family loyalty, and that's not the case.
"There isn't much else that exists outside of what she's doing. I'm a zero in [my family's] eyes, a non-person, an embarrassment. If I froze to death, my family probably wouldn't know or care about it for six months."
Ciccone reportedly reconciled with his family in 2017 and attended the rehab facility, Dann's House.
"Anthony loved it at Dann's House for quite a while, and made significant improvements in his life while he was with us," the center told the Mirror newspaper at the time.
This story was updated to include more information on 2/28/2023 at 6.13 a.m. ET.