An Instagram video posted by pop star Madonna on Friday evening showed herself working with writer Diablo Cody on a screenplay.
"When you're stuck in a house with multiple injuries what do you do.? Write a Screenplay with Diablo Cody about [film and music emojis]?" Madonna captioned the Instagram video.
In the video, a coffee table has numerous notebooks stacked on it as Madonna tells Cody, "When the music starts, what's the song? All these details are important. They're important."
A vogue-ballroom-style song plays as the two women sit near one another on the couch. Later on, Madonna describes the costume from her 1990 Vogue video and world tour which included garters, her iconic cone-bra bustier and a double-breasted jacket.
"Et voilà, an iconic costume," Madonna said before sticking two nuts up her nose.
Madonna's mention of injuries is likely a reference to her cancellation of at least 15 stops on her 2019-2020 Madame X world tour due to injuries and "overwhelming pain." In a March 1 Instagram post, the 61-year-old performer called herself "a broken doll held together with tape and glue" following onstage injuries to her knee cartilage and tailbone.
Diablo Cody is a 42-year-old screenwriter who a 2008 Academy Award for her comedic teen pregnancy drama Juno. She made her directorial debut with her 2013 Las Vegas-based drama Paradise.
The collaboration between the two women would mark Madonna's second foray into film creation despite her many previous on-screen roles.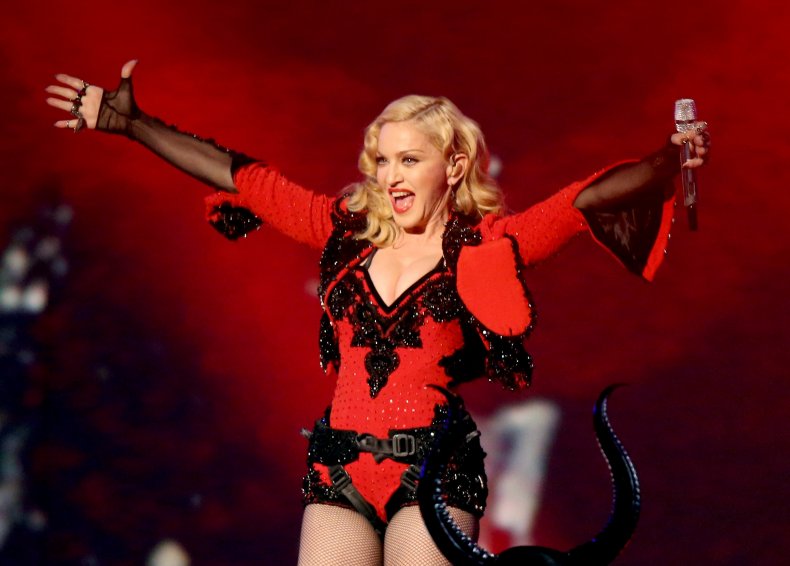 Madonna has starred in 17 films including the 1985 comedic drama Desperately Seeking Susan, the 1990 comic book detective film Dick Tracy, the 1996 historic drama A League of Their Own and the 1996 adaptation of the Broadway musical Evita.
However, she has only ever directed two films: the 2008 British comedy Filth and Wisdom about a rock singer who moonlights as a crossdressing dominatrix, and the 2009 British historical romantic drama W.E. about King Edward VIII's abdication of the British throne after falling in love with a non-royal woman named Wallis Simpson.
News of Cody and Madonna's collaboration comes as Madonna's $120 million three-album contract with Interscope Records newly expired, effectively making the veteran performer a free agent for the first time in nearly a decade, according to Variety.
A majority of Madonna's music catalog and performances remain at Warner Music Group (WMG), the parent company that oversaw her first recording contract with Sire Records in 1982. She left WMG in 2007 to partner with Interscope.
Madonna will reportedly appear alongside rap artist Missy Elliott on musician Dua Lipa's remixed version of Lipa's single "Levitating." The remix will be released by Warner Records on Friday, August 14.
Newsweek contacted Warner Records for comment.