Madonna Has Been Sticking up for Britney Spears for Decades
Madonna became the latest celebrity to throw her support behind Britney Spears on Thursday, when she spoke out against the star's controversial conservatorship.
Britney Spears, 39, has received an outpouring of public support in recent weeks, as she bids to be released from a court-ordered conservatorship that sees Jodi Montgomery and her father, Jamie Spears, oversee aspects of her personal and professional life.
And Madonna, 62, took to her Instagram Story to share a photo of herself sporting a tank top emblazoned with Britney Spears' name, as she branded the star's conservatorship "a violation of human rights."
"Give this woman her life back," Madonna wrote in an accompanying caption. "Slavery was abolished so long ago! Death to the greedy patriarchy that has been doing this to women for centuries. This is a violation of human rights! Britney we coming to Get you out of jail!"
Madonna is far from a fair-weather supporter of Britney Spears, as she's publicly had her fellow pop icon's back for decades.
Back in 2000—when Britney Spears was anointed by fans as the Princess of Pop, and Madonna the genre's Queen—the elder star welcomed the newcomer into her musical royal family when she sported a T-shirt emblazoned with her name.
Reacting to the gesture, Britney Spears told Entertainment Tonight at the time: "When I found out that she wore my T-shirt, I was like, 'How cool is that!' It was so cool. It was just really weird. I think she saw me wear one of her shirts one time, and [as] a tribute to me she wanted to do the same thing."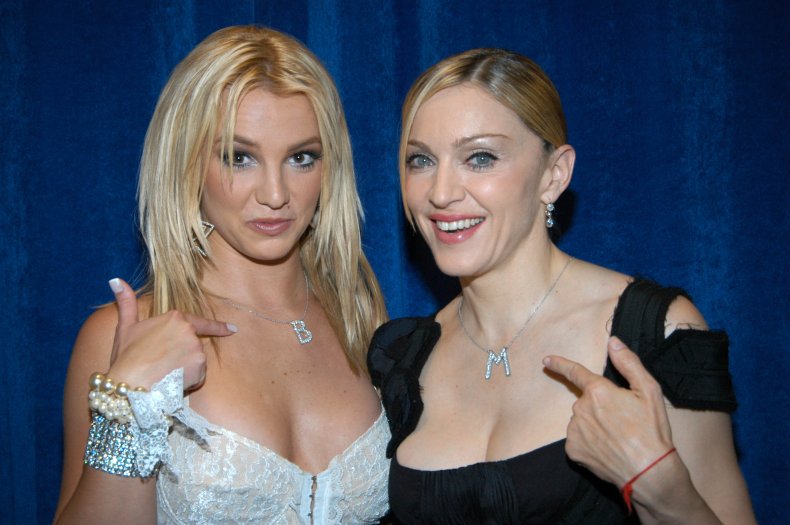 The nods of approval continued, with Madonna inviting Britney Spears, as well as Christina Aguilera and Missy Elliott, to open the 2003 MTV Video Music Awards with her.
In what remains one of the pop world's most talked-about moments, Madonna and Britney Spears infamously locked lips onstage—with the cameras deftly cutting from the kiss to the reaction of Britney Spears' ex-boyfriend Justin Timberlake, who was in the audience.
By the end of 2003, the pair took their allegiance from the stage to the studio, when they collaborated on the track "Me Against the Music."
Around the same time, Britney Spears revealed to Newsweek that she had been a lifelong fan of Madonna, saying: "I remember being in my living room and watching her on TV. I'd dance around in my short tops and sing and dream about being her."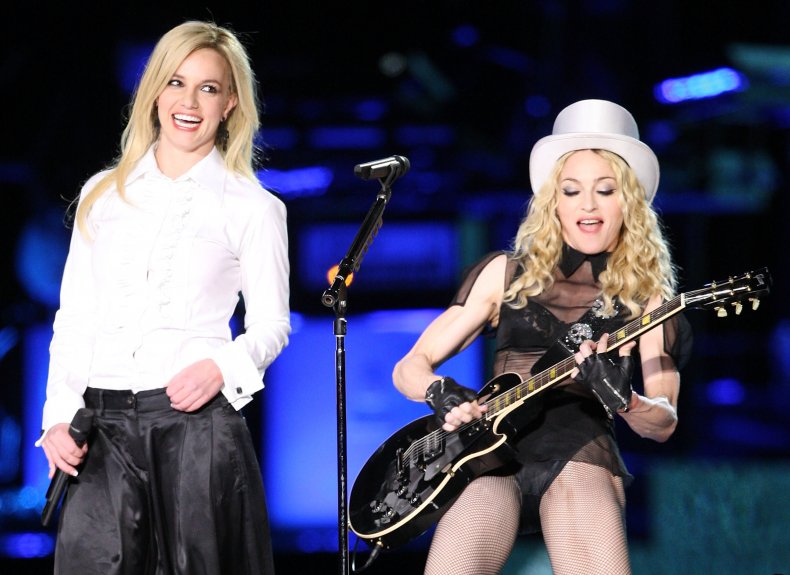 Years later, as Britney Spears' mental health woes sparked an avalanche of headlines, Madonna spoke out in her defense, saying in a 2008 interview that the star didn't have the luxury of making her mistakes privately as she grew up in the public eye.
"I think a lot of it has to do with the fact that she was never allowed to have a childhood," said Madonna, per People. "She didn't get to grow up and make mistakes privately and try things out and just be a kid and be innocent. She's been watched, judged and been under a microscope since she's been a teenager. It's hard to evolve that way."
In a 2011 interview with Harper's Bazaar, Britney Spears revealed what she had learned from Madonna during their time together on and off the stage.
"I guess she's really taught me to stay true to myself," said Britney Spears. "That seems like a simple thing to say, but she taught me through action, not just by saying it. There are so many people around you that have opinions, but you just have to listen to your instincts."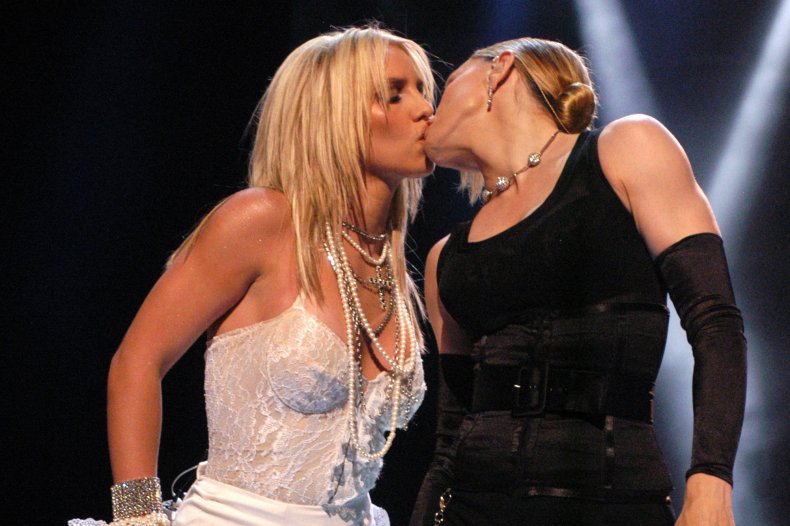 In a June 23 court appearance, Britney Spears spoke about her experiences under the conservatorship, alleging that she's been made to wear an IUD and was put on mood stabilizer lithium against her will.
"I want to be able to get married and have a baby," she said, addressing the court by phone. "I have an IUD inside of myself so that I don't get pregnant, but [my team doesn't] want me to have any more children."
"They have me going to therapy three times a week and to a psychiatrist," she added. "I truly believe this conservatorship is abusive. I don't feel like I can live a full life."
Responding to the testimony, Jamie Spears' attorney, Vivian Thoreen, said in a brief statement, per The Associated Press: "He is sorry to see his daughter suffering and in so much pain. Mr. Spears loves his daughter very much."