Madonna Slams 'Jealous' 50 Cent for 'Talking Smack' About Her Racy Photos
Madonna has hit back at 50 Cent, branding the rapper "jealous" after he posted memes mocking a set of racy photos she shared on Instagram.
The 63-year-old pop icon caused a stir on November 25 when she uploaded snapshots of herself posing on—and under—a bed while dressed in lingerie, fishnet stockings and high heels.
Her pictures were removed by the image-sharing platform a few hours later. Madonna revealed that this was because part of her nipple had been visible and criticized Instagram as she reposted censored versions of the photos.
The images swiftly became a talking point across social media. The 46-year-old rapper and businessman 50 Cent—real name Curtis Jackson III—posted on his own Instagram account to mock her, suggesting she was too old for such photos.
Responding to 50 Cent on Thursday, Madonna shared a 2003 photo of herself posing alongside the Power executive producer, with the pair looking friendly.
The "Express Yourself" singer posted the image to her Instagram Story, with the caption: "Here is 50 Cent pretending to be my friend. Now you have decided to talk smack about me!
"I guess your new career [is] getting attention by trying to humiliate others on social media. The least elevated choice [you] could make as [an] artist and an adult."
She added: "[You're] just jealous you won't look as good as me or have as much fun when you are my age!"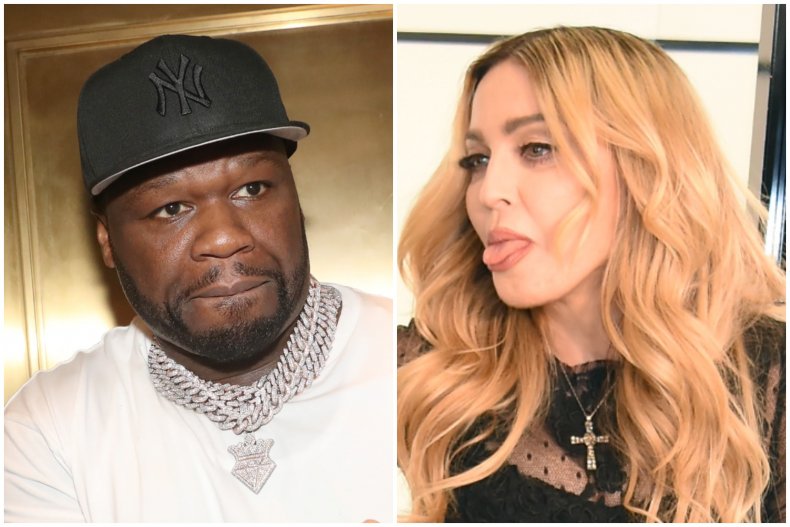 According to The Independent, when Madonna initially uploaded the photos, 50 Cent wrote on Instagram: "Yo this is the funniest s**! LOL. That's Madonna under the bed trying to do like a virgin at 63. She shot out, if she don't get her old a** up. LMFAO."
As well as sharing a post of somebody else recreating Madonna's under-the-bed pose, he also uploaded a doctored version of the original, with the singer's legs squashed under a house, like the Wicked Witch in The Wizard of Oz.
He captioned the image: "Starz ask me to do a remake, I said only if Madonna is gonna play the role because I need star power and sex appeal in this one."
The posts mocking Madonna have since been deleted from 50 Cent's account.
When Madonna reposted the images—with red heart emojis covering her nipple—she accused Instagram of taking down the originals "without warning or notification."
She added: "The reason they gave my management that does not handle my account was that a small portion of my nipple was exposed.
"It is still astounding to me that we live in a culture that allows every inch of a woman's body to be shown except a nipple. As if that is the only part of a woman's anatomy that could be sexualized. The nipple that nourishes the baby!
"Can't a man's nipple be experienced as erotic ??!! And what about a woman's ass which is never censored anywhere."
A spokesperson for Meta, the parent company of Instagram, told Newsweek at the time: "We take down content that breaks our rules whenever we find it, no matter who posts it.
"While we understand not everyone will always agree with where we draw the line, our rules are designed to help keep everyone of all ages safe on our apps, while giving space for as much expression as possible."
Madonna, who is now in her fifth decade of fame, spoke about fighting ageism in a 2018 interview with New York magazine's The Cut.
"It's an outdated, patriarchal idea that a woman has to stop being fun, curious, adventurous, beautiful or sexy past the age of 40. It's ridiculous," she said.
"Why should only men be allowed to be adventurous, sexual, curious, and get to have all the fun until the day they leave this earth? Why should that only be the domain of men? How do we fight this?
"By standing up to men and by standing up to social mores or standards that say we cannot. The more women that do it, it will just be a matter of time."