Madonna's Troubled Movie Biopic Appears to Have a New Writer
Madonna has ignited speculation she's brought Erin Wilson onboard to write the screenplay for her long-awaited biopic, after sharing an Instagram post over the weekend.
The pop icon, 62, took to social media to share a snapshot of herself posing with Wilson, whose credits include the 2002 film Secretary, starring Maggie Gyllenhaal.
Among the collection of images shared was also a photo of several notebooks, which were tagged and dated with a range of years stretching back to the 1970s.
Madonna added the caption: "Sitting with my favorite b***h............I mean writer ✍️Erin Wilson. [Nothing] Touches but our Souls. 💗 #traceyemin #screenplay."
The post comes after it was claimed that Diablo Cody had departed her previously announced role as screenwriter for the story of Madonna's life.
However, as recently as April, EW reported that Cody—who scooped an Academy Award for her screenwriting debut film Juno (2007)—had submitted a completed draft of the biopic to movie studio Universal and moved on to another project.
In August 2020, Madonna also used Instagram as the forum to share that she was working with Cody on her project, when she also posted a video.
"When you're stuck in a house with multiple injuries what do you do? Write a Screenplay with Diablo Cody about [film and music emojis]?" Madonna captioned the video.
In the clip, Madonna was seen saying to Cody: "When the music starts, what's the song? All these details are important. They're important."
The following month, Madonna confirmed during an Instagram Live session that she and Cody had, indeed, been working on her biopic, according to EW.
She said that the film would be "about my struggle as an artist trying to survive in a man's world as a woman, and really just the journey."
At the time, she said that they had written 107 pages of the script, and also discussed a number of the points in her life the film would cover.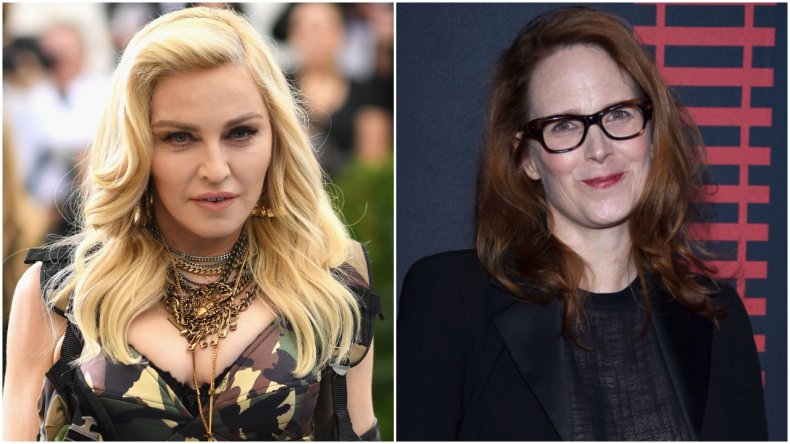 The Michigan native said: "We do talk about Andy [Warhol], and Keith [Haring], and Jean-Michel Basquiat and Martin Burgoyne and the whole coming up as an artist in Manhattan, downtown, Lower East Side in the early '80s.
"Honestly, [it's] one of the best times of my life, and one of the worst times. I hope I can portray or express what a thrilling time that was for me in every way."
The star added of the project: "It's not a musical, but there's a lot of music, and there's a lot of the actress who will play me singing my songs, but in places where she's supposed to be singing."
She also shared that the screenplay covered her time filming the big screen adaptation of Andrew Lloyd Webber's stage musical Evita.
"I think I had a few nervous breakdowns worrying that I was going to be fired every day," she said, before responding to a fan: "No, [Webber] wasn't, he was not nice to me. I'm not sure he even wanted me in the movie."
Responding to the claim, a representative for Webber told EW at the time: "She must have Andrew confused with somebody else. Andrew and Madonna had a very smooth and productive working relationship on the Evita film."
Newsweek has contacted representatives for Madonna, Erin Wilson and Diablo Cody for comment.