MAGA Candidates Attack McConnell Over 'Abhorrent' $40B Ukraine Aid Bill
Senate Minority Leader Mitch McConnell is facing resistance from Trump-backed candidates over a $40 billion Ukrainian aid bill.
The bill would provide more support for Ukraine's military and refugees as the country continues to fight off Russia's invasion. However, some Trump-aligned Senate candidates have rejected the bill—a sign of a growing divide within the Republican Party with regards to foreign policy.
Some of the candidates are attacking their Democratic opponents for supporting the bill—by extension an attack on McConnell, a Kentucky Republican, who is pushing for the its passage.
Adam Laxalt, Nevada's former attorney general, who is now challenging incumbent Democratic Senator Catherine Cortez Masto, said in a statement that he opposes the "shockingly abhorrent proposal."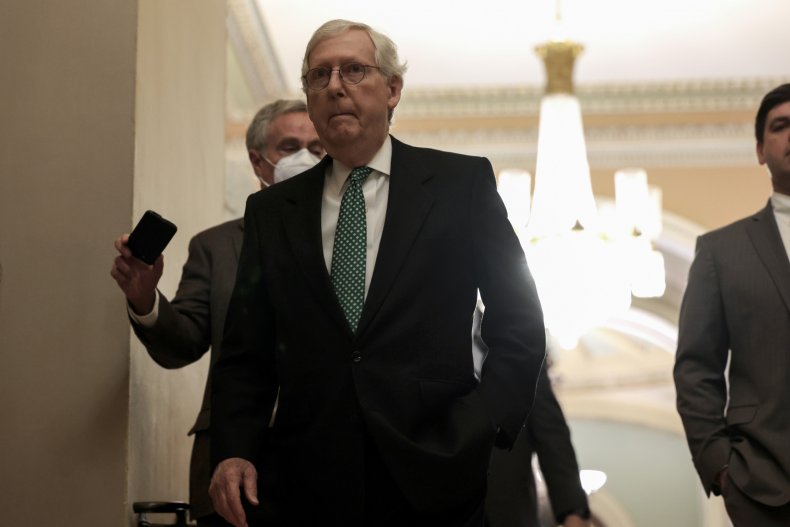 He criticized the bill, saying it would "ship $40 billion of our tax dollars into a war zone in Ukraine, while at the same time our families here at home are facing record gas prices, crippling inflation, the nation's third highest unemployment rate, and an open border that continues fueling alarming spikes in drug deaths and sex trafficking."
In Pennsylvania, Senate candidate Kathy Barnette questioned McConnell's visit to Ukraine over the weekend "in the midst of the various crises right here in America."
"I believe it's time to get elected officials in office who will put AMERICA FIRST... and that's what I will do!" she tweeted.
Ohio Senate candidate J.D. Vance also accused Representative Tim Ryan, his Democratic opponent, of "pushing billions in foreign aid while the communities he serves in Congress have been decimated" on Twitter.
The Senate minority leader, who is a vocal supporter of Ukraine, defended the legislation in remarks reported by Politico.
"It's in America's interest to do this. This is not a charity we're involved in here. It's in our interests to help Ukrainians just like it's in the interest of NATO countries. So this is not some handout," he said Sunday. "This is to prevent this ruthless thug [Vladimir Putin] from beginning a march through Europe. And the first place to stop him is in Ukraine."
Others in the GOP have also opposed the legislation. Representative Marjorie Taylor Greene, a Georgia Republican, questioned why it was necessary after McConnell visited Kyiv without wearing protective gear such as a bulletproof vest. Right-wing podcaster Steve Bannon said Saturday in a Gettr post that the Republicans who visited Ukraine "must be turfed out."
The resistance from these Republicans, more aligned with former President Donald Trump than the party establishment, represents his continued hold on the party. Trump, at times, embraced a more isolationist foreign policy, promoting what he called "America First" priorities.
Now, the candidates he endorsed, including Laxalt and Vance, as well as candidates like Barnette, who are modeling their campaigns after him, are echoing similar rhetoric.
The aid is still expected to pass the Senate with bipartisan support, as it did the House of Representatives, but its passage in the Senate was delayed after Senator Rand Paul, a Kentucky Republican, objected to unanimous consent last week after he insisted an inspector general oversee U.S. spending.