Mass MAGA Rally Planned for Lincoln Memorial 2 Days Before Electoral College Casts Votes
Supporters of President Donald Trump plan to demonstrate in Washington two days before Electoral College members formally cast their votes later this month.
The December 12 rally is expected to take place at the Lincoln Memorial in the heart of the nation's capital.
The Washingtonian reported National Park Service spokesperson Mike Litterst as saying that the Women for America First group initially filed for a permit at Freedom Plaza, but another group had already taken that spot. Their application reportedly states the group is expecting 5,000 people.
The march will mark the end of a two-week March for Trump bus tour from Florida to the U.S. capital., organized by Women for America First.
The bus set off from Palm Beach on November 29, arrives in Atlanta on Thursday, and will end with what they said would be "another massive March for Trump in Washington."
"President Trump needs to hear from us, We The People, that we do not want him to concede," the group states on its website. "We will March for Trump to demand transparency and protect election integrity."
Last month, a "March for Trump" rally was held at Freedom Plaza—one of a number of similar events held that day in the capital, including the "Million MAGA March" and "Stop the Steal," which were organized and promoted by far-right organizations.
Trump drove by his supporters, waving to them through a closed window. He did not stop or speak at the event.
White House press secretary Kayleigh McEnany invoked her predecessor, Sean Spicer, with an unsubstantiated claim about the crowd size on the day.
"More than one MILLION marchers for President @realDonaldTrump descend on the swamp in support," she tweeted.
Groups including the Proud Boys—which the Southern Poverty Law Center deems a hate group—and militias the Oath Keepers and Three Percenters had a large presence at the rally.
Speakers included Congresswoman-elect Marjorie Taylor-Greene, a public supporter of the QAnon conspiracy theory, and far-right figures Mike Cernovich and Jack Posobiec.
A counterprotest was organized by Refuse Fascism to demonstrate against what it called "MAGA mobs."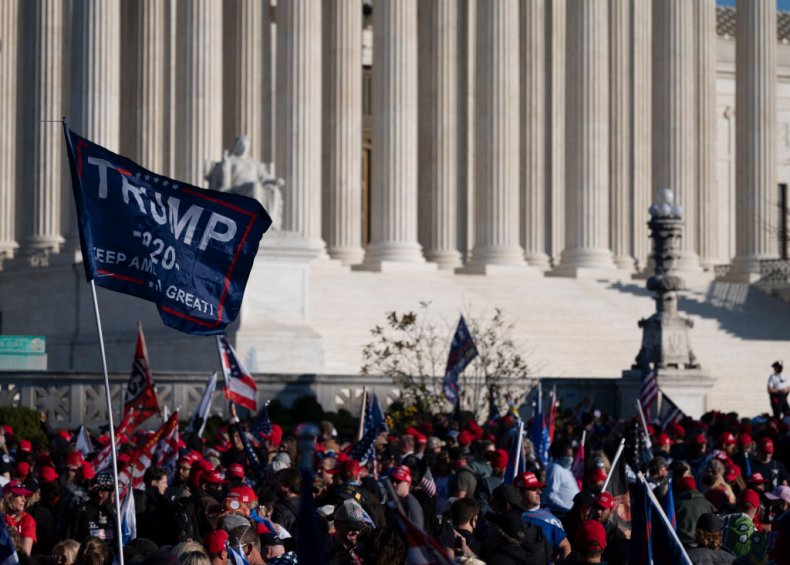 One person was stabbed and there were multiple arrests when violence erupted into the night after the two groups clashed.
The Electoral College will meet on December 14, with the 538 appointed electors casting their ballots for the next president and vice president. Each of the electors will meet in their respective state capitals, with electors for the District of Columbia meeting within the District.
Trump has claimed victory in the presidential election and continues to refuse to concede to President-elect Joe Biden.