MAGA Voter Deaths by Fentanyl via Border 'Does Look Intentional': JD Vance
Ohio Republican Senate candidate J.D. Vance on Friday alleged that MAGA voters dying from fentanyl looks "intentional" and claimed that President Joe Biden is responsible for those deaths.
"If you wanted to kill a bunch of MAGA voters in the middle of the heartland, how better than to target them and their kids with this deadly fentanyl?" Vance said during an interview with Jim Hoft, who is the founder of the far-right news site Gateway Pundit.
The GOP candidate said that drug addicts are not the only ones affected by the access to fentanyl, adding that it also impacts Republican voters who see grandparents taking care of their "grandkids that they weren't expecting to take care of because this fentanyl killed their children."
"It's really a border crisis that has gone all over the country. It's not just the southern border states that are affected by it. It's everybody, and that it does look intentional," he added. "It's like Joe Biden wants to punish the people who didn't vote for him and opening up the floodgates to the border is one way to do it."
In January, the U.S. Customs and Border Protection (CBP) reported that there was a "significant" increase in fentanyl and cocaine that CBP officers seized last year at eight south Texas ports of entry. "Most notably [there was] a 1,066 percent increase in fentanyl and a 98 percent increase in cocaine seized," the CBP said.
Vance is expected to run against former state treasurer Josh Mandel in the upcoming primary. Early voting began on April 5 and will continue until May 2, with the primary election day on May 3.
Even though the GOP candidate has been a past critic of former president Donald Trump, he still received his endorsement for the Senate.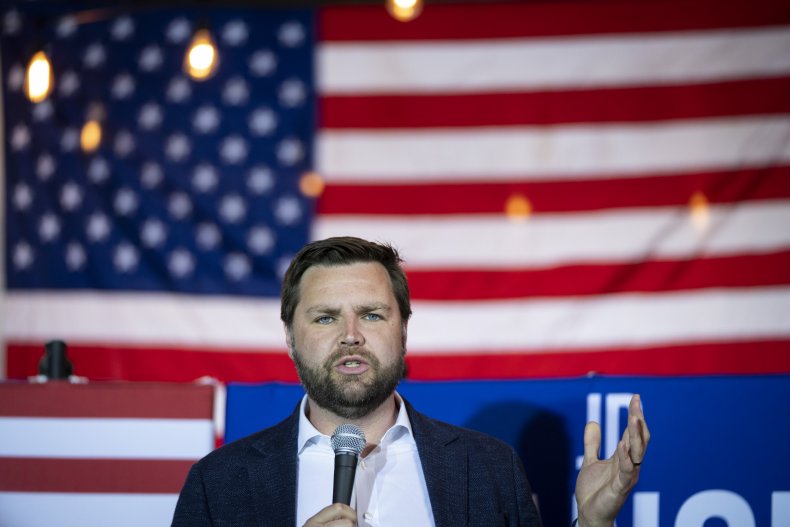 Last week, Trump encouraged his supporters to back Vance, who is a venture capitalist and author of Hillbilly Elegy. During a rally in Delaware, Ohio, the former president said Vance is "the man with by far the best chance to defeat the radical Democrat nominee for the U.S. Senate this November."
"He's a guy that said some bad sh*t about me...but you know what? Every one of the others did also," Trump said. "In fact, if I went by that standard, I don't think I would have ever endorsed anyone in the country. Ultimately, I put that aside."
Support for Vance increased after Trump's endorsement, according to a recent poll presentation for Protect Ohio Values, a super PAC that is supporting Vance.
The poll found that 25 percent of 800 likely Republican voters were now supporting Vance, up from 18 percent in March, followed by Mandel with 18 percent. Vance's vote share increased once voters knew about Trump's endorsement.
However, some Republicans criticized Trump for backing Vance after the latter's past stance against the former president. In 2016, the GOP candidate said that he was a "never Trump" conservative and called him an "idiot."
In another instance, he reportedly sent a private message to a friend saying that the former president could be "America's Hitler" and that the Republican party "has only itself to blame" for Trump's rise.
Newsweek reached out to the White House for comments.