Debate over the use of magic mushrooms (psilocybin) as a potential treatment for medical conditions has come to the forefront amid the ongoing COVID-19 pandemic, which has seen a rise in mental health disorders including depression.
According to an August 2020 report from the U.S. Centers for Disease Control and Prevention, symptoms of anxiety disorder and depressive disorder "increased considerably" in the U.S. from April to June in 2020, compared with the same period in 2019.
The CDC website notes depression affects around 16 million American adults every year, according to a 2013 national survey on drug use and health. One in six adults in the U.S. will experience an episode of major depression in his or her lifetime.
What Are Magic Mushrooms?
Psilocybin, the active ingredient in magic mushrooms, is a chemical that comes from certain types of fresh and dried mushrooms.
Magic mushrooms, also commonly known as shrooms or mushrooms, are hallucinogens, which are a group of drugs that alter perception, thoughts and feelings. They cause hallucinations or sensations and images that appear to be real even though they are not, the U.S. National Institute on Drug Abuse (NIDA) explains.
Some of the physical effects of psilocybin consumption include nausea, vomiting, muscle weakness, and lack of coordination.
The psychological effects of magic mushrooms include an inability to discern fantasy from reality. Consuming large amounts can cause panic attacks and psychosis, while overdose could result in death, the U.S. Drug Enforcement Administration warns.
The U.S. Department of Justice also warns that in addition to the risks associated with ingesting psilocybin, poisoning is another potential danger if one of the many varieties of poisonous mushrooms is incorrectly identified as a psilocybin mushroom.
Are Magic Mushrooms Legal?
Psilocybin, which is a Schedule I substance under the Controlled Substances Act (CSA) of 1970, is currently illegal in the U.S.
While decriminalized in Denver, Colorado and Oakland, California, magic mushrooms remain illegal on a federal level across the country.
The Department of Justice states: "Schedule I drugs, which include heroin and LSD, have a high potential for abuse and serve no legitimate medical purpose in the United States."
Back in November 2020, Oregon became the first state to legalize the therapeutic use of magic mushrooms.
The Associated Press reported at the time there would be a two-year development period for Ballot Measure 109, which allows the manufacture and controlled therapeutic use of psilocybin in Oregon.
The measure requires the Oregon Health Authority to allow licensed, regulated production and possession of psilocybin, exclusively for administration by licensed facilitators to clients.
Fifty-six percent of the votes supported the measure, while 44 percent voted against it, with around 1.9 million votes counted, according to the AP.
While some patients who've experienced different health conditions, including terminal cancer and post-traumatic stress disorder, have shown support for the drug's medical use, some health groups in Oregon have warned there is a lack of scientific studies to confirm its safety.
The Oregon Psychiatric Physicians Association and the American Psychiatric Association have argued against the latest measure.
"We believe that science does not yet indicate that psilocybin is a safe medical treatment for mental health conditions," both groups said, AP reported at the time.
On the same day in November 2020, Oregon became the first state to decriminalize hard drugs like heroin and methamphetamine via the passing of Measure 110.
Kassandra Frederique, the executive director of the Drug Policy Alliance, the nonprofit that was behind the measure, said at the time: "Measure 110 is arguably the biggest blow to the war on drugs to date.
"Today's victory is a landmark declaration that the time has come to stop criminalizing people for drug use," she said, AP reported at the time.
Dozens of district attorneys warned at the time that Measure 110 "recklessly decriminalizes possession of the most dangerous types of drugs (and) will lead to an increase in acceptability of dangerous drugs."
Large clinical trials underway in the U.S. and Europe are aimed at winning regulatory approval for psilocybin.
Magic Mushrooms for Depression
In a statement to Newsweek, the NIDA said that psilocybin is not currently approved by the Food and Drug Administration (FDA) for the treatment of any condition or disease.
Patients should always consult their doctors to decide which treatment options may be best for them, the federal health body advised.
The NIDA statement said: "Evidence has mounted in recent years that psilocybin may be effective in treating depression, though it will be necessary to gather data from clinical trials in order to understand the best and safest treatment options for patients."
The FDA has granted "Breakthrough Therapy" designation for two formulations of psilocybin to facilitate clinical trials for its "psilocybin-assisted therapy for treatment-resistant depression" and the trials will determine the safety and efficacy of the drug, the NIDA told Newsweek.
A list of all related clinical trials can be accessed via the U.S. National Library of Medicine (NLM), the NIDA said. According to the NLM website, there are currently at least 29 clinical trials relating to psilocybin and depression.
The NIDA warned: "It is important to note that research on psilocybin as a medical treatment is done within a therapeutic structure, which includes a preparatory session with a clinician, a controlled environment and supervision while experiencing the effects of psilocybin and follow-up sessions for processing."
Some previous studies have shown the psilocybin could potentially be an effective treatment option for depression.
A Johns Hopkins University study of 24 volunteers, published in 2020 in JAMA Psychiatry (a peer-reviewed medical journal published by the American Medical Association), that evaluated the effectiveness of a combination of psychotherapy and psilocybin to treat depression showed magic mushroom therapy was four times more effective than traditional antidepressants.
Two-thirds of the study's participants showed an over 50 percent reduction in depression symptoms after a week, while a month later, over half of the participants were considered to be in remission, which means they no longer qualified as being depressed.
An ongoing study of psilocybin for the treatment of major depressive disorder (MDD), which began in 2019, sponsored by the Usona Institute (a nonprofit that supports research to further the understanding of the therapeutic effects of psilocybin) highlights that depression is associated with "greater disability than are most other chronic illnesses and is a risk factor for mortality."
The study says: "Combined with the high prevalence and significant disability associated with MDD, the fact that currently available treatments are not fully adequate highlights the tremendous need to identify novel treatment strategies.
"Data suggest that psilocybin may have behavioral effects relevant to the treatment of depression and recent studies also suggest that psilocybin may possess antidepressant properties," notes the study, which aims to enroll 100 participants, ages 21 to 65, who meet criteria for MD.
An April 2021 study of 59 participants published in the New England Journal of Medicine compared psilocybin with escitalopram, an antidepressant used for the treatment of depression.
Thirty participants were given psilocybin, while 29 were given escitalopram and both groups reported a decrease in the severity of depressive symptoms. However, the results "did not show a significant difference" in antidepressant effects between both drugs in a selected group of patients.
Dr. Robin Carhart-Harris, a co-author of the study who is the head of the center for psychedelic research at Imperial College London, told The Guardian in April: "I think it is fair to say that the results signal hope that we may be looking at a promising alternative treatment for depression.
He explained that escitalopram appeared to work by helping patients tolerate stress more easily, while "with a psychedelic it is more about a release of thought and feeling that, when guided with psychotherapy, produces positive outcomes," he said, noting that those given psilocybin often reported feeling they had been able to better pinpoint the root of why they were depressed.
Carhart-Harris, however, warned using magic mushrooms as a DIY type treatment option would be an "error of judgment."
He told The Guardian "the psychotherapy component is as important as the drug action."
Newsweek has contacted the CDC, the U.S. Food and Drug Administration, the U.S. Drug Enforcement Administration, the Usona Institute and the Drug Policy Alliance for comment.
Update 09/23/21, 11:07 a.m. ET: This article was updated with comment from the U.S. National Institute on Drug Abuse.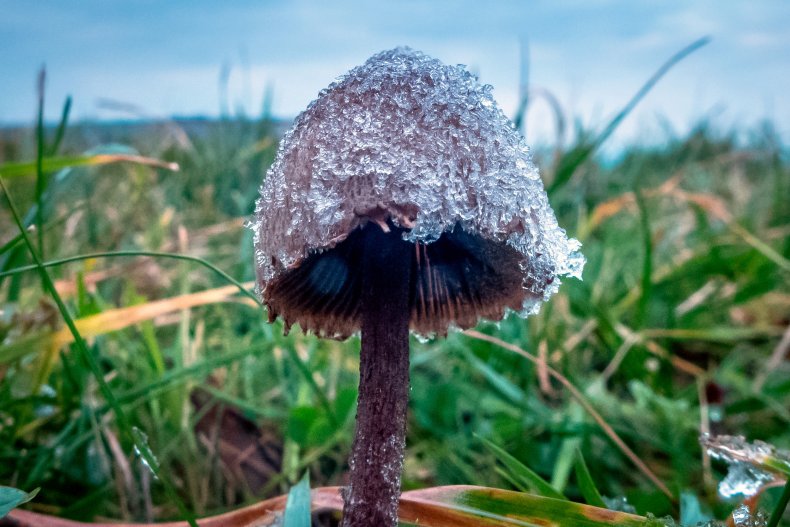 Uncommon Knowledge
Newsweek is committed to challenging conventional wisdom and finding connections in the search for common ground.
Newsweek is committed to challenging conventional wisdom and finding connections in the search for common ground.
About the writer
Soo Kim is a Newsweek SEO Reporter is based in London, UK. She reports on various trends and lifestyle stories, from health, fitness and travel to psychology, relationships and family issues. She is also a South Korea expert who regularly covers Korean culture/entertainment for Newsweek, including the latest K-dramas, films and K-pop news, and is the author of the book How to Live Korean, which is available in eight languages. Soo also covered the COVID-19 pandemic extensively from 2020 through 2021 after joining the general news desk of Newsweek in 2019 from the Daily Telegraph (a U.K. national newspaper) where she was a travel reporter/editor from 2010. She is a graduate of Binghamton University in New York and the journalism school of City University in London, where she earned a Masters in international journalism. Languages spoken: English and Korean.
Follow her on Twitter at @MissSooKim or Instagram at @miss.soo.kim
You can get in touch with Soo by emailing s.kim@newsweek.com