Women Confront Man Taking Pictures of Them at Pool in Viral Video
TikTok user Mai Pham shared a clip of her confronting a man at a pool who had taken photos of her and a friend. Since it was published on June 19, the clip has gained over 4 million views.
"Stay safe out there ladies. Decided to confront a creep taking pics of us when we were just trying to hang by the pool. HE TRIED DENYING IT," she captioned the post.
In the clip, one of the friends can first be heard asking the man: "Excuse me, I'd really appreciate it if you deleted the photos of us off your phone."
Pham told Newsweek that they didn't realise he was taking pictures at first, until he started doing it for the second time: "We noticed that he took his phone out multiple times and angled it towards us, but we thought to not assume the worst. It was when we started posing for pictures that he took his phone out again, and that's when we knew," she said.
At first, the man begins by denying it, instead saying he's just sitting around the pool like them. "We're in the same situation," he said.
He then can be seen showing the two women his camera roll, in an attempt to prove he didn't take any pictures. However, the friends notice he is instead showing them his "favorites" rather than his recent photos. "No, go back, that's your 'favorites,'" they point out.
"Alright," he admitted, quite literally holding his hands up.
"Can you please delete them," one of the friends asked.
"Yes mam," he responded.
The man then asked the women to sit down while he deleted them, explaining that them standing near him was "intimidating."
"I'm just making sure you're deleting them all," one of the women responded, adding that they want the images deleted from his "recently deleted" folder too.
Towards the end of the video, one of the friends believes she sees a video of herself on the phone too.
"It's a photo, not a video," he responded.
Pham told Newsweek that the reason she decided to share the video was "so that other women could see me confronting the man, and hopefully have the courage to do the same if they were ever put in that situation. Also for people to know that they're not alone. I did not expect the video to go viral, but I'm glad it did because it makes more people aware of things that females have to deal with, and for predators to know that what they're doing isn't right, and they could get caught."
The viral video has split viewers on TikTok, with some praising their bold decision to confront the man, while others have dubbed the video "hypocritical," as they too are videoing him without permission.
"You guys did the best thing, you're so brave," wrote one user.
"I'm glad you guys confronted him," added another.
However, others felt differently about their confrontation technique. "Yet you're taking a video of him without consent, that doesn't make it right," commented one user.
"Wait, half of TikTok is filming other people in public," noted another viewer.
"Though there is quite a bit of controversy going on in the comments, I've gotten so much supporting for confronting the man in the video, and I hope I've inspired others to do the same," Pham told Newsweek.
In May, another pool confrontation video went viral on TikTok, when TikTok user Samantha Longton captured the moment she confronted men mocking her for taking pictures of herself. One of the men allegedly remarked, "this is what is wrong with girls," as his friends laughed at her. Like Mai's video, the TikTok went viral and has gained over 11 million views since its upload.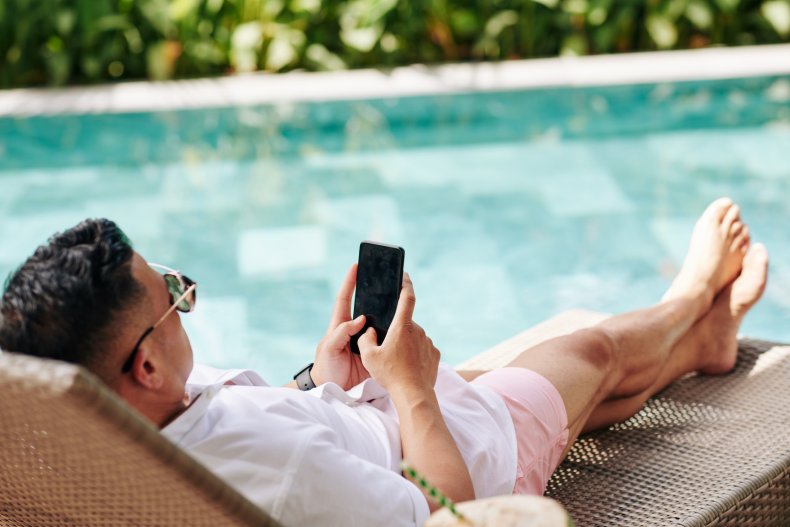 Update 6/28/21, 03:01 a.m. ET: This article was updated with comments from Mai Pham.