Mail-In Ballots Lead to High Florida Primary Turnout, Now The Delays Await
On Tuesday, Florida held its statewide primary elections, but the results are expected to be delayed due to a massive influx of roughly 9,000 voters who submitted their mail-in ballots in-person to the offices of their counties' supervisors of elections in order to be counted by the mandatory Tuesday 7 p.m. deadline.
Roughly 12,200 ballots were dropped off in Broward County on Tuesday alone. Through Monday, the county received 198,861 mail-in ballots.
"Turnout was high," Broward Supervisor of Elections Peter Antonacci said. "Overall this will go down as the highest turnout primary election in history with most of that driven by voting by mail."
While in-person polling places throughout Florida remained mostly empty, voters crowded the parking lots of their county's supervisor of elections' offices to ensure that their votes would be submitted by the state's strict cutoff time of 7 p.m.
State law requires all mail-in ballots to be received by the day of the election, and postmarks don't count. In-person polling places aren't allowed to accept mail-in ballots. The counties' supervisor of elections' offices accepted ballots up to 5 p.m. on Tuesday, and some offices had dropboxes where drivers could deposit their ballots.
Some counties' elections supervisors also had crews obtaining as many late ballots as possible at various postal sorting facilities, according to the South Florida Sun Sentinel. It's unclear how long the mail-in ballots will take to count though.
"We've got our work cut out for us," Antonacci said. "We'll just have to be patient."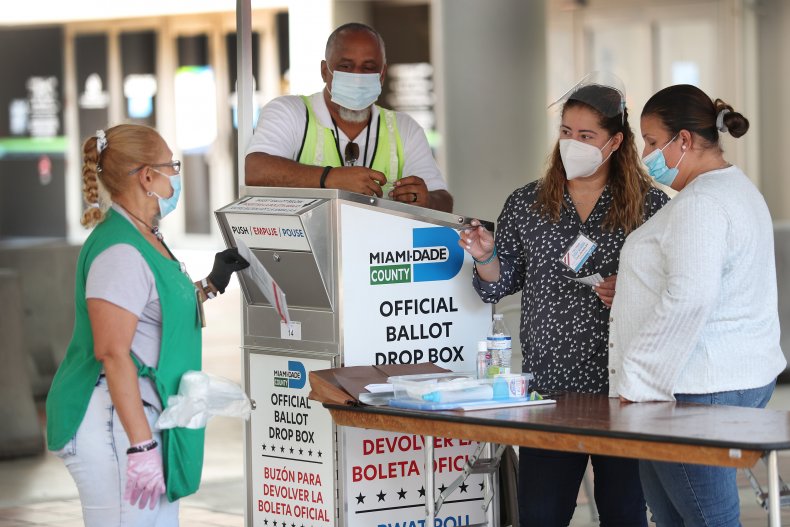 Republican President Donald Trump voted by mail in Florida's primaries, even as he continued to speak against voting-by-mail on social media. In particular, Trump criticized dropboxes of the sort used by counties' supervisors of elections.
"Some states use 'drop boxes' for the collection of Universal Mail-In Ballots," Trump wrote on Twitter. "So who is going to 'collect' the Ballots, and what might be done to them prior to tabulation? A Rigged Election? So bad for our Country. Only Absentee Ballots acceptable!"
Absentee ballots are similar to vote-by-mail except that absentee voting requires voters to submit a ballot request stating why they're unable to vote in person.
In the coming elections, many states are poised to use dropboxes for mail-in ballots similar to Florida's as they expand vote-by-mail access as a way to reduce possible transmission of the COVID-19 coronavirus at in-person polling sites.
Dropboxes are also meant to help reassure voters who are anxious about whether their mail-in ballots will arrive in time to be counted, especially since the U.S. Postal Service has been experiencing delays in service.
According to the Brookings Institute, an American research group, when local election authorities receive a mail-in ballot, they check to make sure that the voter's name listed on the ballot is registered to vote and that the voter is casting a ballot from the address registered with the election authority.
After certifying those facts, the officials then remove the sealed ballot from the outside envelope containing the voter signature so that the vote remains confidential.
While polling places will remain open during the coming elections, they may face challenges as many poll workers nationwide have been canceling to avoid possible exposure to the coronavirus.
In-person polling will have to observe measures to maintain social distancing, disinfecting touched surfaces and making face masks and hand sanitizers available to voters and poll workers alike.