Mail Bombs Are 'False Flag' to Distract From 'Hordes of Illegal Aliens,' Claim Conservative Commentators
Some of President Donald Trump's most vocal supporters peddled a conspiracy theory that the mail bombs sent to former Secretary of State Hillary Clinton and billionaire philanthropist George Soros, among other prominent Democrats, were a false flag to distract voters ahead of the midterms.
The FBI is investigating the explosive devices, which were also sent to former President Barack Obama, former CIA Director John Brennan via the CNN offices in New York and former Attorney General Eric Holder. And more may still be out there.
So far, the bureau has not made public any theories or leads about who might have sent the devices, and why. But many high-profile Trump supporters pushed a claim, without providing any evidence to support it, that Democrats had sent the bombs as a ploy to win favor as the midterm elections approach—and to push the migrant caravan out of the news agenda, because they fear it will be politically damaging.
Michael Savage, the conservative host of radio show Savage Nation, which has an audience of millions every week, claimed there was a "high probability that the whole thing had been set up as a false flag to gain sympathy for the Democrats number one, and number two, to get our minds off the hordes of illegal aliens approaching our southern border," Media Matters reported.
When challenged by a caller, who said Savage's comments were "so far off the edge it's irresponsible," Savage replied: "Because you say it's irresponsible doesn't make it irresponsible, it means you're not able to think outside your own box… All your fear buttons have been hit. That's exactly what Soros and company want you to feel. I'm saying question authority."
Conservative radio host Rush Limbaugh also pushed the false flag conspiracy theory during his show on Wednesday. "They have thrown every trick at Republicans," Limbaugh said. "Their media acolytes are doing their tough lifting for them—and none of it, none of it, none of it has worked.
"So what would you do? Democrat operative, best way to turn all of that around? How about a day like this? How about a day like this where you create a scenario where it looks like the mobs are on both sides."
Bill Mitchell, another conservative radio host and a pro-Trump personality on Twitter, dismissed the bombs as "false flag BS" in a tweet and referred to the situation as "#FakeBombGate."
Ann Coulter, the conservative pundit, said on Twitter that "bombs are a liberal tactic."
And Dinesh D'Souza, the conservative author and filmmaker pardoned by Trump for a felony conviction of making illegal campaign contributions, pushed the false flag conspiracy heavily on his Twitter account. D'Souza wrote: "I hear the FBI squeezed lemon juice on the suspicious packages and a very faint lettering revealed a single word: DEMOCRATS."
For its part, the White House strongly condemned the attempted bombings.
"We condemn the attempted violent attacks… These terrorizing acts are despicable and anyone responsible will be held accountable to the fullest extent of the law," said White House press secretary Sarah Huckabee Sanders in a statement.
"The United States Secret Service and other law enforcement agencies are investigating and will take all appropriate actions to protect anyone threatened by these cowards."
The FBI said in a statement that the packages were mailed in manila envelopes with bubble wrap interior and had computer-printed address labels with six Forever stamps.
They all had a return address of "DEBBIE WASSERMAN SHULTZ" [sic] in Florida, the FBI said. Debbie Wasserman Schultz is a Democratic congresswoman from Florida, and was a former chair of the Democratic National Committee.
"This investigation is of the highest priority for the FBI," said FBI Director Christopher Wray in a statement. "We have committed the full strength of the FBI's resources and, together with our partners on our Joint Terrorism Task Forces, we will continue to work to identify and arrest whoever is responsible for sending these packages."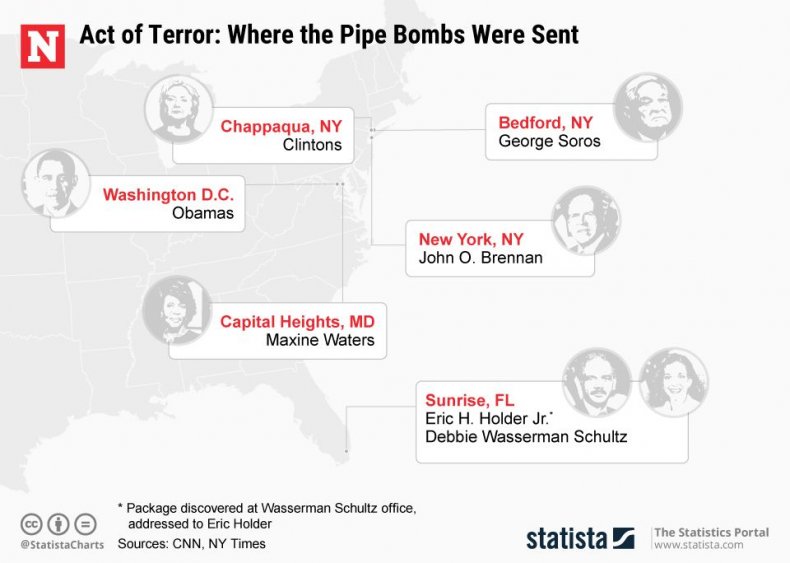 This visual, created by Statista, shows where and to who each bomb was sent.