Majestic 'Creature' Causes Stir Online As No One Can Work Out Its Breed
A majestic "creature" has been causing a stir online after no one could quite work out the breed, with some people comparing the animal to a lemur.
A video shared to Reddit on Wednesday, by StcStasi, showcased the unusual specimen, and was captioned: "The most gorgeous creature! What would you call this breed of cat?"
It amassed nearly 50,000 upvotes in just a few days, with people sharing wild opinions.
Ourneylovelive wrote "Cheshire cat!"
InfectedAlloy88 joked: "If this cat started talking to me I don't think I'd even flinch."
Ins4n1ty reckoned: "I think it might be able to tell me the way through the Labyrinth."
Nigerianprinceas thought: "It looks like a lemur."
Emotional_Grape8449 asked: "Damn is that even a cat?
"This thing was born in Jim Henson's Creature Shop," Sheezy520 said.
While IHaveMyCats commented:" Looks like he is wearing the pelts of all the other cats he killed."
Turns out the captivating creature is Richie du Mont d'Even the Maine Coon cat, who has his own Instagram account, @richie_the_mainecoon_.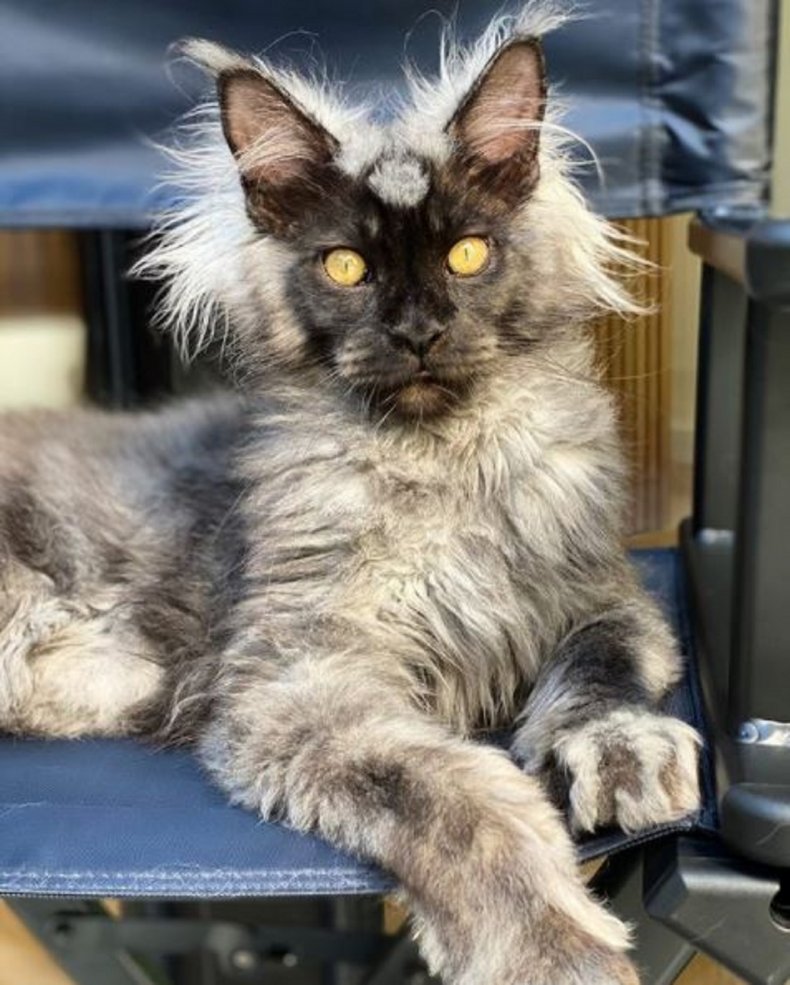 His owner, Adriana Piraino, chatted to Newsweek, and revealed she got Richie from the Chatterie du Mont d'Even, in France, where he gets his name.
Piraino, a makeup artist, revealed she got Richie at 4 months old, for $1,620 and even at that young age his coat was impressive.
She said: "Richie already had a lot of hair at that age. But people started to take an interest in him when he developed his fur. His fur grew in a few days. Like a coat around him, he transformed into an animal that was just as strange as it was cute. He started to go viral on social media. People went crazy for him."
But he's more than just a pretty face, as Piraino continued: "Beyond his physique, he has his personality. Smart, curious, and player like a dog-cat. He follows me everywhere, I work from home, it is my life companion. He adores humans as he adores babies."
She too was excited to see how Richie developed, explaining she got him after losing her two cats two years ago, and always wanted a "purebred."
"I started to get interested in Maine Coons. They are majestic," she said, adding Richie is a black smoke, a variety of the Maine Coon breed, which includes blue, red and cream shades.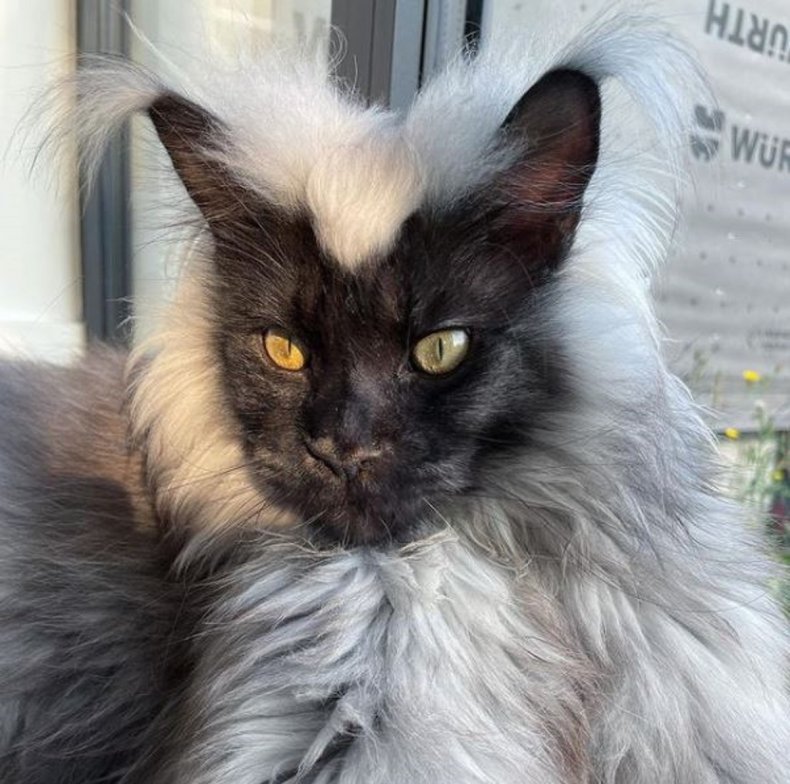 Website Maine Coon Central explained why smokes are highly prized, saying: "This coloration is highly sought after in Maine Coons because it looks so gorgeous. By simply stroking your cat's fur in different directions, you will be able to see the paler undercoat beneath, and it can almost look like your cat is changing colors right in front of your eyes!"
Piraino, who lives in the European country, said: "Like my followers, I'm just as surprised at how Richie has grown up. I have never seen such a cat. People ask me a lot of questions but I don't know exactly how and why Richie is like that.
"Now my vet recognizes Richie, like a popstar. Veterinarians are studying him. I think it's the only Maine Coon with such a fur."
Now 11 months old, Richie boasts a unique look that has seen him win legions of fans online, with various Instagram posts racking up thousands of likes.
And Piraino acknowledged he does resemble a monkey, as she captioned one post: "Little lemur ready to attack."