Majority of Americans Concerned About War With China in the Next Five Years: Survey
Some 71 percent of Americans are worried about a hot war between the United States and China in the next five years, according to a new survey, with one-third of respondents saying they were "extremely concerned."
The annual Reagan National Defense Survey, conducted by the Ronald Reagan Presidential Foundation and Institute, was released on Wednesday after polling more than 2,500 U.S. adults over two weeks.
The results showed a "bipartisan consensus" about threats to national security, with China topping the survey at 52 percent. Of the nations in double digits, Russia was seen as a threat by just 14 percent of those polled, while 12 percent chose North Korea. In the foundation's first survey—released in 2018—just 21 percent rated China as America's principal national security threat.
In a press release, the Reagan foundation said Americans expressed a "diverse set of concerns" about China, including its military buildup, economic practices and human rights abuses against Uyghurs in Xinjiang. The Chinese military, while still seen as inferior to the U.S. military, was viewed as second best in the world.
The U.S. government's sentiments about China and broader realignment to the Indo-Pacific appear to have carried through in the survey, in which 37 percent said the U.S. should concentrate on force posture in East Asia.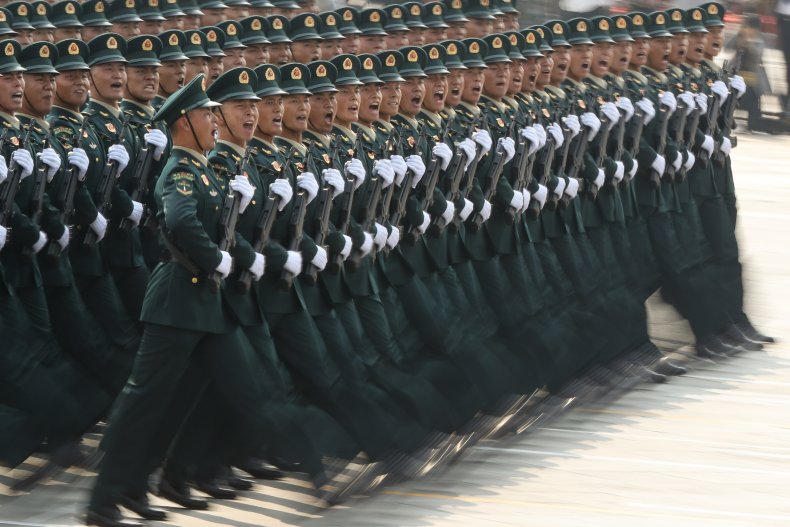 As the administrations of Donald Trump and now Joe Biden have offered vocal support to Taiwan and warned Beijing against unilateral action in the Taiwan Strait, the national defense survey reflected similar support for "a robust U.S. response" in the event of a Chinese attack on the island.
If Taiwan is attacked, 71 percent of respondents said the U.S. should recognize Taiwan as an independent country. Just over half—55 percent—said American military assets including aircraft carriers should be deployed to the region and exactly 50 percent said the U.S. should impose a no-fly zone over Taiwan, even if it meant shooting down Chinese warplanes. However, more people supported economic sanctions—66 percent—over committing U.S. ground troops to defend Taiwan—40 percent.
Although 71 percent of those polled said they were concerned about a U.S.-China war and 61 percent also feared the outbreak of a thermo-nuclear war, Americans were more concerned about the potential for cyberattacks, terrorist attacks and another global pandemic in the next five years—at 88, 82 and 81 percent respectively.
Some 60 percent of respondents want the International Olympic Committee to delay or move the Beijing 2022 Winter Olympics over China's human rights violations. A full boycott was supported by 47 percent but a diplomatic boycott, under which U.S. athletes will still compete next February, was preferred by 48 percent.
The survey found 72 percent of people believe it was likely that the Chinese government sought to hide COVID-19 after it was developed in a Wuhan laboratory and accidentally leaked.
Among the closest American allies, the United Kingdom and Australia were the top choices at 86 and 84 percent respectively. Japan—home to the most forward-deployed American troops—was viewed as a U.S. ally by 70 percent.
According to the poll, 78 percent of the public showed general confidence in the U.S. military, with 65 percent endorsing the maintenance of military bases around the world.
The Reagan foundation survey interviewed 2,523 people via telephone and online between October 25 and November 7.