Majority of Americans Support Requiring Vaccinated People to Carry Proof: Poll
As "vaccine passports" emerge as the next cultural flashpoint in the coronavirus pandemic, a new poll found that a majority of Americans support requiring people who have received a shot to carry proof.
A Morning Consult survey released Wednesday showed 53 percent of U.S. adults backed the idea of requiring those who have been vaccinated against the virus to have proof, whether it be a digital or physical certificate.
Slightly more than one-third of those polled (37 percent) opposed making inoculated people carry proof. Ten percent of respondents didn't know or offered no opinion on the subject.
Slightly more Americans (63 percent) supported the idea of a digital COVID-19 vaccination passport, but only when it was not mandatory. If required, support for a digital card dropped to 46 percent.
Last month, New York became the first state to launch a digital vaccine passport application for residents to verify that they've been immunized against the coronavirus. The program is intended to help fast-track re-openings of venues and businesses.
Since then, it has become a divisive issue across the country with several states already moving to ban them. Republican governors in Georgia, Florida, Missouri, Nebraska, Tennessee and Texas have been vocal about their opposition and some have pushed executive orders or legislation to combat a passport program. Many of the leaders have expressed concern about privacy or personal freedom.
"Texans are returning to normal life as more people get the safe and effective COVID-19 vaccine. But as I've said all along, these vaccines are always voluntary and never forced," Governor Greg Abbott said Tuesday.
"Government should not require any Texan to show proof of vaccination and reveal health information just to go about their daily lives. That is why I have issued an executive order that prohibits government-mandated vaccine passports in Texas."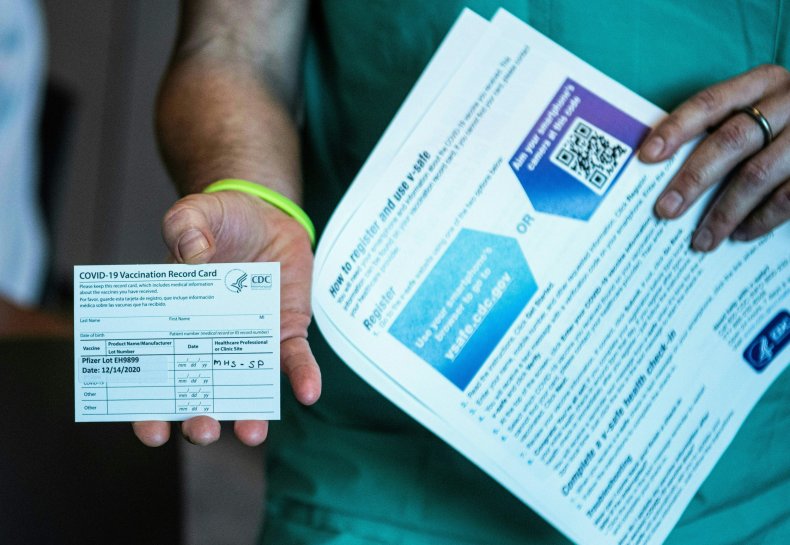 The Morning Consult survey found 71 percent of Republicans and 55 percent of Democrats reported concerns about health data protection when it comes to digital vaccine cards.
When it came to the issue of whether employers should require employees to show proof of vaccination before working, 50 percent of U.S. adults supported the proposal. Forty percent of respondents opposed the idea.
There was less support for whether businesses should do the same for customers. Just 40 percent of Americans said businesses should require proof of vaccination for anyone who enters their store. Roughly one-third of adults said stores should be allowed to ban unvaccinated people from entering.
The Morning Consult poll, conducted from April 2 to April 4, surveyed 2,200 U.S. adults and has a margin of error of plus or minus 2 percentage points.
Newsweek, in partnership with NewsGuard, is dedicated to providing accurate and verifiable vaccine and health information. With NewsGuard's HealthGuard browser extension, users can verify if a website is a trustworthy source of health information. Visit the Newsweek VaxFacts website to learn more and to download the HealthGuard browser extension.