Majority of Americans Think Trump's Trying to Divide America to Win Reelection: Poll
As President Donald Trump vies for reelection this November, polling data indicates most voters think he is pushing for division in efforts to win.
More than half of the individuals who participated in a new Yahoo News/YouGov poll responded that they believed that to be the case. The poll, which surveyed roughly 1,500 U.S. adults between July 11 and July 14, found 56 percent of respondents agreed with the statement: "Donald Trump is trying to divide America to win reelection." The most significant group of responses showed firm support for the claim, with 37 percent of those surveyed saying they strongly agreed. Close to 20 percent of respondents said they agreed somewhat. Another 30 percent noted strong disagreement.
Responses to a question presented later in Yahoo/YouGov's survey showed a slight majority participants do not believe any president can unify the nation, although more than 80 percent said the quality they value most in an executive leader is their ability to improve situations for as many people as possible. In comparison, 19 percent said they most valued a president's ability to defend their own interests.
Trump's divisiveness is not a new campaign strategy. Leading up to the 2016 election, and throughout much of his term in office, the president targeted and criticized large segments of the U.S. population, offering praise to supporters and castigating dissenters along the way. He frequently denounces news outlets and Democratic government officials, calling them names and questioning their authority. Building a wall along the U.S.-Mexico border, reversing DACA and backing other anti-immigration policies are central to his presidential platform.
Political candidates, including presumptive Democratic presidential nominee Joe Biden, are generally critical of their competitors during the months leading up to an election. Trump condemns Democratic leaders and voters alike, often referring to members of the party as "the radical left" on social media.
"Joe Biden and the Radical Left want to Abolish Police, Abolish ICE, Abolish Bail, Abolish Suburbs, Abolish the 2nd Amendment—and Abolish the American Way of Life," Trump tweeted on Wednesday. "No one will be SAFE in Joe Biden's America!"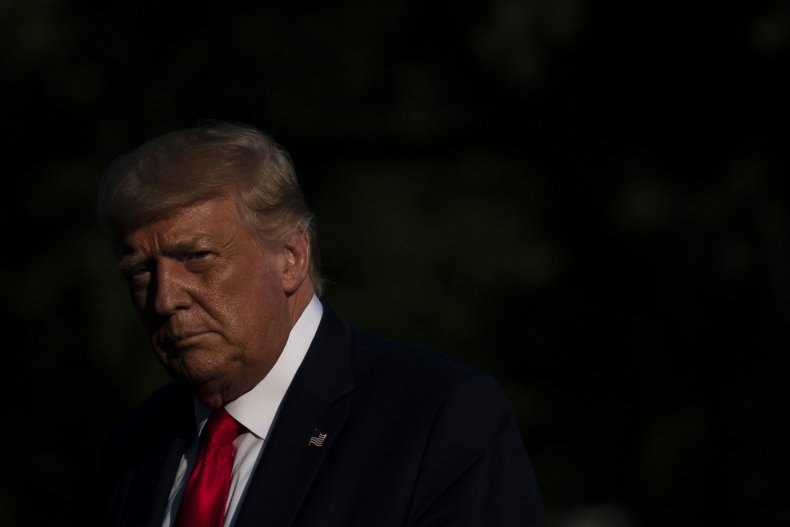 In an appearance on CBS' Face the Nation last summer, Vermont Senator Bernie Sanders suggested Trump's efforts to win at the polls were rooted in division. Sanders' interview referenced the president's deportation policies after Trump directed U.S. Immigration and Customs Enforcement (ICE) to launch a series of raids across multiple cities. At the time, the senator said Trump's "entire political strategy" was "to divide the American people" as means to appeal to supporters.
"So, you have a president who gives tax breaks to billionaires and wants to cut Medicare, Medicaid and Social Security. That's not what he's going to run on. You've got a president who tried to throw 32 million people off health care. He ain't gonna run on that one. You got a president who gave 83 percent of the tax benefits to the top 1 percent, not going to run on that one," Sanders said. "So, how do you win an election? What do you say—You see those undocumented people, they're all your enemy. 'Stand with me. Hate them. Let's divide this country up.' I think that is an incredibly ugly and dangerous thing to be done."
This story has been updated to say the poll was conducted by both Yahoo News and YouGov.