Majority of Catholic Republicans Say Biden Shouldn't Receive Communion Over Abortion Stance
A majority of Catholics who vote Republican say President Joe Biden shouldn't be allowed to take Communion during Mass because of his most recent stance in support of abortion rights.
Two-thirds of U.S. Catholics overall say Biden, a lifelong member of the world's largest Christian church, should be given Communion regardless of his stance on abortion. Even more overwhelmingly majorities of Catholics say Biden's policy stances on homosexuality, the death penalty or immigration shouldn't have any impact on the church's treatment of the Democratic politician.
Pew Research Center survey data released Tuesday showed abortion was by far the topic that prompted American Catholics generally to suggest he should be prevented from taking Communion. In September, a Vatican consultant, Father James J. Martin, told U.S. priests that Biden is guilty of "mortal sin" for his abortion stance.
Fifty-five percent of GOP-leaning Catholics said Biden's pro-choice abortion stance should preclude him from taking Communion.
Among U.S. Catholics of all political leanings, 29 percent said Catholic political figures who disagree with the church's strict anti-abortion stance should be disqualified from the Eucharist ritual of taking Communion. Only 11 percent of Democratic Party-leaning Catholics expressed that same sentiment, while 82 percent said he should be allowed to take Communion regardless of his abortion stance.
In October 2019, a South Carolina priest denied Biden communion over his pro-choice abortion stance.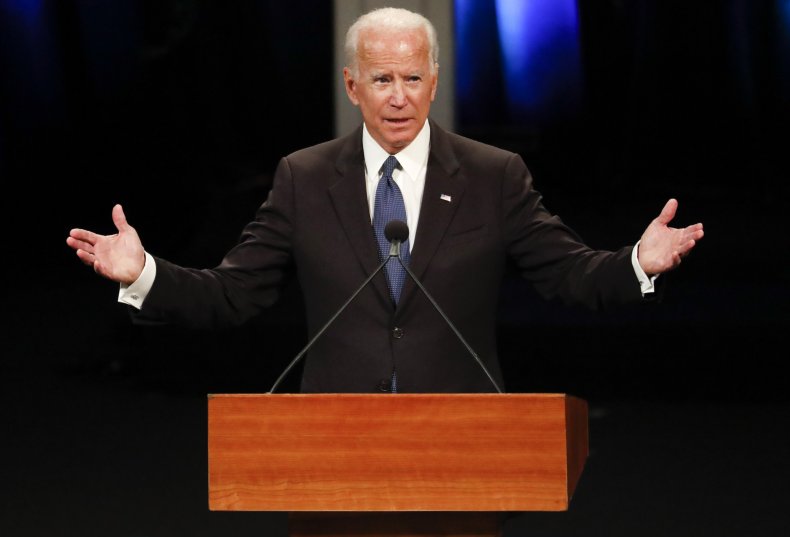 Despite Biden being a lifelong member of the Roman Catholic faith, several 2020 presidential campaign surveys showed a vast majority of white U.S. Catholics supported former President Donald Trump. Fifty-percent of white Catholics supported Trump versus 38 percent who supported Biden. Biden is only the country's second Catholic president after John F. Kennedy.
Just days after his January inauguration, Biden attended a service at Holy Trinity Catholic Church in Washington's Georgetown neighborhood. This was the same church he attended during his years as vice president.
Biden has also attended his local Wilmington, Delaware, Roman Catholic church, Saint Joseph on the Brandywine, on the day he was declared president-elect on November 9. He also was seen visiting the church grounds and cemetery alongside his wife in December as he marked the 48th anniversary of the car accident that killed his first wife and their infant daughter. Beau Biden, who died of cancer in 2015, is also buried in the Roman Catholic cemetery.
Biden has done a few interviews about his Catholic faith and religion, telling America Magazine in 2015: "Jesus Christ is the human embodiment of what God wanted us to do. Everything Jesus did was sort of consistent with what generically we were supposed to do: treat people with dignity."
"My faith implores me to embrace a preferential option for the poor and, as president, I will do everything in my power to fight poverty and build a future that moves us closer to our highest ideals—not only that all women and men are created equal in the eyes of God, but that they are treated equally by their fellow man," Biden told the Christian Post the same year.
Newsweek reached out to the Brandywine church for any additional remarks Tuesday morning.