Majority of Crypto Investors Believe It Will Make Them Rich
A survey of 1,000 Americans by MagnifyMoney, a division of Charlotte, North Carolina-based LendingTree, found that 62% of crypto investors believe they'll get rich.
Bitcoin has risen about 800% in the last year, but skeptics say the cryptocurrency has no real worth and increases in market value only because enough people believe it will – the "Tinkerbell effect."
Nevertheless, the survey found 50% of investors plan to hold the cryptocurrency as a bet on future price appreciation.
That's the same strategy adopted by major companies such as MicroStrategy and top Wall Street firms.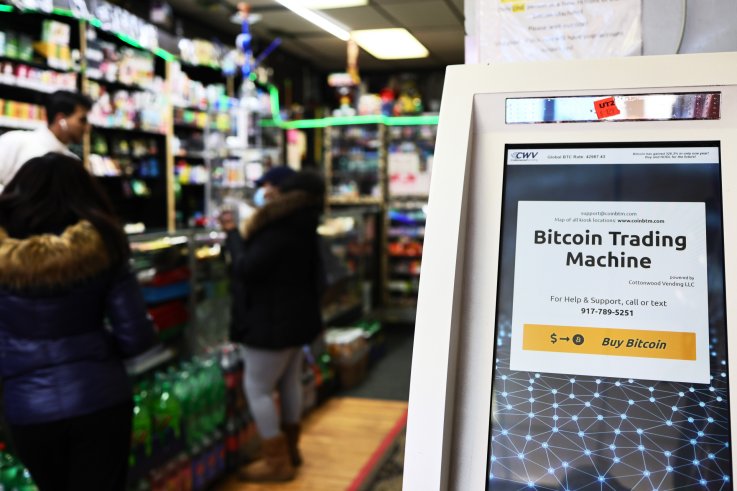 NEW YORK, NEW YORK - FEBRUARY 08: A bitcoin ATM is seen inside the Big Apple Tobacco Shop on February 08, 2021 in New York City.
Michael M. Santiago/Getty Images
Fractional ownership—the Satoshi—makes it possible for individual investors to participate in the Bitcoin market, but their importance is likely to decline if major investors continue to bet millions of dollars on cryptocurrencies.
Electric carmaker Tesla invested $1 billion in Bitcoin.
The number of Bitcoins is capped at 21 million worldwide. The long-term investment strategy reduces the number of coins available to those seeking to enter the field or expand their holdings, driving the spot price higher and, at least in theory, smoothing out wild price swings.
About 46% of Americans said they regretted not buying Bitcoin years ago, but 55% said they had no regrets.
Bitcoin hit $1 for the first time in February 2011.
Bitcoin backers say the cryptocurrency was designed to be used in commerce, and 29% of respondents in MagnifyMoney's survey said they'd use profits to buy gift cards. Another 14% said they'd go shopping.
Twenty-six percent said they'd pay off debt, but 23% said they'd re-invest in cryptos or non-fungible tokens (NFTs), and 12% would consider it mad money and use any profit to gamble.
About 30% of those who have never invested in a cryptocurrency said they'd consider it, but willingness to do so decreases with age.
Forty percent of Gen Zers, or those born between 1997 and 2012 who grew up with the Internet, who haven't invested in Bitcoin said they'd consider it, compared with 34% of millennials (born 1981 – 1996), 28% of Gen Xers (born mid-1960s – early 1970s) and 21% of Baby Boomers (born 1946 – 1964).
Although not broken down by age, 35% of respondents said they didn't trust cryptocurrencies, while 23% said they didn't see its value, and another 23% said it's too risky.
Despite extensive press coverage and websites devoted to Bitcoin and other cryptocurrencies, 32% of respondents said they wouldn't know where to start if they wanted to invest, and 24% said it's too confusing.
Among those who have invested in a crypto, 39% have invested $1,000 or less and only 12% have invested $10,000 or more. But 34% invested $1,000 to $4,999 and 16% have invested $5,000 to $9,999, MagnifyMoney's survey found.
Despite the generally small dollar amount, Bitcoin investments can still be a source of household friction.
Seventy-one percent of respondents said their spouse or significant other would be angry if any money were spent on cryptos or Non-Fungible Tokens, but 29% would simply shrug.
Seventy-three percent of crypto investors said they're concerned about their coins disappearing through theft or carelessness, but 32% of respondents said they hadn't written down the private key or password needed to access their online digital wallet.
Chainanalysis estimates that Bitcoin valued at about $140 billion is lost or languishes in wallets because the owner has lost or forgotten the password.
A man in the United Kingdom said he mistakenly tossed out an old laptop computer that held about 7,500 Bitcoins now worth millions of dollars. He had mined the Bitcoin in 2009 when it was nearly worthless and forgot about it until the recent boom. He offered to pay the city of Newport in South Wales to dig up the dump to search for the hard drive, but the city council declined.
In mid-day trading Thursday, Bitcoin changed hands at $62,677.52 after reaching a new high of $64,829.14 earlier this week. The cryptocurrency is up 116.38% for the year, CoinDesk reported.
Market Pulse
United Airlines plans to enroll about 100 students in its flight school this year in anticipation of increased demand for air travel as COVID-19 vaccinations increase and the pandemic abates.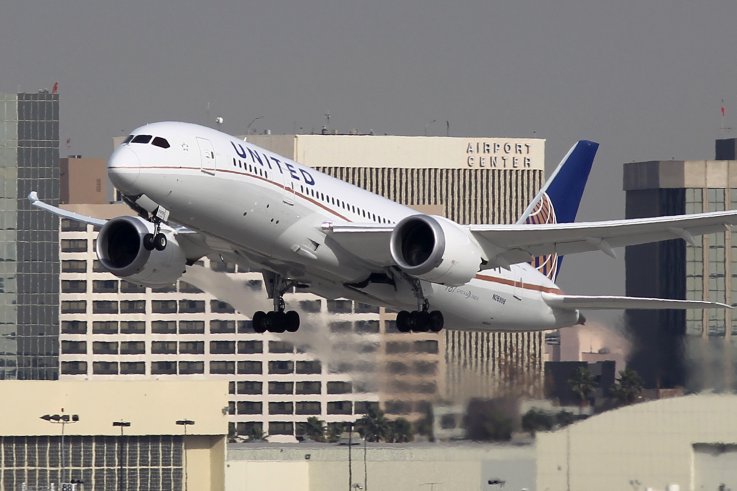 A Boeing 787 Dreamliner operated by United Airlines takes off at Los Angeles International Airport (LAX) on January 9, 2013 in Los Angeles, California.
David McNew/Getty
The students will be trained at the United Aviate Academy in Phoenix, which previously operated as the Westwind School of Aeronautics. The airline purchased the school last year just before the pandemic hit, and state governors closed much of the economy as part of the effort to curb spread of the coronavirus.
United said it plans to train 5,000 pilots by 2030, or about half the number needed. Students who complete the program will be hired by the airline.
United plans to resume hiring new pilots, beginning with those who had job offers but weren't added to the payroll when demand for air travel collapsed during the pandemic.
Thousands of pilots industry-wide accepted buyouts and early retirement last year as carriers sought to cut costs in the downturn. The shortage of aviators may worsen as many other pilots reach retirement age.
United said it hopes the next generation of pilots will be about 50% women and non-whites. About 7% of the carrier's pilots are now women and about 13% are non-whites.
Aviate's partners include Western Michigan University, the University of North Dakota, the Florida Institute of Technology as well as several regional airlines and Lufthansa Aviation Training Academy.
United Airlines and United Express operate about 4,900 flights a day to 362 cities on six continents. In 2019, the carriers completed about 1.7 million flights and carried about 162 million passengers.