Bitcoin Soars on Economic Tinkerbell Effect: It Exists Because People Believe It Does
Bitcoin is held aloft by the "Tinkerbell effect," but is nevertheless "here to stay" as an investment rather than as a means of payment, a researcher at Deutsche Bank believes.
"Bitcoin's value will continue to rise and fall depending on what people believe it is worth," Dr. Marion Laboure said in a research report.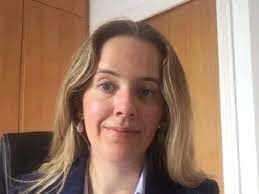 Economist Dr. Marion Laboure, researcher, Deutsche Bank (Photo Provided: Deustche Bank)
Deustche Bank
"This is sometimes called the 'Tinkerbell Effect'—a recognized economic term stating that the more people believe in something, the likelier it is to happen," she said, "based on Peter Pan's assertion that Tinkerbell exists because children believe she exists."
Bitcoin has risen more than 100% in 2021 and hit a record high of $61,556.59.
While Bitcoin's price was down 0.14% in midday trading Monday to $57,150.78, it's still up about 96% for the year. This suggests Bitcoin is a reasonable bet for long-term investors willing to accept the risk and wild price swings.
Nevertheless, Bitcoin's recent run-up in price has boosted its market cap above $1 trillion, making the cryptocurrency "too important to ignore," the report said.
This raises a basic question: What is Bitcoin?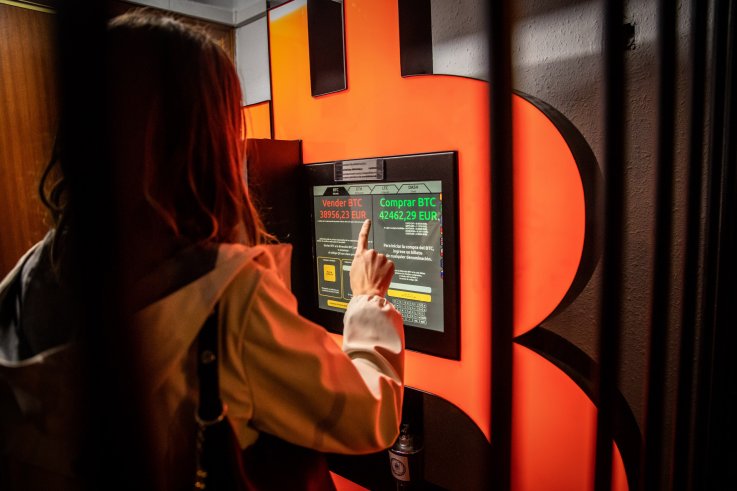 A customer uses a bitcoin ATM in Barcelona, Spain on Feb. 23, 2021
Angel Garcia/Bloomberg/Getty
The Internal Revenue Service classifies Bitcoin as property, the Commodity Futures Trading Commission says it's a commodity, the U.S. Treasury Department regards it as money and the U.S. Securities and Exchange Commission says it's not a security like stocks or bonds, while the Federal Reserve, the nation's central bank, has compared it to gold. Regardless of what you call it, capital gains on it are taxable.
"Bitcoin's 'definition' has been an issue of contention for some time for certain groups," Jason Deane, analyst at Quantum Economics, in London, told Newsweek.
"There's no doubt that (Bitcoin's founder Satoshi) Nakamoto's white paper refers to it as a 'currency' first and foremost, but the reality is that Bitcoin has several applications contained within its code and infrastructure," he said.
"It is the first time the human race has had a direct store of value of 'hard money' that can be split or transferred on a payment rail layer that actually exists in the very same asset," Deane said. "Bitcoin is effectively an asset, commodity, currency, store of value and payment system combined into one, so as a result, trying to pigeonhole Bitcoin into traditional asset categories is difficult and arguably shouldn't be attempted."
However it is categorized, it would appear that Bitcoin is here to stay.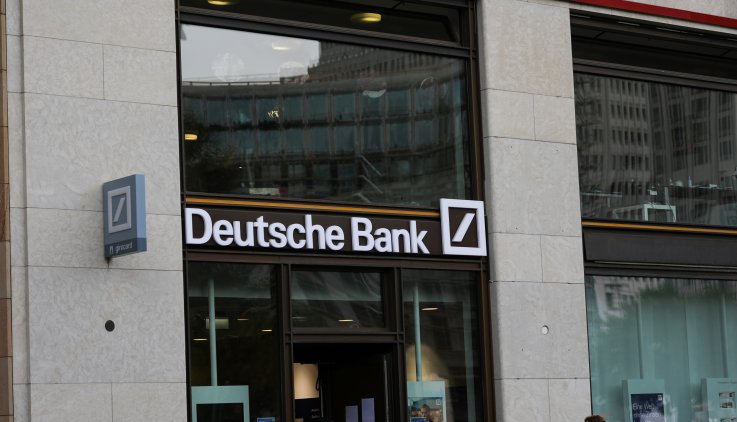 Deutsche Bank sign is seen on August 24, 2020 in Berlin, Germany.
Jeremy Moeller/Getty Images
"Bitcoin's market cap of $1 trillion makes it too important to ignore," the Deutsche Bank report said. "As long as asset managers and companies continue to enter the market, Bitcoin prices could continue to rise."
Bitcoin's recent price appreciation makes it the third-largest currency in the world after the U.S. dollar and the euro. The Japanese yen in the fourth-largest currency, followed by the Indian rupee, the report said.
"In early 2019, Bitcoin represented 'only' 3% of U.S. dollars in circulation, but in February 2021, it surged beyond 40% of the U.S. in circulation," the Deutsche Bank report said.
However, Bitcoin's volatility will limit its use as a payment method because the price could fall, and that would erode a company's profit margin.
Central banks may pose a larger threat to Bitcoin's use as a means of exchange, limiting its commercial use.
"In the long run, central banks are unlikely to give up their monopolies," the report said. "As long as governments and central banks exist and hold the power to regulate money, there will be little room for Bitcoin—as a means of payment—to replace traditional currencies."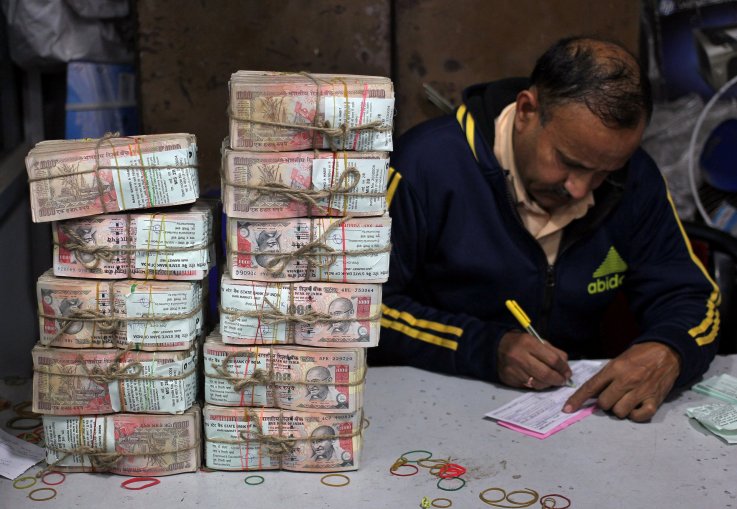 A bank teller counts stacks of 1,000 rupee banknotes inside a bank in Jammu, India, November 25.
Mukesh Gupta/reuters
India's parliament is considering legislation to ban Bitcoin and other cryptocurrencies.
Nevertheless, "Bitcoin is here to stay and its value will remain volatile," Laboure said.
But Deane argues that volatility should decrease with time.
"In theory, as volume and adoption increases price volatility should reduce to a proportional degree," he said.
"Put simply, as the asset becomes more valuable and the amount of money required to move the price significantly becomes comparatively harder to amass, the natural outcome is that volatility is reduced, effectively 'normalizing' the market," Deane said. "Many short-term traders actually enjoy Bitcoin's volatility, as it allows them the opportunity to gain significant profits if they make the right calls."
But he added a caution.
"However, in the long run," Deane said, "with Bitcoin as a mature asset class in its own right, this may not be possible."
An analyst at Wedbush Securities in Los Angeles estimates that Elon Musk's Bitcoin investment has returned about $1 billion and is on track to make more than profits from selling electric cars in 2020.
But cryptocurrencies are new and the short answer to most questions appears to be: We'll see.
"Wall Street's relationship with Bitcoin has historically been difficult—even adversarial at times," Deane said. "This has come partly from lack of clarity over regulations, but more precisely a lack of understanding about what the asset class is and what its function truly is."
"This, in turn, has undoubtedly contributed to the difficulty in defining Bitcoin as it now exists," he said. "Bitcoin's greatest strength—that of providing a step change in global financial thinking—is also its biggest weakness. Changes on this scale always take significantly longer to be fully understood, but once they are, their impact is usually wide ranging and irreversible."
Market Pulse
The price of oil, a proxy for future economic activity, points to a solid recovery.
The U.S. Energy Information Agency (EIA) said Brent crude oil, the worldwide benchmark, averaged $62 a barrel in February, up $8 a barrel from January and up $7 a barrel from February 2020, as demand grew amid a strengthening world economy.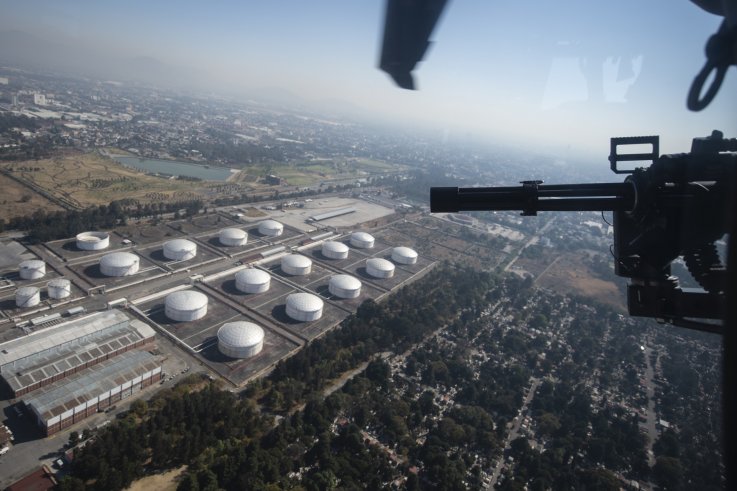 Aerial view of the Mexican oil company PEMEX oil complex in Azcapotzalco, on the outskirts of Mexico City, on February 4, 2019.
Photo by Pedro PARDO / AFP
The price of West Texas Intermediate Crude, the guide for U.S. prices, briefly turned negative last year as state governments ordered businesses to close as part of the effort to limit spread of COVID-19 and demand collapsed.
However, OPEC's decision to limit production and severe weather in Texas also contributed to the recent price rise.
But EIA expects oil prices to moderate in the second half of the year as supply increases.
"However, the forecast depends heavily on future production decisions by OPEC, the responsiveness of U.S. tight oil production to higher oil prices, and the pace of oil demand growth," the governmental agency said in a research report.
OPEC comprises 13 of the world's top oil-exporting countries. It was founded in 1960 to manage supplies, to set the price on the world market and to avoid wild swings that would affect producers and buyers.