Majority of Millennials Would Change Job to Spend More Time With Their Pet
Over half of millennials have said they would switch jobs or reduce working hours to spend more time with their pets, while 64 percent of Gen Z said the same, according to new research.
Leading veterinary health provider and pet food manufacturer Mars Petcare looked into the changes in pet care since 2020 in a new report released Thursday, looking into how the pandemic has changed the way owners feel towards their furry friends.
"The Mars Petcare 'Keeping People and Pets Together' report shows that pets and pet parents grew closer than ever during the pandemic and they want that closeness to continue, whether they're at work, out and about in their communities or traveling to new places. Pet parent insights like these are at the center of every decision we make and inform everything from our product innovation to our Better Cities for Pets programming allowing us to truly live our purpose: A Better World For Pets," said Ikdeep Singh, regional president of Mars Petcare North America.
The research found that over 23 million households added a pet to their home during the pandemic, while around 80 percent of pet owners were able to spend more time with their pets—and it had lasting impacts.
Despite the pandemic coming to an end, and many returning to office life, a whopping 90 percent want to keep up the increased time spent with their pets, with many relying on them for their "mental health in the post-pandemic world."
But the pandemic didn't just mean spending more quality time with four-legged friends, as it unsurprisingly also provided challenges. Four in 10 owners were concerned about affording the costs of their pet in the past year, "especially those who added new pets during the pandemic."
In fact, the same research found that nearly a third of pet owners actually considered rehoming a pet during 2021, with some shelters reporting that they saw surrenders by people returning back to their offices and those who adopted during the pandemic but were unprepared for the responsibility.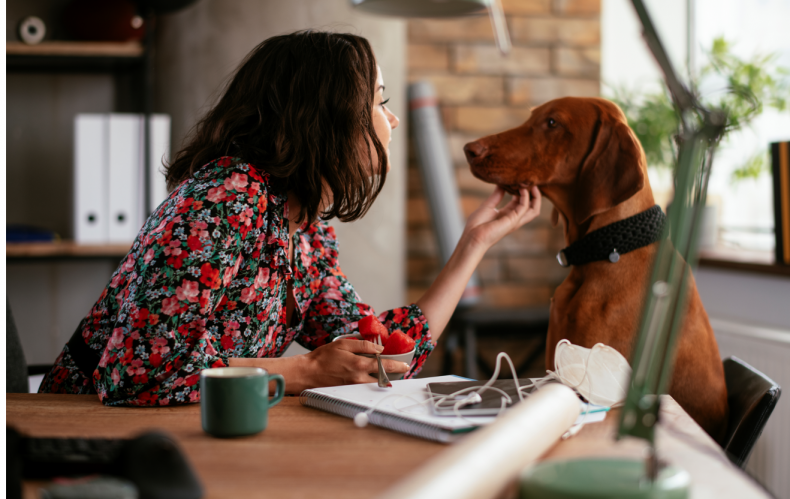 Returning to the Office... or Not
As the U.S. begins to gradually return to the 9-5 life of before, pet owners who enjoyed spending their days with pets, and the pets who are now accustomed to it, face challenges in the changes.
Some 41 percent of those asked were allowed to bring their pets to work but 69 percent said they would like to. The majority of Gen Z (64 percent) and millennials (56 percent) even said they'd switch jobs or reduce work schedules to spend more time with their pets following the pandemic.
Definitions vary but Pew Research Center classes millennials as born between 1981 and 1996 (ages 23 to 38 in 2019), and anyone born from 1997 onward as part of a new generation.
Traveling Post-Pandemic With Pets
As countries open borders again and some travel restrictions begin to ease, pet owners are considering their treasured pets when it comes to it. Almost half even said they'd cancel a vacation that wasn't pet friendly so they didn't have to leave them behind, while 60 percent said they'd feel more comfortable traveling with their pet.
Last week, an airline ramp agent went viral after showing exactly how dogs and cats are stored when they aren't able to fly with their owner on the plane. The controversial video series on TikTok showed the animals in carriers, strapped down in the plane's cargo, only slightly separated from the luggage.
Mars Petcare however has been working with airports around the country to help increase standards for visiting pets before they board, using insights from their Better Cities for Pets Program. Nashville International Airport worked with the company's guidance and now features best-in-class pet relief areas, a dog park and friendly, visible signage.
Socializing
With socializing looking very different over the past year, the way pets come into the equation does too. 63 percent said they'd be more comfortable at social gatherings with their pets and over half of pet owners planned to prioritize spending time with pets over social gatherings.
Restaurants, which were hit hard by the pandemic, were the main focus of pet-friendly owners with 59 percent saying they'd feel more comfortable enjoying outdoor patios if they could bring a pet along.
The Food and Drug Administration (FDA) is currently reviewing a policy put forward by Mars Petcare on a standard Model Food Code with consistent guidelines on pet-friendly patio requirements that don't differ state by state.