Most U.S. Voters Approve of Trump's Syria Strikes but Also Say They Won't Work, Poll Reveals
Most American voters support President Donald Trump's airstrikes on Syrian chemical weapons facilities, though fewer than half said the attacks will stop future chemical or biological attacks in Syria.
According to a new poll conducted by Politico and Morning Consult, only 23 percent of American voters surveyed opposed the missile strikes that destroyed three of President Bashar al-Assad's research and storage facilities last weekend.
The U.S., along with the U.K. and France, launched the airstrikes in response to a suspected chemical weapons attack against civilians on April 7 in the rebel-held city of Douma, near the Syrian capital, Damascus, that reportedly killed at least 70 people.
More than 100 missiles were launched from submarines, warships and bombers in the attack, which Vice President Mike Pence claimed "degraded and crippled chemical weapons capabilities of Syria."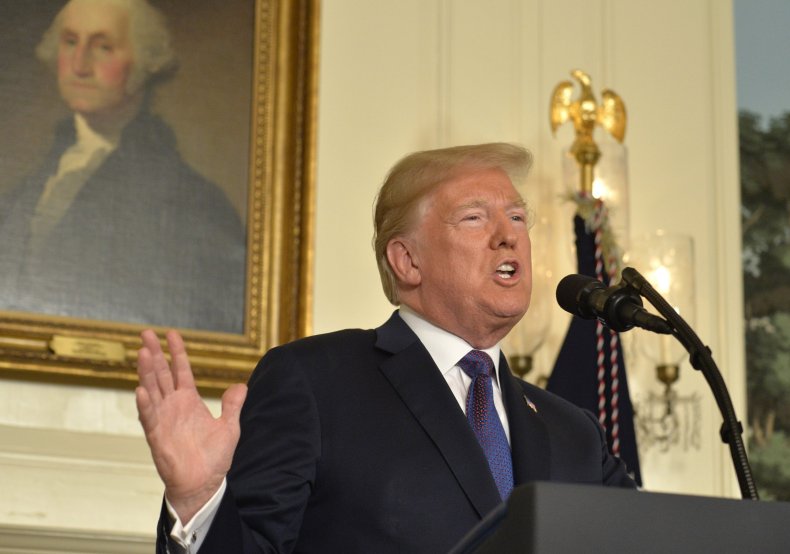 Most people—58 percent—approved of the action, while 19 percent said they had no opinion on the matter. Republicans were found to be the most supportive, with 77 percent approving of the strikes versus 49 percent of Democrats. Independents were in the middle, with 50 percent in support and 26 percent opposed.
The poll surveyed 1,995 registered voters and has a margin of error of 2 percentage points.
Voters may be supportive, but they also said they were not confident that the attack will work. A combined majority of 51 percent were either "not too confident" that the airstrikes will stop Assad from launching future chemical or biological weapon attacks (36 percent) or were "not confident at all" (21 percent). Only 8 percent were very confident that Assad would no longer be able to use such weapons, while another 22 percent were somewhat confident.

The poll also asked voters their opinion on the relationship between the airstrikes and other news surrounding Trump. The president is engaged in an ongoing public spat with former FBI Director James Comey, who wrote a book about his work under the president, while Trump's lawyer Michael Cohen is under criminal investigation. On top of all this, special counsel Robert Mueller is continuing his investigation into Russian meddling in the 2016 presidential election.
Forty-four percent of those surveyed said Trump's decision to attack Syria was motivated to some extent by the issues surrounding him at home. Only 34 percent said Trump's decision to order the strike was unrelated to the controversies.
Responders were once again split on partisan lines. Sixty-five percent of Democrats thought Trump's recent domestic disputes affected his decision on Syria, compared with just 28 percent of Republicans.