Majority of Voters Think Trump Will Use Pardon Powers For Own Benefit Rather Than Country's: Poll
There could be several pardons on the horizon for President Donald Trump in his final days in the White House, but a majority of American voters don't think he'll use the power in the country's best interests.
A new poll released Wednesday from Morning Consult/Politico found just 23 percent of registered voters believe that Trump will issue pardons for the good of the country while 55 percent said they thought he'd use the power will be used for his own benefit.
The survey showed a major partisan split over the matter. Eighty-two percent of Democrats polled said Trump would use the pardoning power for his own benefit compared to 19 percent of Republicans who said the same. Most Republicans (49 percent) said the president would issue pardons for the good of the country.
Trump has already expressed his willingness to use pardons to help his former associates or political allies.
In late November, he pardoned his former national security adviser Michael Flynn. Flynn had twice pleaded guilty to lying to federal prosecutors about his conversations with a Russian diplomat during the 2016 presidential transition.
Trump also commuted the prison sentence of his longtime ally Roger Stone this summer. Stone was convicted of seven felony crimes that included lying to Congress, witness tampering and obstructing the House investigation into whether the Trump campaign coordinated with Russia to tip the 2016 election. The president's pardon came just days before Stone was set to report to a federal prison.
The pardoning of Stone was met with criticism from both sides of the aisle. Senator Mitt Romney, a Republican from Utah, wrote on Twitter that the commutation was "Unprecedented, historic corruption."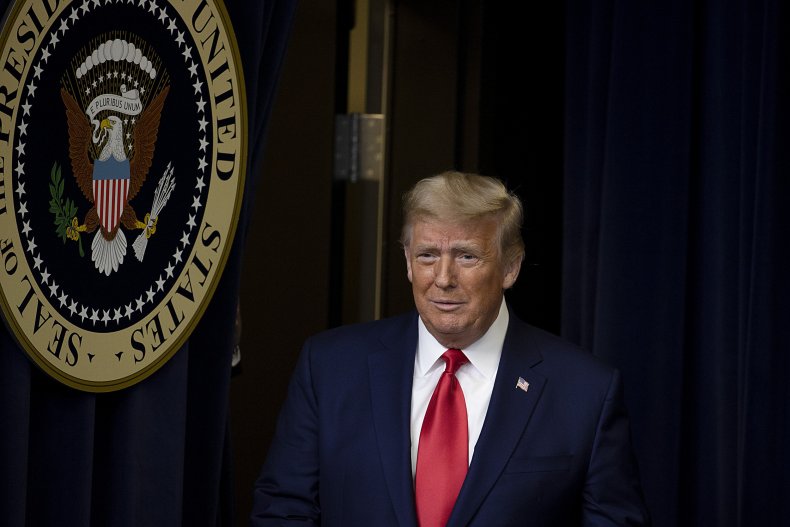 It's also been reported that Trump has discussed the possibility of issuing preemptive pardons for his children. According to a New York Times report published earlier this month, Trump talked with advisers about whether to pardon his children, his son-in-law Jared Kushner and his personal attorney Rudy Giuliani.
The move would be unpopular with much of the American public, according to the survey from Morning Consult and Politico. The poll found a slim majority of voters said it would be "inappropriate" for Trump to pardon Donald Trump Jr., Eric Trump and Ivanka Trump. Slightly less than half of the respondents said it would be inappropriate to pardon Giuliani or Kushner.
Again, the issue was split among the two major parties. An overwhelming majority of Democrats—75 percent or more—said it would be inappropriate to pardon any of those individuals. Roughly half of Republican voters said it would be appropriate for Trump to pardon his children and Giuliani, while 41 percent said the same for Kushner.
The poll was conducted from December 4 to December 6 among a national sample of 1,990 registered voters. Results have a margin of error of plus or minus 2 percentage points.