Makayla Noble, the high school cheerleader from Prosper, Texas, has revealed that she can feel her legs for the first time since a freak accident, which left her paralyzed from the chest down and unable to move her hands.
Noble, 17, suffered a severe spinal cord injury during the accident and was subsequently hospitalized at Medical City Plano where she spent more than three weeks before moving to a rehab facility.
On Saturday, Noble made an announcement about her condition in the Facebook group "Makayla's Fight," which was set up by her family to share updates about the teen's condition.
In the clip, Noble's sister was interpreting for her due to the tracheostomy tube that was inserted into her neck during her time in hospital to help with lung problems that she had been experiencing.
"I have pretty big news that I want to share with y'all," Noble said via her sister. "I have complete feeling in my legs. I'm not gonna cry. Maybe a little. I am so excited and proud."
"I kept this a secret for a while. I can feel my legs and my toes and everything. Only thing that stinks, I can't move the fingers yet but it's OK because everyone says that's the last thing that comes back. Thank you everyone for all the love and support and prayers. It means everything. I'll keep you updated."
Since the accident, Noble and her family have received an outpouring of support from their local north Texas community, and indeed from people around the world.
The Makayla's Fight group currently has more than 42,000 members, while a GoFundMe page set up by a family friend to help with the teens medical expenses has raised more than $177,000.
Below the teen's video message revealing that she could feel legs, there are thousands of comments from Facebook users.
One commenter, Ben Rogers, said: "Inspirational!!! I'm not crying these are allergies!!!
We are ALL with you — your entire amazing family — in spirit! Every single day! Keep up the tremendous work! You've got this, Mak!!"
On Sunday, the teen's family posted an update saying that she had been off the ventilator at night since Wednesday, and no longer needed oxygen in the day.
"She did great and her numbers were good which is huge!!! Another answered prayer!"
The family also said the cheerleader had the chance to go the gym for physical therapy and did "awesome."
But despite all her good news, the teen also experienced some difficult moments on Sunday.
"Mak did have a bit of an emotional afternoon thinking about all the things she might never be able to do again," the family said.
"However, a doctor came in and talked it through with her about focusing from the accident forward and being proud of the progress she has made and will continue to make! That really helped her."
The family also said Noble is starting to get back on social media and communicate with friends, but that she didn't want to talk about herself and the accident.
"She truly wants to hear about them and what is happening in their life!"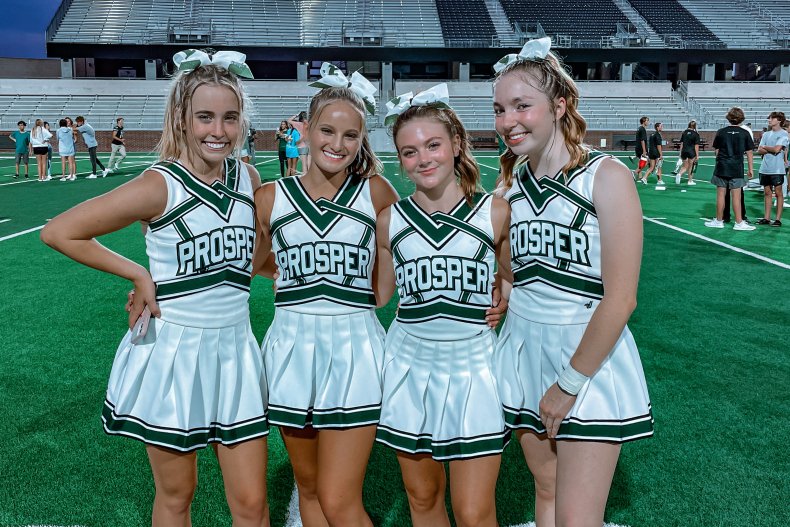 Uncommon Knowledge
Newsweek is committed to challenging conventional wisdom and finding connections in the search for common ground.
Newsweek is committed to challenging conventional wisdom and finding connections in the search for common ground.
About the writer
Aristos is a Newsweek science reporter with the London, U.K., bureau. He reports on science and health topics, including; animal, mental health, and psychology-related stories. Aristos joined Newsweek in 2018 from IBTimes UK and had previously worked at The World Weekly. He is a graduate of the University of Nottingham and City University, London. Languages: English. You can get in touch with Aristos by emailing a.georgiou@newsweek.com.