'Make Iran Great Again': Trump Says He'll Be 'Best Friends' With Iran If Country Agrees to Nuclear Demands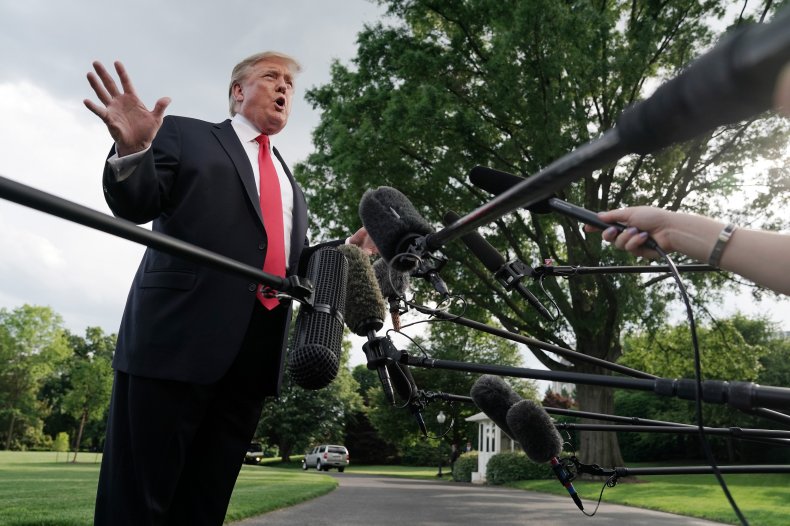 Amid rising tensions between the U.S. and Iran, President Donald Trump said Saturday that he would be the Islamic Republic's "best friend" if the country agreed to renounce nuclear weapons and abide by other demands.
"We're not going to have Iran have a nuclear weapon... when they agree to that, they're going to have a wealthy country," Trump, preparing to leave for Camp David, told reporters gathered outside the White House. "They're going to be so happy, and I'm going to be their best friend. I hope that happens."
"Let's make Iran great again," the president added. "That's okay with me."
The standoff between Washington and Tehran escalated in recent weeks following an attack on two commercial oil tankers Gulf of Oman. Then, on Thursday, Iran shot down an unmanned U.S. Navy drone that the country said had violated its airspace; the U.S. has insisted the drone was legally flying over international waters when it was destroyed.
Trump's freewheeling remarks to reporters came after the president made the last-minute decision to call off an approved airstrike against Iran on Thursday—a move that Democrats blasted as "erratic" and some of his fellow conservatives charged as "a mistake." According to the New York Times, the strike would have targeted radar and missile batteries.
"We were cocked & loaded to retaliate last night on 3 different sights when I asked, how many will die," Trump wrote on Twitter on Friday. "150 people, sir, was the answer from a General. 10 minutes before the strike I stopped it, not proportionate to shooting down an unmanned drone. I am in no hurry, our Military is rebuilt, new, and ready to go, by far the best in the world."
Instead, Trump suggested he would continue to pursue economic means to compel Iran to renounce nuclear weapons and abide by a slew of other demands from the United States.
In 2018, Trump pulled out of a multinational nuclear deal with Iran and several European and Asian powers. Under that agreement, the countries would ease sanctions against the Islamic Republic in exchange for Tehran severely curtailing its nuclear program. The other signatories to that pact have continued to abide by its conditions, but the Trump administration has engaged in a "maximum pressure" campaign that has left the Iranian economy crippled under heavy sanctions. Iran has insisted it has no intention of acquiring nuclear weapons, but recently indicated that it may no longer abide by the 2015 deal since the U.S. had reneged on its commitments.
On Saturday, the president confirmed that additional sanctions against Iran would be added, although he didn't elaborate on details.
"Some of them are already in place," Trump said. "We're putting additional sanctions on, they're going on slowly and, in some cases, pretty rapidly, but additional sanctions are being put on Iran."
Back in May, U.S. Secretary of State Mike Pompeo issued a list of 12 demands for inclusion in a new nuclear deal, which includes forcing Iran to end its support for Hezbollah, Hamas and the Islamic Jihad, as well as Houthi rebels in Yemen. The country would also be required to abandon work on a nuclear program "in perpetuity."