Republican Says Trump 'Undercut' U.S. Over Scratched Iran Strike as Congress Pushes for 'Measured' Response
With news that President Donald Trump had planned to order a military strike Thursday night against targets in Iran only to abruptly call the attack off at the last moment, lawmakers on both sides of the aisle expressed concern Friday for why the operation was originally ordered and then scrapped.
Additionally, legislators were urging the president to take some degree of "measured" retaliatory act against the Middle Eastern country while advocating to deescalate the situation.
Growing concerns about an armed conflict, even potential war, between the U.S. and Iran erupted from a string of recent actions taken by Iran, including rocket attacks against a military base in Iraq housing U.S. troops and an attack on two oil tankers in the Gulf of Oman. On Thursday, Iran shot down a U.S. Navy drone, further escalating the tensions between the two countries.
The decision by the president to not execute the retaliatory operation against Iran only left some lawmakers on Capitol Hill feeling more uneasy about the situation, despite receiving a briefing from the administration and party leaders, who met with officials at the White House earlier Thursday.
"It's disappointing," Representative Adam Kinzinger, one of Trump's most conservative Republican allies in Congress, told Newsweek.
In a series of tweets Friday morning, Trump said the number of casualties from the planned military operation would have been 150 people, which he discovered after the plans had been set in motion, and that such a death toll was "not proportionate to shooting down an unmanned drone."
Kinzinger said the president's comment raised a concern. "The question is: Were you not asking about casualties when you made the decision?" asked the congressman.
By canceling the strike, the U.S. had lost the element of surprise, Kinzinger argued, and he urged that a "proportioned response" be taken in order to combat Iran's recent targeting of U.S. military bases, oil tankers and drones.
"I think calling off a strike undercuts the position," he continued. "Being able to have the element of surprise is important, making people understand that there was a cost to shooting down a plane the size of an airliner."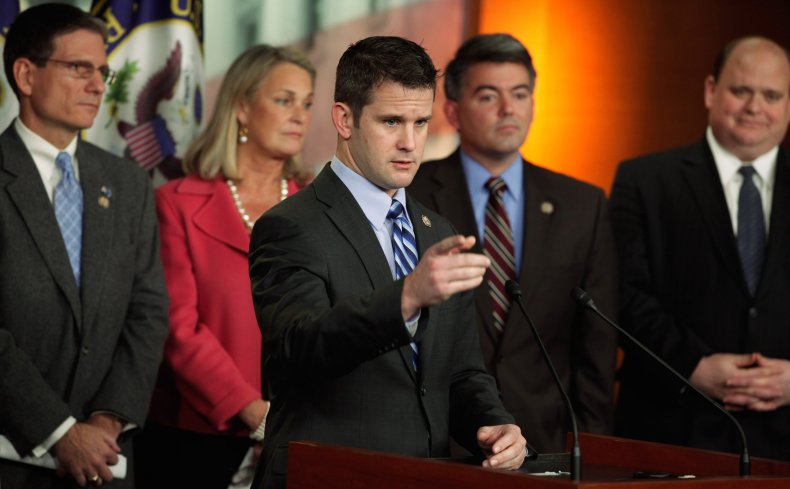 Kinzinger served in the U.S. Air Force and conducted operations in South America, Guam, Iraq and Afghanistan prior to being elected. He is also a member of the House Foreign Affairs Committee.
"I'll judge, ultimately, based on if there is a response," he explained. "But if the response is no response, then I think this is a mistake of pretty big proportions."
Kinzinger suggested the scrapped military operation made Trump look weak, explaining that for Trump to criticize President Barack Obama at the time for choosing not to strike Syria in 2013 and then to do the same with Iran would be hypocritical.
"If today is the end, then I think it's definitely a hit to his credibility," he said of Trump. "You can't, on the one hand, have condemned—as many of us did—President Obama walking back the 2013 strike and then judge us by a much different standard. They are different circumstances leading up to it, but this was a direct attack on U.S. assets."
Representative Steve Chabot, however, disagreed with his Republican colleague, telling Newsweek that Trump's reversal on the military strikes showed he was being thoughtful about the scenario.
"You can never take back a strike," the Foreign Affairs members said. "I think he's trying to be judicious and careful."
Democrats from the committee levied similar criticism toward the president as Kinzinger, warning that failure to issue a proportionate response to Iran would hurt the U.S.
"The president is handling it erratically and sending all the wrong signals," Representative Gerry Connolly, a Virginia Democrat and member of Foreign Affairs, told Newsweek.
He elaborated: "If you make the decision as he did, to have a retaliatory strike, you need to follow through. Otherwise, it raises lots of questions about your judgment, about the consistency of your decisions, about the deterrent threat to the adversary and about the soundness of the decision in the first place."
Like Kinzinger, Connolly said the move "undercut credibility," and that it "certainly does not reinforce any kind of tough message to Iran." He further said that he agrees there should be some degree of retaliation taken by the president.
"They can be economic; they can be military. But they can't be nothing and they can't be rescinded in the last 10 minutes," he said. "It contradicts everything his team and he had been saying about Iran for two years."
Representative David Cicilline, a Rhode Island Democrat and also a member of Foreign Affairs, said Trump's recent actions were "further evidence of the absence of a coherent strategy." He urged Trump to deescalate the situation, unlike what he believed the president was currently doing.
"Work with the international community, with the Security Council at the [United Nations] and attempt to deescalate this and to develop an actual strategy of how we're going to deal with Iran," Cicilline said. "This is a very dangerous situation."