Ma'Khia Bryant's Shooting for Holding Knife Sparks Kyle Rittenhouse Comparisons
The police shooting of Ma'Khia Bryant, a 16-year-old Black girl, has sparked comparisons to the case of Kyle Rittenhouse.
Police in Columbus, Ohio, said the shooting took place after officers responded to a 911 call about an attempted stabbing at around 4.45 p.m. on Tuesday.
A clip of the officer's body camera footage showed police pull up to a chaotic scene where several girls appeared to be fighting in a driveway. "What's going on?" the officer asks.
Seconds later, he draws his firearm as Bryant and another girl start brawling in front of a parked car. Bryant appears to be holding a knife as she lunges towards the other girl. "Get down! Get down!" the officer yells before firing his gun multiple times. Four shots are heard.
Bryant collapses and, as witnesses are heard screaming, the officer says: "She had a knife. She just ran at her."
A man yells: "She's a f**king kid, man!" The clip ends as two other officers approach Bryant and assess her. A small knife is seen on the ground near her legs.
The shooting prompted a wave of Twitter users to question why the officer didn't try to de-escalate the situation before resorting to deadly force—and some noted that Rittenhouse, a white teenager accused of killing two people during protests in Kenosha, Wisconsin, last summer, was taken into custody unharmed.
Actress Tiya Sircar tweeted: "Reminder that #KyleRittenhouse actually shot & KILLED 2 ppl before being apprehended alive & unscathed. Cops got him water. Deadly force doesn't have to be the answer."
The footage of Bryant's shooting was played twice during a police news conference in Columbus on Tuesday night—once in real time and again in slow motion.
Michael Woods, the interim chief of the city's police department, told reporters that only a small portion of the video could be shown because of the redacting process. Woods said the video showed Bryant "with the knife attempting to stab the first female that lands on the ground and the second female that is pushed against the vehicle."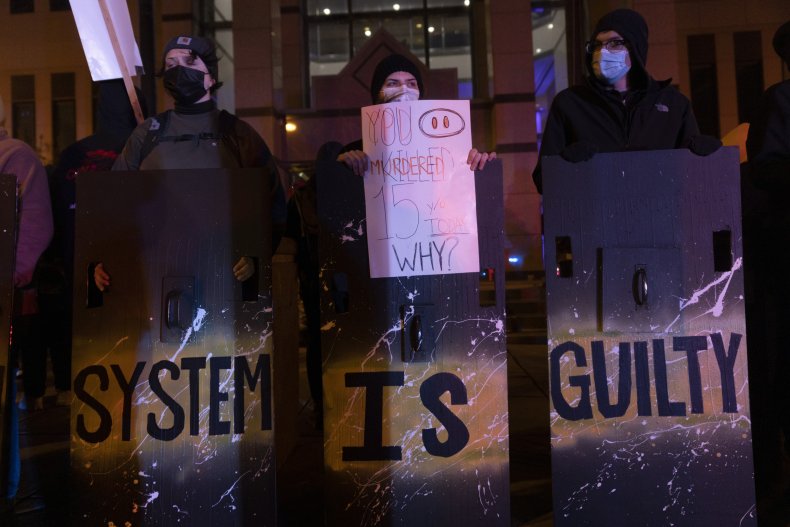 However, a woman called Tay Jones, who said she had witnessed the shooting, shared several videos from the scene on her Facebook page. She said Bryant had been holding a knife "because somebody tried to jump her" and the officer who shot her "didn't tell her to put it down" before firing.
At the news conference, Columbus Mayor Andrew Ginther said the bodycam footage showed the officer "took action to protect another young girl in our community."
In the Rittenhouse case, police weren't at the scene when the teenager, then 17, opened fire on protesters during unrest that erupted last August over the police shooting of Jacob Blake.
But video footage showed Rittenhouse, wielding an AR-15 style rifle, walk by several police cars moments later without being stopped. He surrendered to police in his hometown of Antioch, Illinois, the following day.
Some conservatives have rallied behind Rittenhouse, saying he was acting in self-defense. He is charged with two counts of murder and has pleaded not guilty.
Author Majid Padellan compared the two cases on Twitter. "Why is it that the same people who think it was OK for Kyle Rittenhouse to murder two people 'in self-defense' also think a 16-year-old girl defending herself with a knife somehow deserved to be shot dead? Make it make sense," he wrote.
TV host Felicia Michelle posted: "The 'she tried to stab someone' bit ain't it. Justice for all?? Then why has almost every single armed domestic terrorist been taken into custody alive?If #DylanRoof and #KyleRittenhouse are still on God's green earth after KILLING multiple ppl #MakiyahBryant should be too."
In her post about the Columbus incident, actress and activist Jameela Jamil referenced the police shooting of Daunte Wright, a 20-year-old Black man, on April 11. Wright was shot dead during a traffic stop in Brooklyn Center, Minnesota, by an officer who reportedly mistook her gun for a Taser.
"Did this cop also 'forget which side his taser was on?' If someone is armed with a small knife... you have multiple ways of de-escalating/disarming them without shooting a teenager in the f***ing chest 4 times," she wrote.
"Are these people trained to do ANYTHING other than shoot-to-kill?"