Making of 'The Mandalorian' Season 2 Finale Reveals Ingenious Way They Kept Luke Skywalker Secret
Luke Skywalker's appearance in The Mandalorian season 2 is one of the biggest surprises of the Star Wars universe, though not the biggest given that title firmly belongs to The Empire Strikes Back.
Fans of the iconic sci-fi franchise were, understandably, besides themselves when a hooded figure arrived on Moff Gideon's cruiser in his X-Wing in the finale and defeated the Dark Troopers fighting the Mandalorian (Pedro Pascal) and his co-conspirators.
And they were even more excited when Luke took off his hood and revealed himself in all his Jedi glory, offering to take Grogu to complete his Jedi training.
Some may call it fan service but the moment was a powerful one, and not one that was easy to pull off, and Lucasfilm has now revealed how the magic happened in Disney Gallery's the "Making of the Season 2 finale."
And Newsweek can reveal all that we learned from the behind-the-scenes documentary.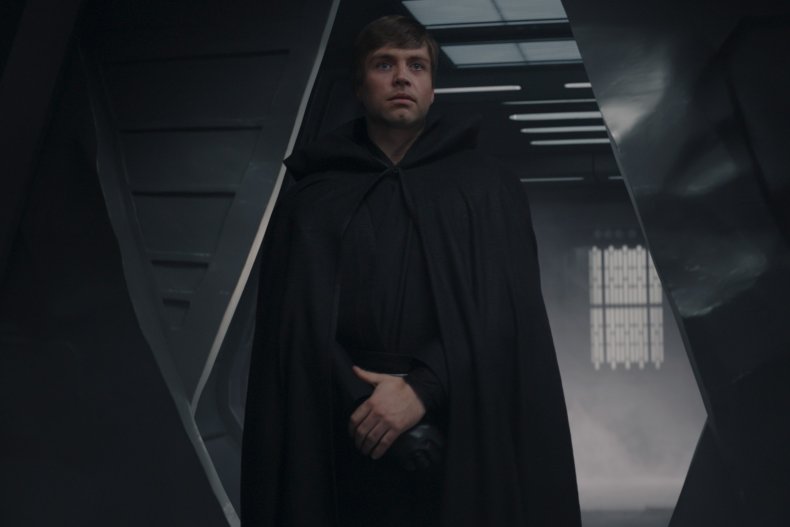 How Long Did Showrunners Plan Luke Skywalker's Cameo in the Finale?
The planning for The Mandalorian season 2 finale was underway well before the public knew of its existence, with showrunners Jon Favreau and Dave Filoni making plans over two years before it was made.
Favreau only told director Peyton Reed when they had completed the script, and he and Filoni ensured they didn't have any leaks by referring to Luke as "Plo Koon."
They chose the codename Plo Koon because the prequel character is one of Filoni's favorites, and they felt if there were to be a leak, it was something fans would believe.
How Was the Reveal Kept a Secret?
Lucasfilm went to great lengths in order to keep Luke's appearance well and truly under wraps, including making fake VFX designs of Plo Koon's head.
They put the head on footage to cover Luke's head, and the art department also mocked up imagery featuring Plo Koon in the finale as a ruse.
In order for no leaks to come out the day they filmed, Reed used a very small crew on a day when most of the staff and the main cast were busy shooting on location for Robert Rodriguez's episode "The Tragedy."
By having very few people in the room they ensured that Luke's appearance and Mark Hamill's involvement was not widely known.
The filming involved very few actors and Hamill had a stand-in named Max to look like his younger self, they shot everything in one day both on set and in an "egg," a computer program that registered all of Hamill and his stand-in's facial movements to make the final look perfect.
How Did Mark Hamill Get Involved?
Hamill was approached by Favreau and Filoni a year before the first season of The Mandalorian had even aired on Disney+.
The showrunners showed him footage they had and also shared their plans for the season 2 finale, explaining they wanted to use de-ageing technology to make it work.
In December 2019, Favreau and Reed visited Hamill at his home and brought his script, costume, and the Grogu doll to see if he'd take the chance to return to the character.
How Did They Make Luke Skywalker Look and Sound the Way He Did?
Lucasfilm used a combination of various technology to get Luke's finished look, including de-ageing Hamill, using Deepfake, and footage they had of Hamill's double.
For the Deepfake, they used footage of Hamill from the original films as well as old clips of him talking about the film to register all of his facial movements over the years.
On top of that, Luke's voice in the finale is not Hamill's current voice as they decided to use voice cloning technology Respeecher to make a completely synthesized version of his voice based on how he sounded in the original trilogy.