Malaysian Official Claims Logging Is 'Good' for Tigers
A forestry official in Malaysia has been criticized for making comments suggesting that logging can be good for tigers.
Director of Forestry Abdul Khalim Abu Samah of the Kelantan Forestry Department made the comments in a speech delivered on January 24 at the Relai Forest Reserve in Gua Musang, Singapore's Mothership reported.
The forestry director was quoted by the news site as suggesting that logging created new growth for saplings that would in turn attract animals such as deer, which are favored as prey by tigers.
"The tiger population will become larger when small trees grow in the deforested area. The area will see the presence of animals such as mouse deer, which is food for tigers.
"It will be easier for tigers to hunt their prey," he said.
The statement was made amid declining numbers of critically endangered Malayan tigers in the country, and it highlighted a difference in approach from other countries. Parks in Nepal and India, for example, received special awards from the United Nations Development Program (UNDP) on Tuesday after their conservation efforts saw tiger numbers increase sharply in recent years.
The comments sparked a backlash from groups in the region, including WWF-Malaysia, which said only sustainable logging practices would benefit tigers.
Experts in the U.S. meanwhile told Newsweek that, contrary to the official's comments, forests were essential habitats for tigers in the wild and that their destruction jeopardized the animal's future.
"Tigers are stealth predators, requiring the cover of forested areas to stalk their prey before ambushing. But, prey is scarce and stealth hunting is made difficult when large swaths of land are devoid of trees and natural habitat. Deforestation is not only responsible for the destruction of already-limited tiger habitat, but also fragments existing landscapes making it challenging for tigers to migrate and find genetically diverse mates," a spokesperson from Carolina Tiger Rescue said.
The group said that the loss of forest habitats has pushed tigers into conflict with humans, leading to wild tiger deaths through attacks by poachers and other groups or individuals.
The Malayan tiger is considered critically endangered. A study of the animals carried out between 2016 and 2020 by the Department of Wildlife and National Parks with NGOs including WWF-Malaysia found there were less than 200 individuals left in the wild.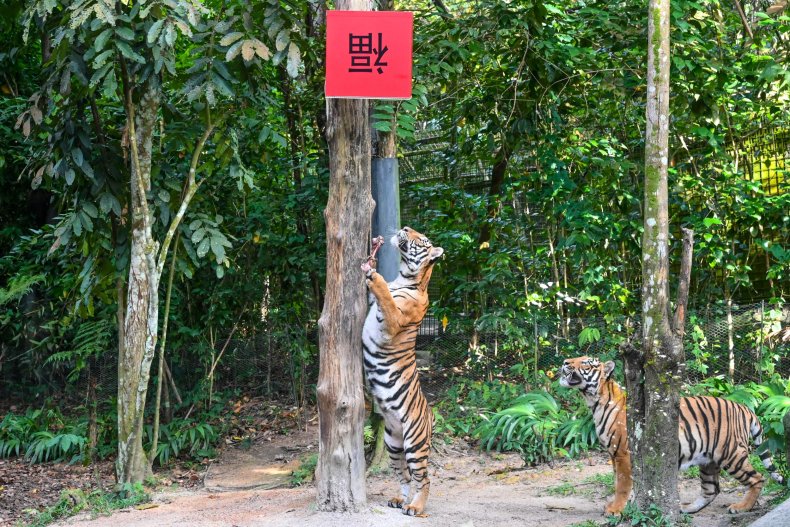 The critical status for Malayan tigers contrasts with the situation of their cousins in India and Nepal.
Though still on the Red List of endangered species, tiger numbers in both countries are increasing amid conservation work by NGOs and national and state authorities.
On January 25, ahead of the commencement of the Lunar Year of the Tiger, the United Nations Development Program (UNDP) handed special awards to protected parks in both countries for increasing wild tiger numbers in their areas.
The UNDP said that Bardiya National Park in Nepal and Sathyamangalam Tiger Reserve in India won 2022's TX2 Award after tiger numbers doubled in both parks in a decade.
The management and improvement of tiger habitats and engagement between authorities and NGOs with local populations were listed as the key reasons behind the success stories.
Bardiya National Park in Nepal stood out, where tiger numbers rebounded from less than 20 in 2009 to almost 80 in 2018. That was labeled as an "astounding achievement" by the UNDP.
Midori Paxton, head of ecosystems and biodiversity at the UNDP, said: "The award-winning reserves serve as a beacon of hope that tiger conservation is possible in fast growing economies and that tigers can coexist even in densely populated countries. This is the inspiration we need as we move towards the next Global Tiger Summit and the setting of new tiger conservation targets."