Images showing the remarkable funeral service held for a tiger that died in India have been released by the Department of Forest in Madhya Pradesh. Photographs taken at the service showed a female tiger laid on a funeral pyre, draped in a shroud and covered in flower petals.
The tigress, officially called T15 but known in India as Collarwali, was famous in the central Indian state of Madhya Pradesh and beyond, reportedly mothering dozens of tiger cubs, which gave her the unofficial title 'Supermom.'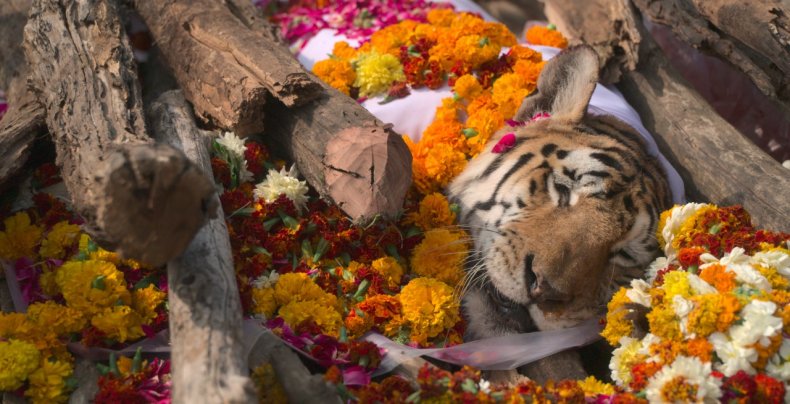 The Department of Forest in Madhya Pradesh said that several key officials in the state had attended Collarwali's funeral at the Tiger Reserve in Pench National Park, including Forest Minister Dr. Kunwar Vijay Shah.
The state said that her death had triggered a "wave of mourning" by wildlife lovers in the area.
Posting on Twitter, the Department of Forest, MP, said Collarwali had died of old age at the age of 16-and-a-half. Between 2008 and 2018, she gave birth to eight litters, producing 29 cubs. It said she "made an unforgettable contribution in increasing the family of tigers in Pench."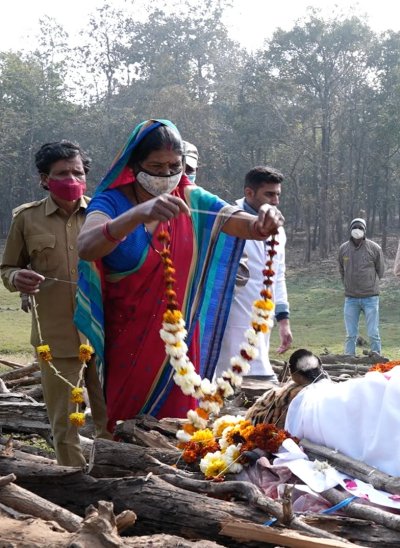 During her lifetime, tiger numbers while low have rebounded in India.
According to the 2018 report Status of Tigers in India, there are an estimated 2,967 of the animals in the country, which accounts for more than 80 percent of the global total.
That figure was up significantly from the 2010 population estimate of 1,706.
Chief Minister for the state Shivraj Singh Chouhan joined other key officials in paying tribute to Collarwali after her passing.
"The forests of Madhya Pradesh will always resonate with the roar of the cubs of the 'Queen' of Pench Tiger Reserve," he wrote in a statement posted to Twitter.
In recent decades successive Indian governments have worked to help conserve once dwindling numbers of tigers in the country since the launch of Project Tiger in 1973, which followed the designation of the species as India's national animal.
Despite their success in seeing tiger numbers in India stabilize, the animals are still classified as a Red List Endangered Species by the International Union for Conservation of Nature (IUCN,) with estimates suggesting there are around 3,500 of the animals left in the wild.
The World Wildlife Fund, which has joined in conservation efforts for the animals in India, say that their population in the country is stable or rising at present. However, it says tigers continue to face human threats such as habitat destruction, poaching and retaliatory killings.