New Orleans Saints veteran Malcolm Jenkins believes President Donald Trump understands the real motivation behind players kneeling in protest during the national anthem, but deliberately chooses to ignore it.
Trump has incessantly depicted players taking a knee during the pre-game ritual as disrespectful to the flag and unpatriotic since former San Francisco 49ers quarterback Colin Kaepernick first knelt during the anthem to protest against racial discrimination and police brutality in 2016.
Over the last four years, the gesture has developed into a thorny political issue. On Tuesday, Trump again denounced players kneeling during the anthem, less than a day after San Francisco Giants players knelt during the national anthem ahead of their exhibition game against the Oakland Athletics.
"Looking forward to live sports, but any time I witness a player kneeling during the National Anthem, a sign of great disrespect for our Country and our Flag, the game is over for me!," he tweeted.
Speaking to CNN's Don Lemon on Tuesday night, Jenkins said Trump knew players taking a knee were not doing out of disrespect to the flag, but nevertheless he deliberately chose to depict them as unpatriotic.
"He understands the point [of the protest] at this point but he is choosing to ignore it," the Saints safety said after Lemon had suggested Trump had still not grasped the reason behind players kneeling was trying to turn the gesture into a political issue.
"I think anybody who's looking to use sports, especially this year, as an outlet to kind of get away from what's happening right now in our country is probably gonna be sadly mistaken especially as we move towards the fall."
In the weeks following George Floyd's killing on May 25, several NFL players pledged to emulate Kaepernick and take a knee in support of the Black Lives Matter movement when the season begins on September 10.
They found an unexpected ally in the NFL last month, as commissioner Roger Goodell acknowledged the league had not done enough to address the issue of racism and encouraged players to "protest peacefully".
That stance earned him a stern rebuke from Trump, who suggested Goodell could allow players to kneel in protests this season.
The protests sparked by Floyd's killing, however, have extended far beyond football's boundaries and are expected to continue as the major U.S. leagues gear up to restart after the break enforced by the novel coronavirus pandemic.
On Tuesday night, four Cincinnati Reds players followed the example set by several Giants players a day earlier and knelt during the anthem ahead of the exhibition game against the Detroit Tigers, while Los Angeles Angels reliever Keynan Middleton also took a knee ahead of his team's game against the San Diego Padres.
Meanwhile, the NBA has given the players the opportunity to wear a social justice message on their jerseys when the season resumes at the end of the month and last month NASCAR banned the Confederate flag from all its racetracks.
"It's been exciting for me to see sports like the MLB, the NBA and even NASCAR getting involved and adding to the social commentary," Jenkins added.
"It's really inspiring to see players and athletes like Maya Moore who gave up her whole WNBA career to fight for somebody who's been wrongly convicted.
[Houston Texans wide receiver] Kenny Stills and [Philadelphia 76ers guard] Tobias Harris who are putting a lot of pressure on Attorney General Daniel Cameron to make an arrest and arrest the murderers of Breonna Taylor. So I think there's a lot of movement obviously with all social unrest and I don't think it's going anywhere regardless of what the sport is."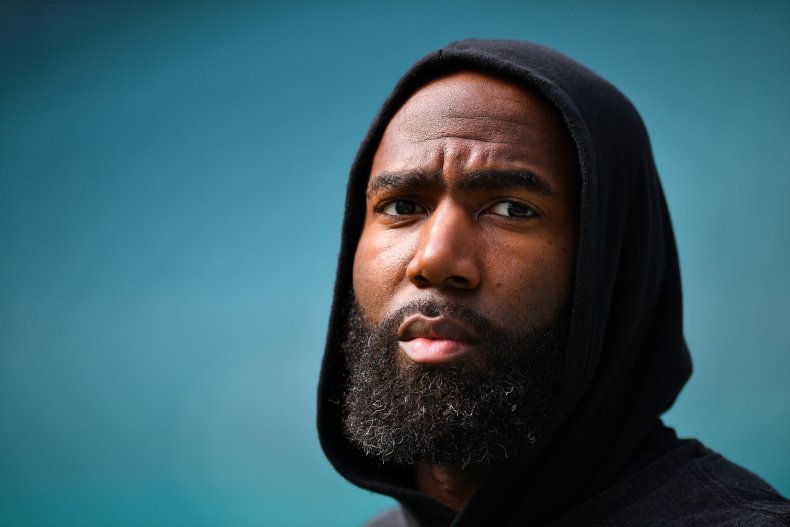 Uncommon Knowledge
Newsweek is committed to challenging conventional wisdom and finding connections in the search for common ground.
Newsweek is committed to challenging conventional wisdom and finding connections in the search for common ground.
About the writer
Dan Cancian is currently a reporter for Newsweek based in London, England. Prior to joining Newsweek in January 2018, he was a news and business reporter at International Business Times UK. Dan has also written for The Guardian and The Observer.