Black Girls' Hair Extensions Are a Distraction, White Officials at Malden Charter School Insist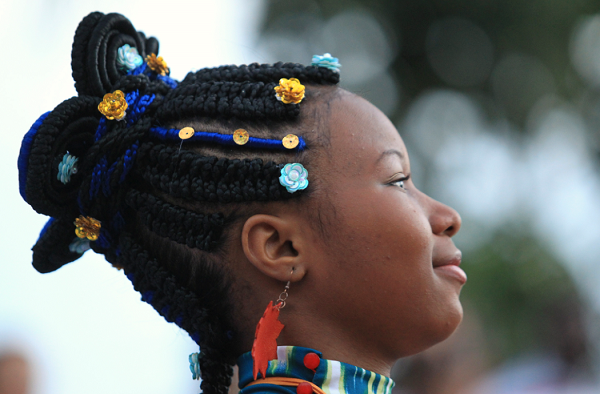 All Aaron Cook's teenage twin daughters wanted to do was get their hair done professionally. Mya and Deanna Cook had recently started embracing their African-American culture, so the black sisters asked their white adoptive parents if they could get hair extensions and wear long braids over their shoulders.
Their style choice has unexpectedly prompted a nationwide debate on the rights of black girls and discriminatory dress codes after their high school in Massachusetts began enforcing a policy this month that forbids students from wearing hair extensions, a rule that disproportionately affects black girls, critics argue. Mystic Valley Regional Charter School in Malden is the latest school to come under fire for targeting black hair. The school attempted to address the backlash Sunday by suspending the portion of its dress code that prevented students from wearing their hair in braid extensions. But parents, community members and national civil rights leaders argue the policy unfairly targets black students and must be permanently stricken from the school's rules.
The controversial rule, which prohibits students from wearing "anything artificial or unnatural in their hair" including hair extensions used for braids, made national headlines after Mya and Deanna Cook, 15-year-old twin sophomores, were removed from their sports teams and banned from prom over their unwillingness to take down their braids. The girls also received daily detention for two weeks for refusing to change their hair style. Other students at the school faced suspension over the policy.
The students' adoptive parents, Aaron and Colleen Cook, complained about the rule. The American Civil Liberties Union also pushed back against the policy, while Massachusetts Attorney General Maura Healey wrote a letter condemning the school's discriminatory and unfairly enforced rules against hair and makeup. After initially defending the dress code, the charter school's board decided Sunday during an emergency meeting to suspend enforcement of the policy, but stopped short of doing away with it altogether.
"They're almost 16 years old, they're sort of coming into their own trying to explore what it means to be a black girl being raised by white parents. They're trying to begin to really develop their own unique identity out from under my wife and I and our wings of shelter," Aaron Cook said of his twin daughters. "We sort of knew that the kids were in it for the long haul and so my wife and I have really simply tried to support them."
Shortly after announcing the suspension of the hair policy, the school's administration released a letter to parents defending its dress code while highlighting its 15-year record of approval with the Massachusetts Department of Elementary and Secondary Education. According to Mystic Valley, the dress code has been reviewed by the state at minimum six times over the last 15 years, and in no review did the DESE cite concerns regarding the dress code's policy on hair.
"In prompting students to focus on what they have in common, our Uniform Policy is central to the success of our students. It helps provide commonality, structure and equity to an ethnically and economically diverse student body while eliminating distractions caused by vast socio-economic differences and competition over fashion, style or materialism," the statement said. "Some have asserted that our prohibition on artificial hair extensions violates a 'cultural right,' but that view is not supported by the courts, which distinguish between policies that affect a person's natural 'immutable' characteristics and those that prohibit practices based on changeable cultural norms."
The twin's father told Newsweek during a phone call Monday that the suspension wasn't satisfactory.
"The fact that the school has only agreed to effectively suspend their enforcement of the policy, that's not good enough," Aaron Cook said.
The NAACP Legal Defense and Educational Fund, the ACLU of Massachusetts and the Lawyers' Committee for Civil Rights and Economic Justice have all taken up the family's fight to change Mystic Valley's hair policy.
"We are exploring legal options against the school and among them is, of course, potential litigation to challenge the school's policy and the enforcement of that policy. We are concerned that Mystic Valley only suspended the policy but did not rescind it all together and has not announced what it would do regarding past discipline that students have suffered under this policy, including a student who was suspended for it. So until we are confident that African-American students at the charter school will not be treated in a discriminatory way and will not be subject to discriminatory policies, we will continue to pursue this issue," Janai Nelson, associate director-counsel of the NAACP Legal Defense and Educational Fund, told Newsweek during a phone call Monday.
Mystic Valley touts impressive educational achievements for African-American students. Students of color at the charter school score higher on state exams and the SATs than all other districts in the region and the school boasts low dropout and attrition rates for African-American students compared with others in the district. However, the dress code seems disproportionately aimed at the black students attending the school, Nelson says.
"There's just no kind of logical reason to have students be forced not to wear braids or not to have their hair longer than two inches in thickness—which is another aspect of the policy—because it has absolutely nothing to do with their education. And there are a number of ways in which this policy is problematic. It has a disproportion effect on African-American students," Nelson said. "The way in which the policy is forced is discriminatory. Parts of it also targets girls in particular, and there are other ways in which the policy effects discreet groups of students unfairly."
Dress codes that seem to target African-American culture have started to gain more attention in recent years. A teenage girl in Florida was reprimanded last week by school officials for wearing an afro. Jenesis Johnson, 17, had worn her hair in its natural state for seven months of the school year before the teen was told her hair was a violation of the school's dress code prohibiting "faddish or extreme hairstyles."
A school in Kentucky faced criticism last year after it banned students from wearing dreadlocks, corn rows and braids. Only after receiving complaints from a swarm of angry parents, including state Representative Attica Scott, a Democrat whose child attended the school, did the high school do away with the policy.
Robin Bernstein, a cultural historian, author and professor of African-American Studies at Harvard University in Massachusetts, told Newsweek that discriminatory dress code policies create threats in a school setting that otherwise wouldn't exist.
"It invents braids and hair extensions as a problem—they are not a problem—and by inventing this problem it creates challenges for black girls to learn," Bernstein said.
Of the more than 860 students attending Mystic Valley, only 17 percent are black, while Caucasian students represent more than 57 percent of the student population.
"A policy that restricts the use of hair extension and braids sounds race neutral, but it's not race neutral. It's clearly specifically targeting African-American girls. So it's neither race neutral nor is it gender neutral. Certainly anybody of any gender or any race can braid their hair and can use hair extensions, but the reality is, of course, most of the people who do are African-American females," Bernstein says. "The question I would ask is what is problematic about hair extensions and braids? How do hair extensions and braids threaten any aspects of a learning environment? It seems very strange to me for a school to take a powerful stance against a practice that is associated with African-American girls and that seems to hold no conceivable threat to a learning environment."
If anything, the school's hardline defense of the dress code policy shows the institution's lack of cultural competency, Aaron Cook said, noting that very few people of color are employed as educators at the school. The Mystic Valley Regional Charter School is located in a neighborhood where blacks make up about 15 percent of the population and whites represent about 52 percent of all residents, according to U.S. Census Bureau.
The Mystic Valley Regional Charter School denied Newsweek's request for further comment. Following the school's decision to temporarily stop enforcing its hair policy, students planned a sit-in in Monday to show solidarity for their peers who have been affected by the hair rule.
"I truly believe that they don't have an understanding of how it's targeting, how it's discriminatory, how it's racially biased. The five members of the board. Four are white males and I believe that there's one Asian woman. So there's no person of color on the board. There's no full-time staff teacher who is a black teacher at the school. They're all white males, females and a couple of Asian folks," Aaron Cook said. "So I really think that the school just doesn't get it. And unfortunately, I think it's going to take our continued efforts kind of trying to work through the school with the school to get them to change the makeup of the board, the makeup of the administration and to change their hire-in policies around diversity."