Male Teachers Wear Skirts in Solidarity with Student Bullied for Fashion Choices
Two male teachers decided to start wearing skirts to school in an effort to end bullying and encourage students to express themselves freely with what they wear.
Teachers Manuel Ortega and Borja Velázquez of the Primary Virgen de Sacedón in Spain began to wear skirts to their lessons throughout the month of May, according to the international outlet El Norte de Castilla. Ortega allegedly had overheard students use a "racist and homophobic" slur in reference to a male peer who wore an anime sweatshirt to school. The words were so hurtful that the anonymous student ultimately changed into another shirt to avoid the wrath of other bullies.
Ortega had attempted to scold the bullies but could tell he was not entirely getting through to them with words alone, El País reported. Together with Velázquez, they decided they would start challenging clothing norms often learned in childhood by donning skirts.
Velázquez told the outlet that the goal of the skirt project was "to teach that you have to change and that words hurt." He and Ortega took the month of May to stand in solidarity with the bullied student and encourage other kids to dress as they wish.
As they prepared for the month of skirt-wearing, Velázquez shared a photo of himself and Ortega wearing skirts in their classrooms in late April on Twitter.
"A school that educates in respect, diversity, co-education and tolerance. Dress as you want!" he encouraged his followers.
The school's official Twitter account later retweeted the post in solidarity with the men. Days later, they tweeted their support as well: "Because educating is not only transmitting knowledge but instilling values of respect, tolerance and acceptance of diversity."
Ortega and Velázquez told El País that since they began challenging gendered clothing norms, their students have actively worked to dismantle "outdated" clothing ideals. Many former bullies issued apologies to those they had hurt with insensitive comments over articles of clothing, while others have opened conversations on respecting the clothing choices of their peers.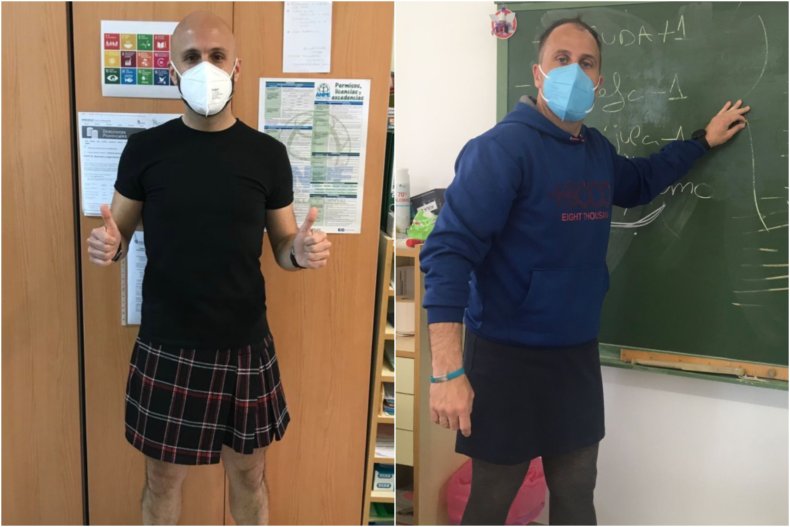 Both men acknowledged that their work is only "the tip of the iceberg." In addition, their school has since organized their own anti-bullying campaign in which they have designated areas in the building to teach students about toxic behaviors and how to combat violent words and actions, El Pais reported.
Ortega and Velázquez are the latest educators in Spain to join the #ClothesHaveNoGender, or #LaRopaNoTieneGenero, movement in the country. The hashtag started in the fall after a male student was allegedly expelled from his school for wearing a skirt to class.
Mikel Gómez, 15, shared the alleged incident in a now-viral TikTok in October 2020. He was kicked out of class and forced to see a mental health professional for his fashion choice, according to El País. Gómez claimed in his video that he wore the skirt in as part of a feminist statement to support transgender individuals.
As a result, local math teacher Jose Piñas attended class in a skirt. Piñas said in a Twitter post that he wore the skirt in part to honor his younger self, as he was reportedly bullied for being gay.
"Twenty years ago I suffered persecution and insults for my sexual orientation in the institute where I am now a teacher," Piñas wrote. "I want to join the cause of the student, Mikel, who has been expelled and sent to the psychologist for going to class with a skirt."
Ortega and Velázquez are not the only educators working to change the way people think about clothing. In 2019, a female teacher in Virginia who was told by her school administration that she dressed "too masculine" filed a federal lawsuit against the school. She claimed to have been discriminated against as a lesbian who wore gender-nonconforming outfits to class.