Teacher Who Was Told She'd Be 'Less Intimidating' If She Dressed More Feminine by School is Now Suing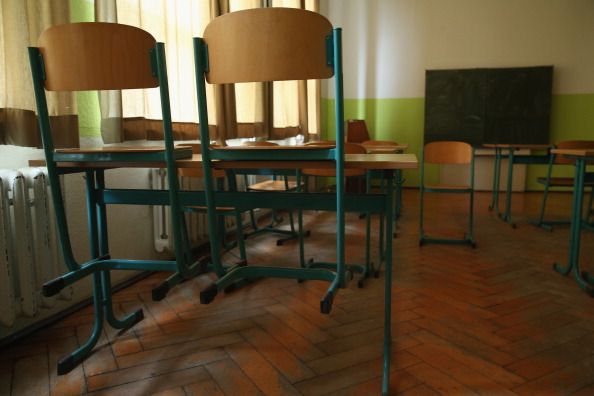 A former teacher from Virginia has filed a federal lawsuit after school administrators told her she should dress more feminine because her appearance was too masculine.
Dina Persico, a former civics teacher for the Chesterfield County Public Schools is alleging that the school district discriminated her because she identifies as a lesbian who wears non-conforming clothing, WRIC reported. In a lawsuit obtained by the news station, it states that Persico was targeted by other teachers, faculty members and the interim principal at Providence Middle School and Midlothian High School because of her appearance.
"Flamboyant was a favorite term of theirs," she told WRIC. "'Your appearance is too flamboyant, your arm movements are too flamboyant.' It's said with intent and that intent is to say that you're gay."
Persico told the news station that faculty members and teachers would constantly reprimand her about her appearance. The former teacher said her usual outfit to school is a button down, a sweater, pants, and sneakers. She claims that many suggested that she should wear skirts and that the principal suggested she should change her look, according to WRIC.
"It was suggested that if I seemed more feminine, I would be less intimidating as a person," she told the news station.
The district's handbook states that employees are "required to dress themselves in a professional manner that portrays a professional image," but does not specify what men and women are required to wear while teaching.
The lawsuit obtained by WRIC also alleges that she was once blocked from using the women's restroom. It states that the girl's track coach at Providence Middle School stopped her from using the ladies room in March 2017 and told her "several members of the girls' track team were in the restroom at the time, and he did not think she should be allowed to use the ladies room at the same time as the female students, because of her non-gender conforming appearance and her sexual orientation."
"I went to put my hand on the door and he actually blocked me and was like, 'No, that's really not appropriate, you going in there with all the, you know, young female students,'" Persico told WRIC. "It was an assault on my person, and then it was like your basic human dignity, I just need to use the restroom. That's all I need to do."
Persico told WRIC that the verbal attacks began after the principal at Providence Middle School learned that she is gay. Erin Guthe, Persico's wife, told the news station that she has witnessed these attacks on her partner's appearance after the assistant principal told her to change her hair.
"It's very clear to me that my wife was discriminated against because of the way that she expresses her gender," Guthe, who is also a teacher, said. "I think I and women like me are given more of a pass because we appear more feminine."
In May, a teacher from Texas sued the school district she formerly worked for after they suspended her for discussing her sexual orientation with her students. Stacy Bailey, who formerly worked as an art teacher at the Charlotte Anderson Elementary School, alleged that two employees from the Mansfield Independent School District discriminated her for her sexual orientation. The lawsuit also states that a school official once told her she "can't promote her lifestyle in the classroom."