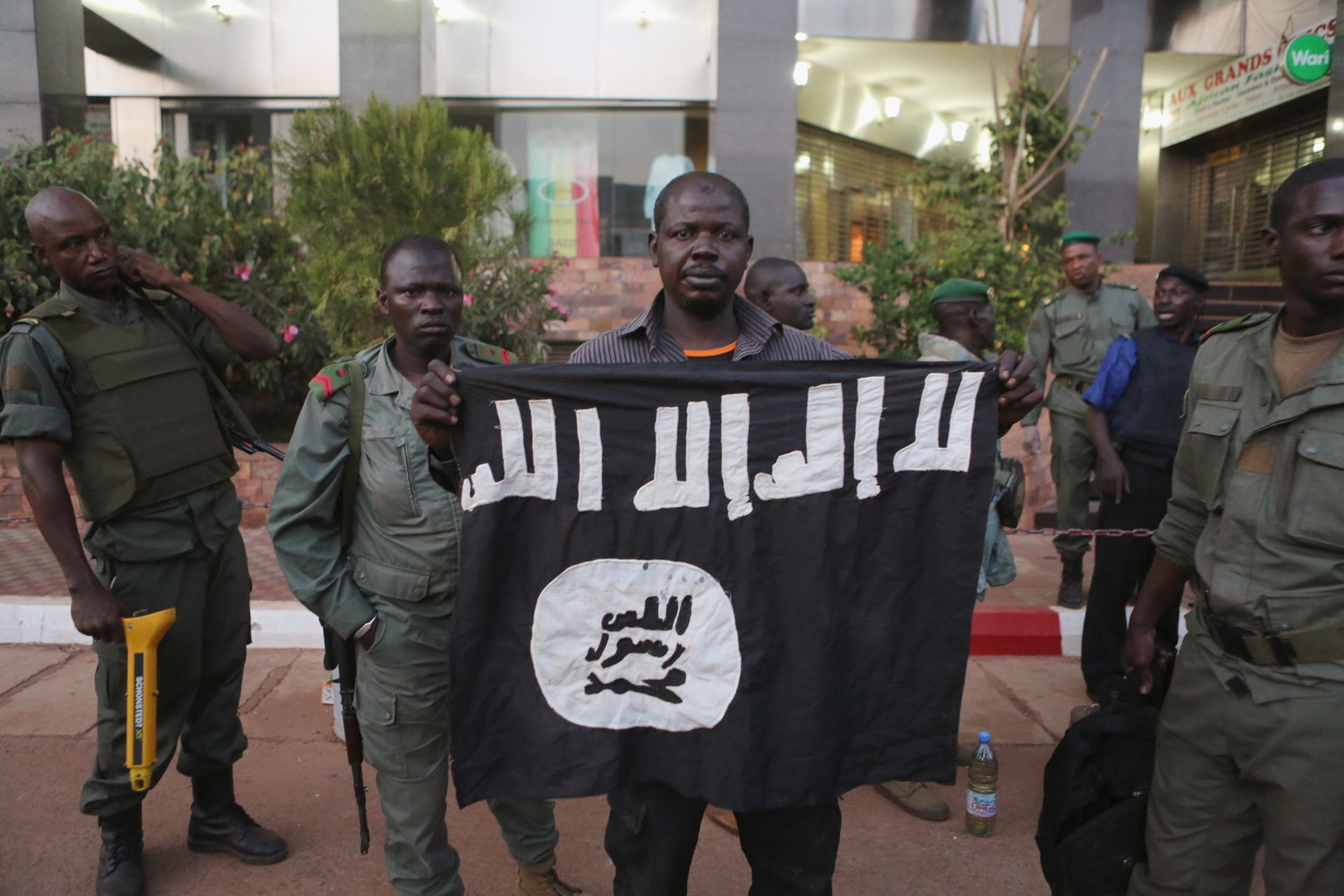 Mali's government released images on Monday of the two men it believes to have been behind Friday's deadly attack on the Radisson Blu hotel in the capital Bamako, in which around 20 people died.
The identity of the killers and the militant group with which they are affiliated remains a mystery, however, and three groups have now claimed responsibility. Initially the north-Africa based Al Qaeda in the Islamic Maghreb (AQIM) said it was responsible, before Al Mourabitoun, a group associated with the veteran Algerian jihadist Moktar Belmoktar, also claimed the attack.
But a third, lesser-known group has also now claimed responsibility, France 24 reported, and Mali's government is taking its claims most seriously.
The Macina Liberation Front (MLF), which only came to international attention in 2015, claimed it carried out the killings in response to French military intervention in Africa's Sahel region, a part of West Africa that includes Mali.
President Ibrahim Boubacar Keita gave weight to the MLF's claims in an interview with Al Jazeera on Monday, where he said that "all indications" were that it was the MLF, and not one of the two better-known groups, that orchestrated the attack.
But who is the MLF, a group that has been described as Mali's equivalent to Boko Haram?
What is the Macina Liberation Front?
Based largely around the town of Macina in southern Mali, the MLF has risen to prominence by carrying out a number of attacks since January 2015, according to U.S. research institute the Jamestown Foundation. The group is thought to have as many as 4,000 members and draws its membership largely from the Fulani (also called Peul), a diverse ethnic group with scattered populations across West Africa.
Its most notable attack came in August: MLF fighters were thought to be behind a hostage-taking incident at the Byblos Hotel in Sevare, central Mali, in which 13 people, including five U.N. workers died. The incident bears more than a passing resemblance to the Bamako hotel attack. The MLF has also been accused of abuses by Human Rights Watch, which said in April the group was guilty of summary executions of at least five people suspected of working for the Malian army.
Who is the MLF's leader?
The MLF is led by Amadou Koufa, an extremist preacher from the central Malian town of Niafunke. According to the Jamestown Foundation, Koufa's mentor is Iyad Ag Ghali, leader of another militant group called Ansar Dine, which emerged in 2012 and held sway over much of northern Mali before being pushed back by French-led military intervention in 2013. During its occupation of northern Mali, Ansar Dine imposed a strict interpretation of Sharia including stonings and amputations.
Believed to be in hiding in the Mopti region of southern-central Mali, near the border with Burkina Faso, Koufa reportedly uses radio sermons in the Fulani language to attract followers and call for attacks upon French interests. However, the group's leadership suffered a blow recently when Malian forces arrested Alaye Bocari, whom authorities said was a leading financier of the MLF and a close collaborator with Koufa.
What are the group's goals?
The group draws on the narrative of reviving the 19th century Macina Empire, a Fulani-led Islamist state centred on the Mopti and Segou regions of Mali. In towns they have briefly occupied during 2015, Koufa and his followers have called for a strict implementation of Sharia, according to the Jamestown Foundation.
Though they have not launched any attacks outside Mali, there are fears that the MLF could draw upon its Fulani heritage to stage a regional rebellion. Reuters reported that there are 20 million Fulani spread across West and Central Africa, and that the MLF could draw upon its Fulani heritage to attempt to mount a regional rebellion.
What is the MLF's relationship to other militant groups?
The main players among Mali's many militant groups are Ansar Dine, Al Mourabitoun and AQIM. As well as ties with Ghali, Koufa reportedly has links to Belmoktar, who founded Al Mourabitoun after leaving AQIM in late 2012.
Belmoktar has been reported dead several times, most recently by the Libyan government, which said he was killed by a U.S. airstrike in Libya in June, though this remains unconfirmed. The Algerian has played a key role in several attacks in North Africa in recent years, notably when militants took hostages and killed 40 employees at a gas plant in Algeria's Sahara desert in January 2013.
According to Bat-el Ohayon, president of the analysis group Afrique Consulting, the Byblos and Bamako hotel attacks are evidence of a degree of coordination between groups such as the MLF, Ansar Dine and Al Mourabitoun. "These groups are increasingly working together. Their aim is to be able to target these high-level targets—such as the Radisson Blu [hotel in Bamako]—and prove a point that the [Malian] security operation is just not working," Ohayon says.
How much of a threat does the MLF pose?
If it is proven that the MLF was behind the Bamako attack, it would serve as a statement of intent. The Radisson Blu hotel represented a target of international significance—six Russians, three Chinese, and American, Belgian, Senegalese and Israeli citizens were among the victims. Also, the attack has been seen as a riposte to France's intervention in Mali in 2013: Some reports claimed that the militants were specifically seeking to kill an Air France crew staying in the hotel.
According to Ohayon, the rapid emergence and establishment of the MLF in 2015 has given the Malian army cause for concern. She claims that the group has attracted foreigners from neighboring Ivory Coast and Burkina Faso and has been underestimated by security forces.
"It's a movement that is gaining popularity, that's proving itself to be quite an interesting opponent to the [Malian] security forces who underestimated them a lot in the beginning but are now learning that this is not a group to be underestimated," Ohayon says.