Malik Faisal Akram, Texas Synagogue Hostage-Taker, Was Believed to Pose No Threat
The British man who took four people hostage in an hourslong standoff at a Texas synagogue at the weekend had been under investigation as a possible Islamist terrorist threat as recently as 2020, it has been reported.
Britain's MI5 spy agency closed the investigation into Malik Faisal Akram after officers concluded that he posed no threat, The Guardian newspaper reported.
The investigation, which reportedly lasted over four weeks, concluded that Akram did not pose a terror risk and there was no reason to stop him from traveling abroad, according to the newspaper.
No information highlighting concern about Akram, 44, appeared to have been passed on to U.S. authorities, allowing him to freely fly into the country and buy a gun. The FBI declined to comment to Newsweek when asked if it was aware of the investigation.
The FBI identified Akram, originally from Blackburn in northwest England, as the armed gunman who took a rabbi and three others hostage at the Congregation Beth Israel synagogue in Colleyville, Texas, on Saturday.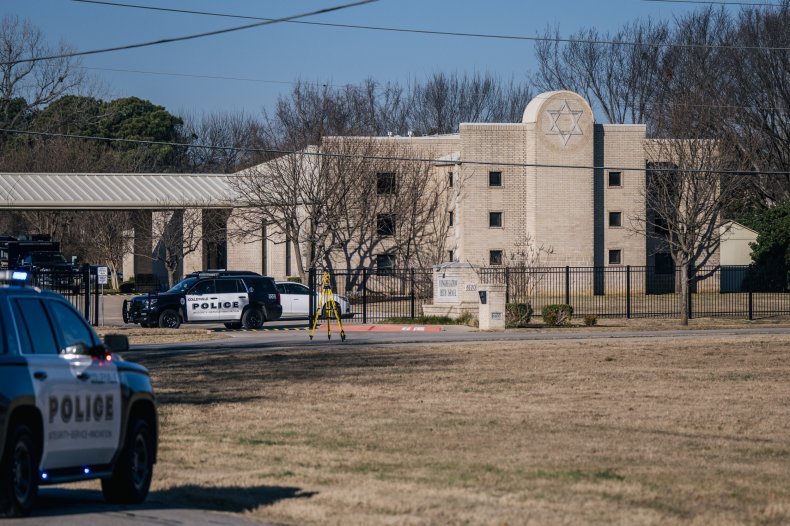 Akram died in a shooting after the final three hostages ran out of the synagogue at around 9 p.m. The first hostage had been released earlier, and all four were unharmed.
Akram had a criminal record in the U.K. but no known terror convictions.
He reportedly flew into John F. Kennedy International Airport in New York City on a tourist visa shortly before the start of the year, and spent time in homeless shelters in the Dallas area in the weeks leading up to the siege.
Rabbi Charlie Cytron-Walker told CBS Mornings he had let Akram into the synagogue on Saturday morning because he appeared to need shelter.
Cytron-Walker said Akram didn't appear suspicious at first, but then he heard a gun click while he was praying. He said he and two others managed to run out of the synagogue after he threw a chair at Akram.
"The last hour or so of the standoff, he wasn't getting what he wanted. It didn't look good. It didn't sound good. We were terrified," he said.
"When I saw an opportunity... The exit wasn't too far away. I told them to go. I threw a chair at the gunman, and I headed for the door. And all three of us were able to get out without even a shot being fired."
The rabbi and others had been taking part in a service that was livestreamed on Facebook.
Akram was heard ranting on the stream, and demanding the release of Aafia Siddiqui, a Pakistani neuroscientist suspected of having ties to al-Qaida who was convicted of trying to kill U.S. Army officers in Afghanistan. She was sentenced to 86 years in prison.
It wasn't clear why Akram chose the synagogue in Colleyville, but the prison where Siddiqui is serving her sentence is in Fort Worth. An attorney in Texas who represents her told the Associated Press that Siddiqui had no connections to Akram.
The FBI on Sunday night described the incident as a "a terrorism-related matter, in which the Jewish community was targeted" and said the Joint Terrorism Task Force is investigating.
President Joe Biden declared the incident an "act of terror" on Sunday. Asked by reporters how Akram could have obtained weapons, the president said "the assertion was he got the weapons on the street. He purchased them when he landed."
Akram's brother, Gulbar Akram, told Sky News that he had failed to convince his brother to surrender, and that he had been was on the phone with his children when he was shot.
He also questioned how his brother was able to enter the U.S. "He shouldn't have been able to board a plane without any stringent checks," he said.
Late Sunday, police in England said they had arrested two teenagers in connection with the standoff. Greater Manchester Police said counter-terrorism officers had made the arrests, but did not say if the pair faced any charges.
Update at 8:40 a.m. on 1/18/22: This article has been updated with additional information.
Update at 10:40 a.m. on 1/18/22: This article has been updated with add that the FBI declined to comment.