Two teenagers are in custody in the U.K. after an hours long standoff at a Texas synagogue ended with the death of a British national on Saturday.
The FBI on Sunday identified the armed man who took a rabbi and three others hostage for about 11 hours at Congregation Beth Israel in Colleyville as 44-year-old Malik Faisal Akram.
Akram, who was originally from Blackburn in Lancashire, England, was killed in a shooting shortly after the last hostages ran out of the synagogue at around 9 p.m. All four hostages were unharmed.
The FBI has declined to confirm who shot Akram, saying it was still under investigation.
There was "no indication" that other individuals were involved in the incident, the bureau added.
However, the investigation in England led to police arresting two teenagers in connection with the standoff.
Late Sunday, Greater Manchester Police announced that counter-terrorism officers had made the arrests, but did not say if the pair faced any charges.
"Two teenagers were detained in South Manchester this evening," the force said in a statement. "They remain in custody for questioning."
Meanwhile, CNN on Sunday broadcast a snippet of audio from a Facebook livestream of the synagogue's services where Akram can be heard speaking about dying.
"I've got these four guys with me, yeah? So I don't want to hurt them, yeah? OK, are you listening? I don't want you to cry," he is heard saying on the livestream.
"Listen! I'm going to release these four guys once [inaudible] but then I'm going to go in the yard, yeah? [inaudible] and they're going to take me, alright? I'm going to die at the end of this, alright? Are you listening? I am going to die! OK? So don't cry over me. OK? Don't cry."
Akram was also heard demanding the release of Aafia Siddiqui, a Pakistani neuroscientist suspected of having ties to al-Qaida who was convicted of trying to kill U.S. Army officers in Afghanistan. She was sentenced to 86 years in prison.
Several people said they heard Akram refer to Siddiqui as his "sister" on the livestream.
But Siddiqui's actual brother, Mohammad Siddiqui, was not involved, said John Floyd, board chair for the Houston chapter of the Council on American-Islamic Relations, and Mohammad Siddiqui's legal counsel.
It was not clear why Akram targeted the synagogue in Colleyville, although Aafia Siddiqui is serving her sentence in a prison in Fort Worth.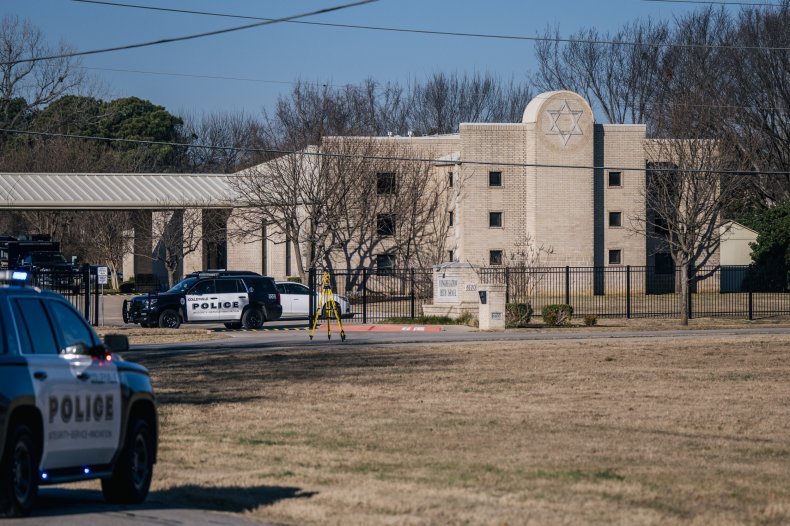 On Saturday night, FBI Special Agent in Charge Matt DeSarno had said the hostage-taker had been specifically focused on an issue that was not directly connected to the Jewish community.
But a day later, the FBI released a statement calling the incident "a terrorism-related matter, in which the Jewish community was targeted." The bureau said it is being investigated by the Joint Terrorism Task Force.
"This was an act of terror," President Joe Biden told reporters in Philadelphia on Sunday, adding that Akram allegedly purchased a weapon on the streets after arriving in the country.
He arrived in the U.S. on a tourist visa about two weeks ago, The Associated Press reported.