The Milwaukee Bucks may have ended a 50-year wait for an NBA title on Tuesday night, but there was another major winner in the NBA Finals who did not wear a Bucks jersey: ESPN's sideline reporter Malika Andrews.
Giannis Antetokounmpo was named NBA Finals MVP after finishing Game 6 with 50 points, 14 rebounds and five blocks as the Bucks defeated the Phoenix Suns 105-98 in Milwaukee to win a first NBA title since 1971.
Off the court, however, it was Andrews who stole the show. As per Richard Deitsch of The Athletic, the 26-year-old became the youngest sports broadcaster to host the NBA Finals Trophy ceremony and received widespread praise from colleagues.
"Very impressive to watch a 26-year-old @malika_andrews interview the world-champion Milwaukee Bucks on national television, and handle it as smoothly and professionally as she has," tweeted ESPN's NFL insider Adam Schefter.
Andrews' sister, Kendra, who covers the Golden State Warriors for NBC Sports Bay Area, said her the ESPN reporter was a source for inspiration for Black women in journalism.
"As a black woman, particularly one in sports journalism, having someone like @malika_andrews as a role model is special," she wrote on Twitter.
"The fact that she's also my sister just makes me feel that much more lucky. She killed it tonight, as she always does."
At 26, Andrews is the same age of Antetokounmpo, who was named the NBA Finals MVP. NBC Bay Area's Warriors reporter Kerith Burke and ESPN's 30 for 30 producer Julia Henderson joked Andrews deserved an award herself.
Andrews' handling of the trophy presentation received particular praise on social media. She impressed her colleagues for the poise and calm she displayed in dealing with a historic moment in the history of the Bucks.
"A postgame assignment like this one...asking the right questions, amid all the chaos, capturing moments that will live in history, forever, is a real challenge for any broadcaster," said SportsCenter L.A. host Stan Verrett.
"@malika_andrews is nailing it. She's a star. Recognize."
ESPN's SportsCenter's Sage Steele and ESPN's NBA reporter Dave McMenamin struck a similar tone.
"Just want to give a well-deserved shout out to Malika Andrews. She was thrust into an incredibly difficult position, with zero notice, after only a couple of years in this crazy business....and she ROCKED IT. Great job, @malika_andrews I am so so happy for you," Steele tweeted.
McMenamin added: "Fortunate to wrap up another NBA season working together in the trenches with pros like @malika_andrews &@TimBontemps at the Finals. Malika made us all proud with that trophy ceremony. Just a tremendous, tremendous job in a huge spot to be in."
ESPN chose Andrews as its sideline reporter for the NBA Finals in place of Rachel Nichols, after the latter had made disparaging comments about ESPN colleague Maria Taylor, who is Black like Andrews.
Nichols, who is white, was ESPN's sideline reporter for the NBA Finals last year and held the role of the network's top national games this season.
However, she was demoted after complaining Taylor would lead ESPN's studio show instead of her when the 2020 NBA season restarted in a bio-secure bubble in Orlando, Florida, in July 2020 following a three-month lockdown because of coronavirus.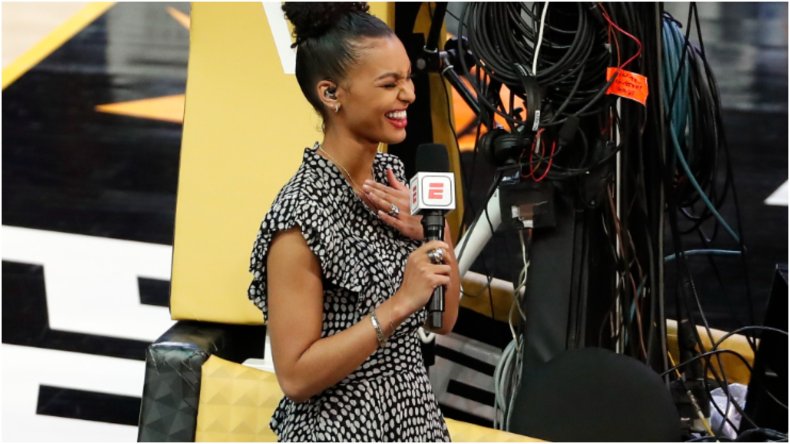 "I wish Maria Taylor all the success in the world–she covers football, she covers basketball," Nichols said in a phone conversation that was accidentally recorded and subsequently leaked to The New York Times.
"If you need to give her more things to do because you are feeling pressure about your crappy longtime record on diversity—which, by the way, I know personally from the female side of it—like, go for it. Just find it somewhere else. You are not going to find it from me or taking my thing away."
Nichols subsequently apologized during her show The Jump, the daily weekday basketball show she has presented since 2016.
"We believe this is best decision for all concerned in order to keep the focus on the NBA finals," ESPN said in a statement prior to the NBA Finals. "Rachel will continue to host The Jump."
About the writer
Dan Cancian is currently a reporter for Newsweek based in London, England. Prior to joining Newsweek in January 2018, he was a news and business reporter at International Business Times UK. Dan has also written for The Guardian and The Observer.