Mama Bear Teaches Cub How to Enjoy a Playground Slide in Adorable Video
Students at an elementary school in Asheville, North Carolina, will have to share their playground after a mother bear and her cub were both caught on video playing on the slides.
The video, which was posted to Betsie Stockslager Emry's Facebook page, has racked up 6,600 views since it was posted on September 21.
"I LOVE how the mama goes down the slide and quickly runs to the smaller slide—only to BEAR HUG the little one as they make it to the bottom," Emry wrote in the video caption.
The duo is seen climbing up the stairs on the playset before the mother bear slides down one of the three slides, earning cheers and laughter from people watching the bear outing unfold. The bear runs over to a smaller slide and waits for her cub at the bottom.
"You can do this one, honey! It's a smaller one. You can do it!" one viewer narrates in the background.
The cub slides down the smaller slide into its mother's arms before the two wrestle on the ground.
"We often have bears on campus and our students are very used to the safety protocols in place," Emry told Newsweek. "We're lucky to safely capture this moment."
The district shared the video to the Isaac Dickson Elementary School Facebook page, where parents were assured that students were safe and inside.
"There was a little playground take over this afternoon as teachers were leaving for the day," the school's post read.
Ashley-Michelle Thublin, the executive director of communications for the school district told Newsweek that bear sightings are common in Asheville. However, this is the first time in recent history a video was filmed showing them playing on one of their playgrounds.
"While we enjoyed seeing our furry friends enjoy the playground, the incident occurred after hours, and all after-school students were safely inside," she said.
Thublin said that if the bears were seen during school hours, the school would alert families that the campus was in a precautionary perimeter lockdown until the bears left the campus.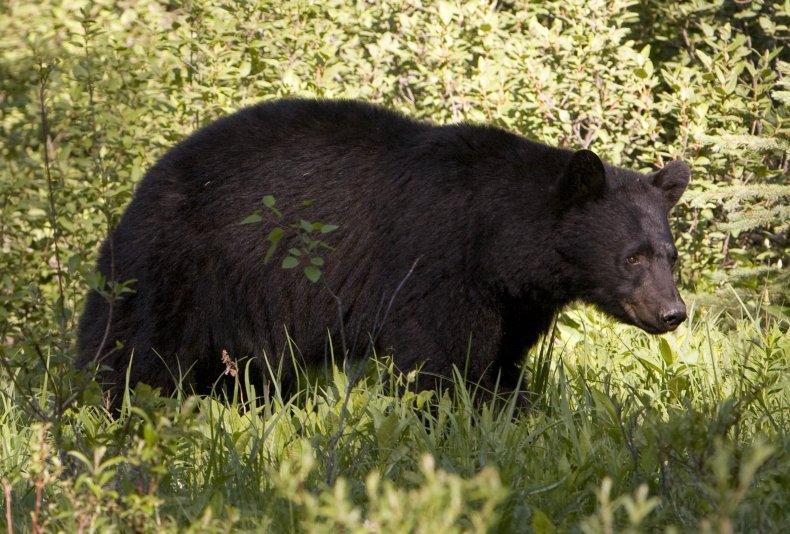 According to the North Carolina Wildlife Resources Commission, the black bear is the only bear species found in North Carolina. These omnivores may vary in color, but in North Carolina specifically, the bears are typically black with a brown muzzle. Sometimes, they may have a white patch on their chest, which is called a chest blaze.
"Bears prefer large expanses of uninhabited woodland or swampland with dense cover," the North Carolina Wildlife Resources Commission wrote. "Recent research has shown bears to be much more adaptable to habitat changes than previously thought and some bears have adapted to living near developed areas."
District Wildlife Biologist Justin McVey told Newsweek that it is common for bears to be near developed areas, and black bears don't look to attack people or pets.
While it's becoming more common for bears and humans to live in close proximity with one another, McVey said it's important to ensure the bears remain wild.
He said he encourages people to learn about how to responsibly co-exist with black bears and pointed to BearWise as a good educational resource.
Another viral video showed a black bear walking away from a house in Connecticut with the resident's Amazon package in its mouth.
Newsweek reported that the woman caught the bear taking the package off of her porch via a home surveillance video.
"Amazon had dropped off the packages maybe five minutes before and I got the alert on my security camera and then I got a second alert five minutes later and I was like taken aback because I wasn't expecting anyone else in my driveway," Kristine Levine, the homeowner, told WVIT.
Updated 09/23/2021, 5:07 p.m. ET: This story has been updated with a statement from Ashley-Michelle Thublin.
Updated 09/24/2021, 3:24 p.m. ET: This story has been updated with comments from Betsie Stockslager Emry, District Wildlife Biologist Justin McVey and to include the video of the bears.