Viral Video Shows Bear Steal Package of Toilet Paper From Woman's Porch
A video has gone viral showing a black bear walking away from a Bristol resident's home with an Amazon package in his mouth.
On Monday, Kristine Levine, from Bristol, Connecticut caught the black bear taking the package off her porch and leaving her driveway via surveillance video. Levine then took the video and posted it on her Facebook page, which immediately went viral.
In the Facebook post, Levine said that if "anyone sees an Amazon package in the Chippens Hill area with my name on it...feel free to bring it back."
Levine also spoke with WVIT about the ordeal.
"Amazon had dropped off the packages maybe five minutes before and I got the alert on my security camera and then I got a second alert five minutes later and I was like taken aback because I wasn't expecting anyone else in my driveway," said Levine.
After a few hours, Levine found the package in a neighbor's yard which turned out to be toilet paper.
"It was hysterical. Like I said, I knew nothing in there was going to be irreplaceable so it was a fun afternoon for sure," Levine said to WVIT.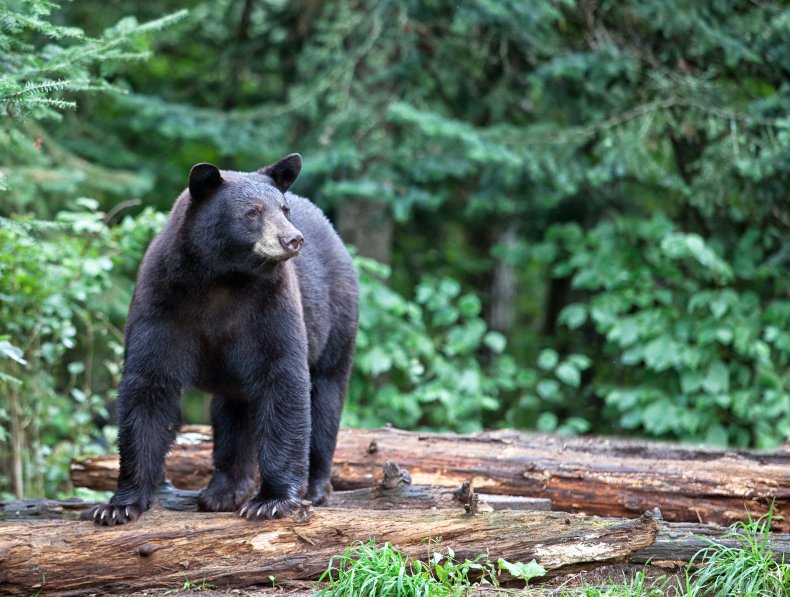 Bears have been making themselves comfortable in residential neighborhoods throughout the entire year.
On Monday, three teens—Hailey Nelson, 17; Dori Arndt, 15; and Hailey Nyberg, 17—from Minnesota captured a black bear taking a stroll in the neighborhood. Nelson told WCCO that she thought it was her friend's dog, but it actually turned out to be a bear.
Once she found out that it was a bear, Nelson, along with Arndt tried to run inside Nyberg's home, only to discover that her door was locked.
"So I'm pounding on the door saying, 'Let us in!' Screaming our heads off, just wanting to get inside," Nelson said. "Then [Hailey Nyberg] pokes her head around the corner."
"I heard them screaming and my dad came outside and is just like 'Why are you still out here? A bear just walked by our...front yard!'" Nyberg said.
Paul Smithson, manager of Wood Lake Nature Center in Richfield, Minnesota, told Newsweek there has been an increase in bear sightings in the area. He also said that sightings typically occur just before or just after hibernation because the bears are out looking for food.
"The metro area has so much green space and connections to other green areas," Smithson said. "The bears are looking for food and can end up in neighborhoods."
Newsweek has reached out to the Connecticut Department of Energy and Environmental Protection for further comments.