Mama Deer Chases Man Who Accidentally Stepped on Fawn in Hilarious Video
A man went viral after Ring doorbell footage showed him getting chased down by an angry mama deer after he accidentally stepped on her fawn that was resting in front of the door.
The viral TikTok was uploaded by Benji, or @strongman1125, on Saturday where it received more than 15 million views and 25,000 comments.
The hilarious video of the man being chased by the mother deer can be viewed here.
While white-tailed deer are not necessarily aggressive animals, their inherent need to protect their fawn can lead to conflict when humans get too close, though attacks are uncommon. Bucks, however, are more aggressive–especially during mating season.
Experts warn to stay away from fawns in order to avoid conflict with a mother deer. If faced with an aggressive one, though, experts recommend trying to stay calm and searching for a tree to climb.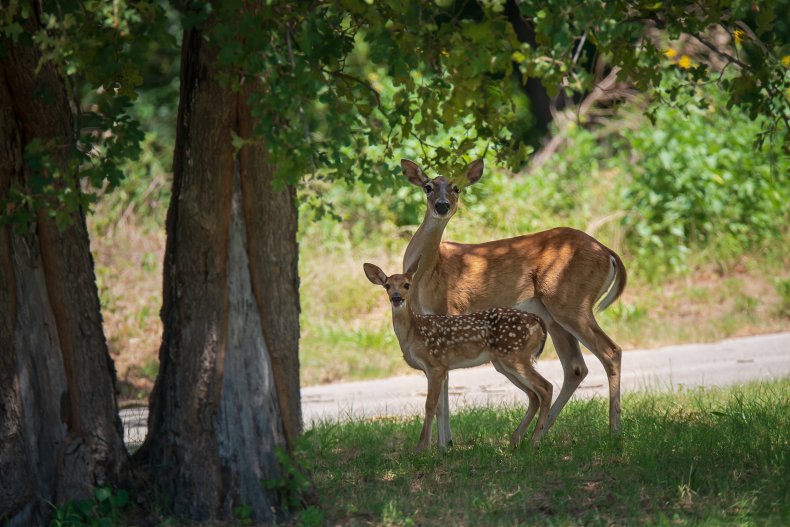 If a deer knocks you to the ground, experts recommend rolling into the fetal position to protect your head, kneck, and abdomen.
In the video captioned "I don't know/care if this is funny," a man is seen exiting the front door through his ring doorbell camera. Almost immediately, a loud "bah" rings out before the man looks down and screams.
"This is a video of my dad stepping on a baby deer and then getting chased by its mother," the on-screen text read.
As the man runs away screaming, the mama deer comes bolting through the yard and toward the man who began screaming again. The deer chases the man out of the camera frame, but the fawn can still be heard calling for its mom.
The man then ran through the yard and to the street as the deer tailed behind him and then toward her baby. The baby then gets up and walks right up behind her.
"Thought I would share. Also the deer is okay it gets up at the end," the on-screen text read. "Nature is healing."
More than 25,000 users commented on the video, many mentioning the man's screaming.
"PLSSSS THE DOUBLE SCREAMING," one user commented, receiving nearly 300,000 likes.
"The way him and the baby take turns screaming. I-," another user wrote.
"WHY DID SHE PUT IT ON YOUR PORCH LMFAO," another commented.
"This would win on america's funniest home video for sure," one user mentioned.
Newsweek reached out to @strongman1125 for comment.
In another viral animal video, a golden retriever named Violet "gifted" her owner a baby goose.
Another golden retriever went viral on TikTok for her adorable reaction to seeing a litter of puppies for the first time.
Viewers were also delighted by one kitten named Zara who demanded a car ride from his owner in a hilarious TikTok.