Mammoth Tooth Found by Fisherman to Be Auctioned to Aid Ukrainian Refugees
A pair of restaurant owners from Kittery, Maine, trying to find a way help the refugees in Ukraine decided to put the 12,000-year-old woolly mammoth tooth found on a fishing expedition up for auction and donate the proceeds to a charity.
Kayla Cox, the co-owner of New England Fishmongers, told Newsweek a crew of fishermen caught the tooth in December off the coast of Newburyport, Massachusetts, and it's sat in the restaurant ever since.
Cox and Captain Tim Rider—the other restaurant co-owner—wanted to help Ukrainians in need following the Russian invasion into Ukraine on February 24, which was ordered by Russian President Vladimir Putin. One customer suggested they auction off the woolly mammoth tooth and donate the money to World Central Kitchen, an organization serving meals to Ukrainian families.
They weren't entirely sure what it was that the fishermen caught in December, but after sharing images of it, Cox said they learned it was likely a tooth according to commenters on social media.
They verified what it was with experts at the University of New Hampshire, who specifically noted that it was a tooth from a woolly mammoth, and it has sat at the restaurant ever since.
A photo was emailed to one paleontologist, who was able to estimate the age of the tooth.
"At first, we were kind of shocked it was a mammoth tooth," Cox said. "We joke around like it's a pet rock. The kids love to see it."
She explained that it has been fun to show the customers something they caught locally, and guests are able to get an up-close look at the artifact.
According to the Jacksonville Zoo, the woolly mammoth lived in North America and Asia until about 4,000 years ago.
They grew between eight and 11 feet tall and could weigh approximately 13,000 pounds.
"It was most closely related to the Asian Elephant, but the woolly mammoths had much longer tusks," a page on the zoo's website stated.
Although the restaurant has been the tooth's home for a few months, it's time for it to move on, according to the owners.
Cox created the auction for the tooth earlier this week on eBay and set the starting bid at $700.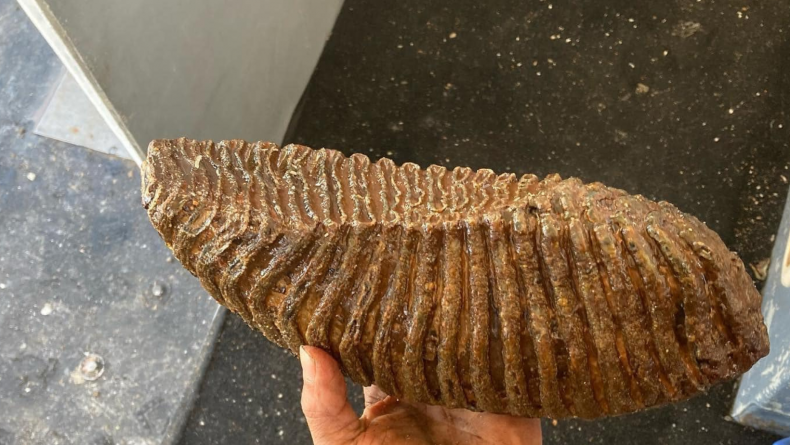 "We heard it could be worth between $900 and $1,200 because it is almost a complete specimen," she said.
Since posting the auction, the highest bid being offered for the tooth is $4,800 at the time of publication.
"It's amazing," Cox said. "We didn't expect too much. We had so many people reach out."
In addition to the money donated from the auction, Cox said Helly Hansen—a company that provides outerwear to the fishermen that work with the restaurant—will also donate $2,000 to World Central Kitchen, as well as $3,000 worth of clothing for refugees.
Cox said they were torn between several different charities, but ultimately decided on World Central Kitchen.
This organization is serving hot meals at eight border crossings across the country.
"Additionally, we are supporting local restaurants preparing meals in eight Ukrainian cities including in Odessa, Lviv and Kyiv," World Central Kitchen's website stated.
Cox said some people told her that while they're unable to outbid the highest bidder on the mammoth tooth, they did make a donation to World Central Kitchen on their own.
"I'm really happy to see it's gaining a big following on eBay," she said. "It's reaching a large audience, and it's cool that it's taking on a life of its own."
The auction is scheduled to close on Sunday at 12:09 p.m.
Newsweek reached out to Captain Tim Rider for comment.