Man Allegedly Rapes Ukrainian Refugee in Poland as Exploitation Fears Grow
A man was arrested in Poland this week for allegedly raping a 19-year-old girl who fled war-torn Ukraine, as experts warn that the growing refugee crisis could lead to significant issues of sexual exploitation and human trafficking.
Police in Warsaw said the 49-year-old man assaulted the Ukrainian refugee after he lured her in with offers of help over the internet, according to the Associated Press.
"She escaped from war-torn Ukraine, did not speak Polish. She trusted a man who promised to help and shelter her. Unfortunately, all this turned out to be deceitful manipulation," police said in a statement on Thursday.
Polish authorities similarly intervened after another man was overheard promising work and a room to a 16-year-old girl, while others have been stopped from offering aid and overnight assistance to only women and children.
As millions of people continue to flee Ukraine, concerns are growing over how to protect the most vulnerable refugees from becoming victims of sexual abuse or trafficking.
"When you've suddenly got a huge cohort of really vulnerable people who need money and assistance immediately it's sort of a breeding ground for exploitative situations and sexual exploitation," Tamara Barnett, director of operations at the Human Trafficking Foundation, told the AP.
Earlier this week, German Federal Police issued an alert warning Ukrainians refugees not to accept offers of overnight stays or cash after noticing suspicious behavior in Berlin.
"At Berlin Central Station, some people are behaving conspicuously in connection with the distribution of accommodations to displaced persons from Ukraine," police said in a statement. "Please contact the police immediately if you are offered money for accommodation or observe people doing this."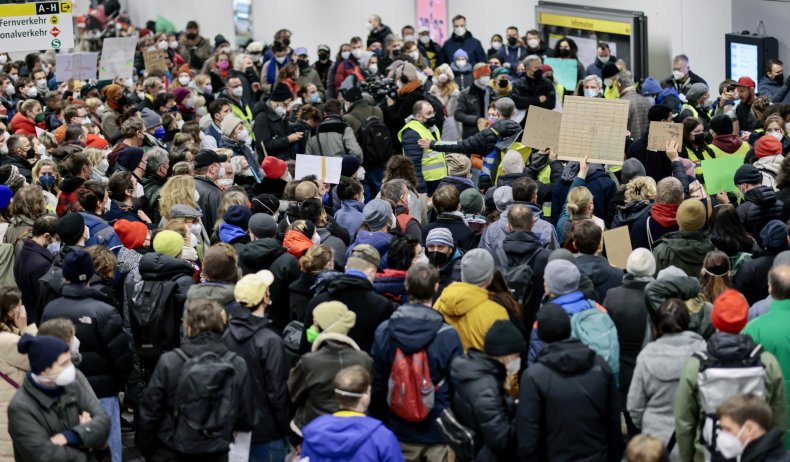 Human trafficking could take on several exploitative forms, including prostitution, forced labor, domestic slavery, and forced criminality. According to the Migration Data Portal, humanitarian crises often "exacerbate preexisting trafficking trends and give rise to new ones" since traffickers are able to thrive off of the inability of victims to protect themselves or their children.
"The people who are leaving Ukraine are under emotional stress, trauma, fear, confusion," Cristina Minculescu, a psychologist at Next Steps Romania, who provides support to trafficking victims, told the AP. "It's not just human trafficking, there is a risk of abduction, rape...their vulnerabilities being exploited in different forms."
So far, over 2.5 million refugees have fled Ukraine since Russia launched its full-scale invasion on February 24. Of those, nearly half are children, making it the fastest growing refugee crisis in Europe since World War II.