Man Allegedly Threatens to Blow Up McDonald's Due to Inadequate Dipping Sauce for Nuggets
A 42-year-old Iowa man was arrested Saturday after he allegedly threatened to blow up a McDonald's restaurant because they did not give him dipping sauce to go with his chicken nuggets, according to police.
Robert Golwitzer Jr. allegedly called and threatened a McDonald's located in Ankeny, Iowa, on Saturday around 5:20 p.m. after realizing that his order was incorrect, WHO 13 reported.
Ankeny Police Sgt. Corey Schneden told the news outlet that during that phone call, Golwitzer allegedly made violent threats to blow up the restaurant and punch an employee.
Police said a criminal complaint was filed by the restaurant, after which officers successfully contacted Golwitzer using the phone number the threat was called in from. During police interviews, Golwitzer admitted to making the violent statements.
Golwitzer was arrested Saturday and charged with a Class D felony, false report of explosive or incendiary device. He was booked into the Polk County Jail later that day and released on bond Sunday, WHO 13 reported.
Saturday's incident in Ankeny was not the first time a McDonald's employee was allegedly threatened this month. On June 14, Cherysse Cleveland was arrested in Ravenna, Ohio, and charged with assaulting two staff members during an altercation.
Cleveland became upset when staff told her they could not mix three Slushie flavors together, and she allegedly responded by going behind the counter to try to make her own drink. A video that has gone viral shows Cleveland allegedly attacking two staff members before a police officer responded to the scene and placed her in handcuffs.
She was arrested and charged with two counts of misdemeanor assault. A judge also ordered her to not return to the McDonald's location and not to have any contact with the alleged victims.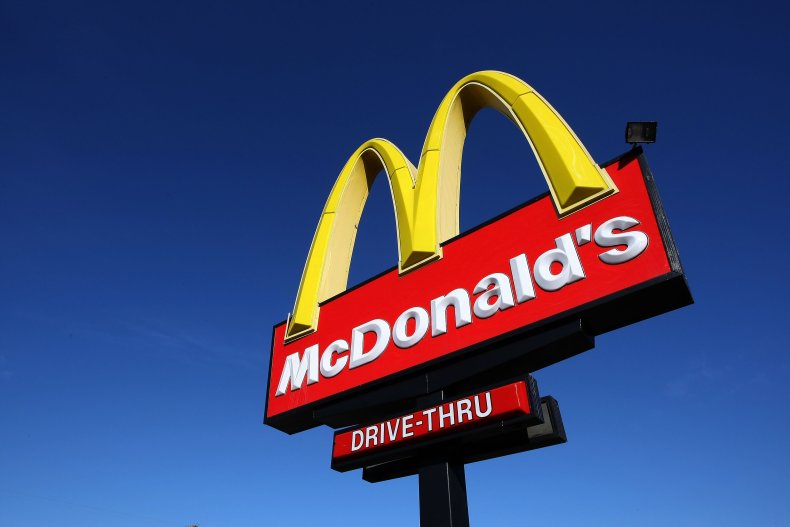 One week earlier, a man was arrested in Virginia after threatening several McDonald's employees and brandishing a BB gun over a conflict regarding the menu, PennLive reported.
McDonald's has previously drawn criticisms for failing to protect employees from harassment or violent threats from customers. In 2019, a group of 17 workers from the Chicago area sued the fast-food chain for what they alleged was a "nationwide pattern" of such abuse, NPR reported.
In response to that lawsuit, McDonald's said that it "takes seriously its responsibility to provide and foster a safe working environment for our employees, and along with our franchisees, continue to make investments in training programs that uphold safe environments for customers and crew members. In addition to training, McDonald's maintains stringent policies against violence in our restaurants."
Newsweek contacted McDonald's for additional comment, but did not hear back in time for publication.