Man With Alzheimer's Proposes to and Marries Wife of 12 Years for Second Time
A couple got the chance to relive one of the happiest days of their lives by hosting a second "wedding" after the husband's Alzheimer's diagnosis.
A 56-year-old Connecticut man living with early-onset Alzheimer's disease decided to ask the woman he loved to marry him, having forgotten that the two had already said "I do" 12 years ago, according to WNBC. Nevertheless, his wife was more than happy to "remarry" her true love.
Newsweek spoke with Lisa Marshall, who married her husband Peter back in 2009. Lisa recalled that while watching a wedding scene on the show New Girl, Peter decided to spontaneously pop the question once again.
"Peter pointed to the TV, to this couple during their ceremony, and he said, 'Let's do it,'" Lisa shared. "I said, 'What? Do what? Do you want to get married?' And he had this big grin on his face and he shook his head yes. He smiled so big, laughing, and said, 'It's gonna be a lot of work!' And that's when I knew it was special."
"In the moments after that, he said to me, 'Do you like me?' I said, 'Yes, I like you. I love you very much,'" she added. "I asked, 'Do you like me?' And he said, 'Yes, I like you very much.' I said, 'I guess we're gonna get married!' He's adorable!"
Lisa explained in an interview with The Washington Post that she was ecstatic at the prospect of another "wedding," but was unsure that Peter would remember. She told the outlet that, for the last six months, she has been tasked to care for the man who could no longer remember that she was his wife.
"Before his diagnosis, I always thought that Alzheimer's was an old person's disease," she told the outlet. "Now I know better."
Indeed, according to the Alzheimer Association, more than one in nine Americans over the age of 65 live with Alzheimer's disease, but those diagnosed with "younger-onset Alzheimer's...is much less common."
Lisa told Newsweek that at first, "I didn't get it. I didn't understand it."
"It didn't really hit me until I got home and the following weeks I really started to dive into it," she added. "The more I read about it, the more I realized this is terminal. This is a death sentence."
According to Lisa, the two met while they lived as neighbors in Harrisburg, Pa., and began dating in 2001 after each of their divorces had been finalized. For eight years, the two dated long-distance, as Peter's work took him to Connecticut and Lisa was still raising her children from her previous marriage.
"We commuted. We wanted to wait until my youngest went to college [to move in together], and for eight years, every other weekend we were [going] back and forth in a long-distance relationship, driving five or six hours. Or sometimes eight in a blizzard!" Lisa said.
On August 13, 2009, Lisa and Peter were wed in Turks and Caicos with their children watching on.
"We got married in a beautiful gazebo just off the beach, it was lovely," Lisa said. "It was just a 'family-moon,' and we wanted all the kids to spend time together. It was fun to relax together and party together. The boys went golfing, the girls went to the spa. It was just fun, it was lovely."
Just seven years into their blissful marriage, Peter's memory began to slip.
"I just chalked it up to getting older," Lisa explained. "I noticed that he was turning around in the car when he went to work and coming back for something he had forgotten. Forgetting specifics about his past, and he just tried to make up what he was missing in his memory."
"I kind of ignored it and kept it a little secret for myself for a while because I didn't want to face [it]. It was scary that something could be wrong with him."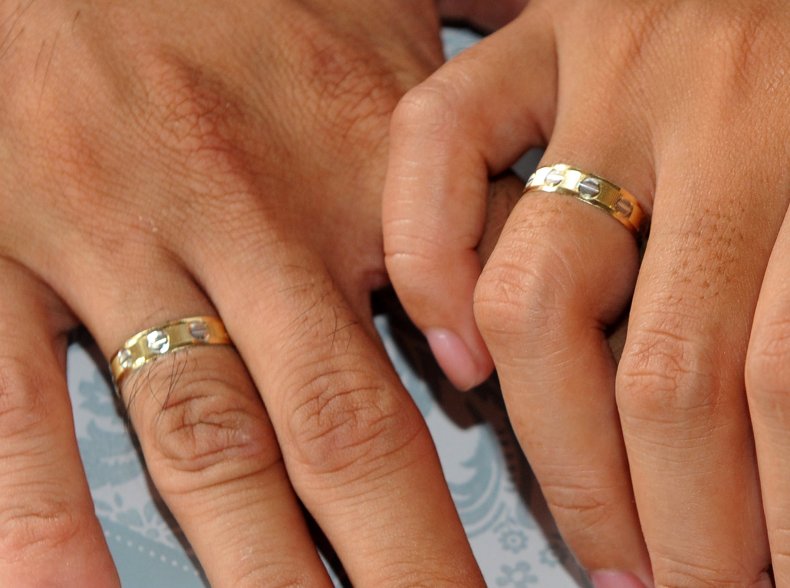 On Valentine's Day in 2007, Lisa finally took Peter to his primary care physician to get to the bottom of things. After grueling cognitive tests that lasted 16 hours and a series of bloodwork, MRI, and neurologist appointments, Peter was officially diagnosed with early-onset Alzheimer's on April 30, 2018.
Shortly after his diagnosis, Peter retired. Lisa then stepped away from her full-time job the following year to focus all her efforts on caring for her husband.
"[Peter's] workspace was the only space I didn't have eyes on. I obviously was seeing a decline, the kids and friends were seeing a decline, but there was never a mention of work. I didn't know what was going on there behind closed doors," Lisa explained. "So January 2019, less than a year later, Peter retired...then finally a year later, January 2020 right before the pandemic, is when I retired. So, I've been a full-time caretaker for a year and a half."
Lisa, who does her best to keep a positive outlook on life, told WNBC that his recent proposal meant a lot to her.
"I'm the luckiest girl in the world. I get to do it twice," Lisa emotionally told the outlet.
The Washington Post reported that as Peter's cognitive functions declined in January, she had her daughter Sarah Brehant, a professional wedding planner, organize a vow renewal event.
"I knew that my stepdad, who I am very close with, was there through some of the toughest times of my life," Brehant told the Post. "He means so much to me, and my mom is my best friend, so I was proud to be able to take on such an important role."
Thanks to compassionate vendors and volunteers, the two were able to "remarry" on April 26. Video of their vow renewal was posted to YouTube, where nearly 20,000 viewers have watched the emotional ceremony.
Calling it the "most perfectly perfect fairytale day," Lisa shared her unbridled joy on her Facebook page "Oh Hello Alzheimer's," dedicated to raising awareness about the disease and sharing her family's personal journey with it.
"I'm still weepy thinking of the magic, the moments, the unforeseen surprises and just how normal everything felt for just a little while," she wrote at the time.
Lisa also shared with Newsweek that throughout the day "Peter was so very present," and it was an emotional experience for everyone involved.
"It was magical. I keep using the words 'perfectly perfect,'" she said. "He whispered very sweet things in my ear. When he saw me at our first look, he genuinely melting. He loved me so much, looking me up and down with a huge smile on his face. It was Cinderella and Prince Charming."
"I tried to recreate the [first wedding] day," Lisa added. "I had the same dress, I had all the same jewelry Peter had gotten me over the years we were dating, I wore the same crystal hairpins I wore in my hair that I had borrowed from a friend in Pennsylvania."
Of all the special memories formed during the day, Lisa shared that one of her favorite parts was when their officiant, who has been their family dementia specialist for the last year and a half, was about to bring Peter to the front of the room for the ceremony to start.
"He leaned in and gave me a kiss, and he said in my ear, 'Thank you for staying.' He has these amazing lucid moments that just keep me loving him more and more every single day," Lisa said.
Lisa shared that she has been blown away by the virality of their love story. "The support is overwhelming. I just love that together, it's not just caregivers, who are linking arms and are raising voices about this disease," she said.
She also encouraged other full-time caregivers to take things one day at a time. "Just let things go that don't matter. I keep using the analogy of the dog hair on the floor...it's like that's gonna be here later," she said. "Go out on the porch and sit and hold hands with your loved one. That hand isn't gonna be there later. Do things that are important so there's no regrets."
Another married couple battling Alzheimer's went viral last month after their granddaughter captured the emotional moment her grandfather was able to hold his wife in the assisted living facility she stays in for the first time since COVID-19 restricted their in-person visits.
Updated on 6/28/2021 at 2:15 p.m. to include statements from Lisa Marshall to Newsweek.