Man Arrested After Allegedly Swinging Full Colostomy Bag at Kid Rock's Bar
This case stunk for local officials.
Social media users across platforms have gone wild over claims that a man was arrested outside of Kid Rock's bar for allegedly tossing the contents of his used colostomy bag onto patrons.
Reports first surfaced of the wild events on Saturday evening. Twitter account @ScanNashville, which regularly reports on Tennessee police activity, received word that law enforcement had been called to Kid Rock's Honky Tonk Rock 'N Roll Steakhouse to handle a disruptive patron outside the establishment.
"Unit needs a transport car at.....drum roll.....kid rock, and an ambulance, and a [sergeant]..." Nashville Scanner began their Twitter thread.
"Male took off his colostomy bag and started swinging it at others, some units have feces on them," the account wrote, noting that this was the "third time" that this offender had been flagged to the Metropolitan Nashville Police Department in recent memory.
"Dispatch also advising central was out twice with this unit tonight, keeps refusing medical," they added.
Newsweek independently confirmed with the Metropolitan Nashville Police Department that a John Doe was arrested over the weekend after causing a public disturbance with his colostomy bag.
"The defendant was outside drunk holding a bottle of beer blocking the outside emergency exit door at Kid Rock's," the affidavit obtained by Newsweek said. "Kid Rock security told the defendant to leave ... but he refused."
The affidavit alleged that once the Metropolitan Police tried to calm the man down at the scene, he escalated things: "When the Metro police officers arrived to the location to assist security the defendant took out his colostomy bag from the inside of his front pants area and started to swing the bag around from left to right hitting two of the Metro police officers with his feces."
John Doe was charged with "assault on the two Metro police officers, disorderly conduct and public intoxication."
Shortly after the Twitter report surfaced, Facebook group Scoop: Nashville reported to their followers that the man removed his used colostomy bag at the establishment and "started swinging the 'filled' bag at others."
"Some units and patrons have been assaulted with feces, and at least one officer has left work to change clothes," the page added.
Shortly after, the viral Facebook post caught the attention of TikToker @tiffanyinthepnw, who laughed about "the man [taking] out his colostomy bag, [swinging] it around and [throwing] poo on everybody."
Tiffany's video noted that Kid Rock's bar was throwing "a huge party ... to celebrate the mask mandate being lifted," which some viewers hypothesized attracted the suspect to the venue.
In a subsequent video, she added that it was not immediately clear if he was a bar patron or just targeted the bar for his bizarre attack.
Social media users across the internet found the situation hilarious, especially after watching Tiffany's viral video with nearly 144,000 views and over 15,000 likes.
"Omg! I heard about this! Happened so early in the morning I think it was around poo-thirty lmao," one anonymous TikTok user wrote. "So just a normal night at a Kid Rock concert," another joked.
On Facebook, users found just as much humor in the situation. "OMG! Hope someone is on the way to buy lots of air [freshener]. I am a retired nurse so I have emptied these many times, it can be awful," one woman shared.
"It was at that moment, for the first time ever... I wished I would have worn a mask," another commenter wrote.
One concerned Facebook reader noted that while it was entertaining to poke fun at the "s**t show" it likely was, there may be some underlying mental health issues the man had been dealing with.
"But in all seriousness get this man some mental health and charge him with endangering others," she wrote.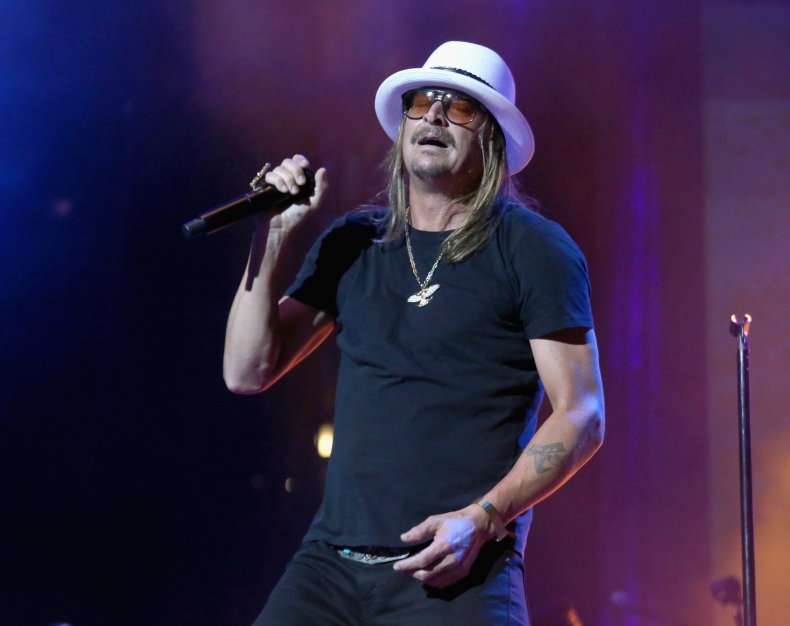 Back in June 2020, Kid Rock's bar made headlines when the owner of the establishment claimed it was hypocritical for Nashville Mayor John Cooper to shut the bar down for violating COVID-19 safety protocols but allowed protesters to demonstrate freely.
"This is the epitome of hypocrisy!" his attorney told Newsweek at the time. "This violates my client's due process and equal protection rights under the Constitution."