Man Arrested After Racist Tirade, Attempted Stabbing of Off-Duty Cop
A New York man was arrested on Saturday afternoon after allegedly unleashing a racist tirade against an off-duty cop and his son.
Robert McLymore, a Black lieutenant police officer and pastor from the city of Newburgh, was driving with his son when he slowed down to let another car pass him, WABC News reported. A white man driving behind him became aggravated, and then began to shout the n-word at McLymore and his son. The man also allegedly attempted to rear-end the off-duty officer's car, all the while waving around a box-cutter.
The irate driver followed the pair as they pulled into a restaurant parking lot, continuing to shout obscenities and flash the middle finger. The man, whose name has not been disclosed to the public, is also accused of falsely claiming to be an off-duty police officer himself. The man at one point also allegedly attempted to stab McLymore with a knife, ultimately leaving no more than a hole in his cellphone case.
"I just couldn't believe it," McLymore told WABC. "I couldn't believe the racial epithets, him saying that he was a cop or a trooper. Most of all him doing what he did and he's an older gentleman."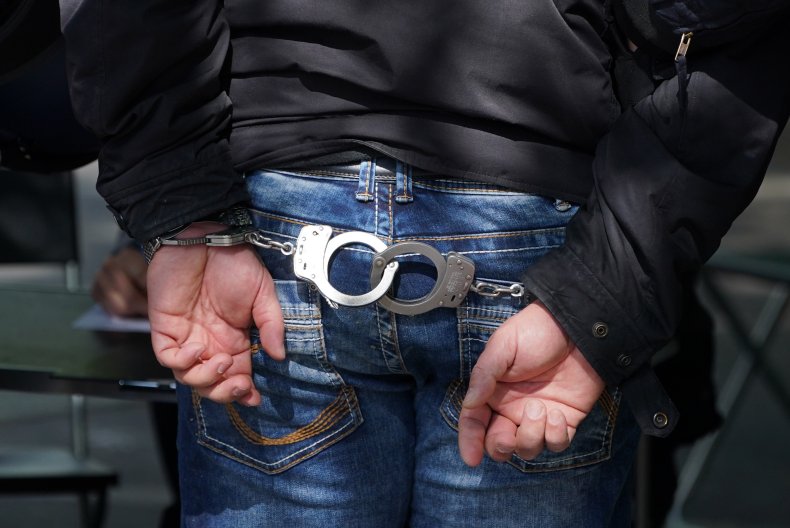 The Newburgh Police Department confirmed to WABC that the unnamed man had been arrested following the tirade. As an officer, McLymore would have been able to detain the man the moment he produced the knife. However, he instead opted to file a police report later, explaining that he wanted to spare his son any further trauma from the event.
"Forty-five years I've been living here," McLymore continued. "Nobody's ever done anything like this. Nobody has ever put a boxcutter to my face or anything like that or disrespected me in anyway. So I was shocked. I replay it in my mind probably every three seconds."
Newburgh Mayor Torrance Harvey, also a Black man, spoke out about the hateful incident in his city.
"I just couldn't believe somebody would use those words in 2022," Harvey said. "In the city of Newburgh."
Newsweek reached out to the Newburgh Police Department for comment.
In 2020, McLymore was hired by Newburgh to serve as a part-time senior advisor to the police department tasked with aiding in reform efforts, Spectrum Local News reported. At the time, one of his primary facets of the position was to foster meaningful conversations between the department and families in the city.