Man Arrested After Rushing Queen's Coffin in Security Breach
A man was arrested in London on Friday evening after appearing to rush the Queen's coffin as mourners filed past in Westminster Hall, reportedly grabbing the Royal Standard before being tackled to the floor by police.
The incident took place at around 10pm, just hours after King Charles III and his three siblings stood over their mother's coffin in a silent vigil.
Video from the scene shows police officers and security guards grappling a man to the group, then carrying him out of Westminster Hall as mourners looked on shocked.
In a statement London's Metropolitan Police said: "Around 22:00hrs on Friday 16 September officers from the Met's Parliamentary and Diplomatic Protection Command detained a man in Westminster Hall following a disturbance.
"He was arrested for an offence under the Public Order Act and is currently in custody."
A spokesperson for the U.K. parliament, which includes the 900-year-old Hall as part of its estate, commented: "We're aware of an incident in Westminster Hall, in which a member of the public moved out of the queue and towards the Catafalque.
"They have now been removed from the Hall and the queue restarted with minimal disruption."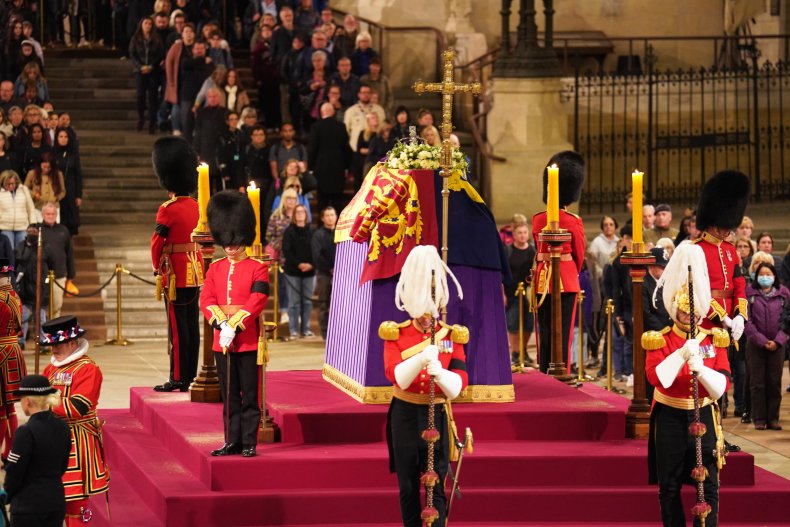 The "extremely upsetting" events were described to The Sun by an onlooker.
They said: "We thought someone had fainted and then we heard someone shriek.
"Someone got up to the coffin, grabbed the flag and pulled it upwards.
"They picked up the bottom and wafted it, almost to see what was underneath. It happened so fast."
Another member of the public, who was waiting in line with her seven-year-old niece, added: "Some person decided they were going to push my [niece] out the way, run up to the coffin, lift up the standard and try to do I don't know what.
"She was grabbed out the way and the police had him within two seconds.
"Terrible, absolutely terrible, so disrespectful and unbelievable - and this poor little seven-year-old child, this is her lasting memory of the Queen."
Tens of thousand of mourners have been queuing across the British capital to pass the later Queen where she is lying in state, with the line reaching its 4.9 mile capacity on Friday.
One of those in line was retired England soccer star David Beckham, who spent more than 13 hours waiting before filing past the Queen's coffin.
On Saturday morning mourners were told the wait had grown to over 24 hours, with the line extending to Southwark Park.
On Friday the London Ambulance Service said it had treated 435 people across the route thus far, with the majority either fainting or collapsing leaving some with head injuries.
Also on Friday 19-year-old Adio Adeshine was charged after allegedly sexually assaulting two woman were in line to file past the Queen. He has been charged with two counts of sexual assault and two counts of breaching a sexual harm prevention order.
President Joe Biden will be among the world leaders attending the Queen's funeral in Westminster Abbey on Monday.